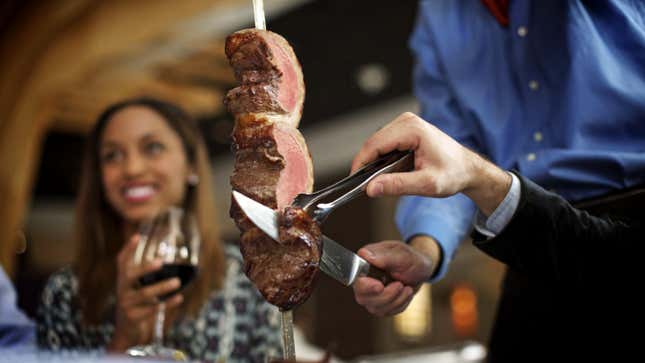 We've taken several dives into this year's Top 500 Report from Nation's Restaurant News, an annual ranking of the largest restaurant chains in America—and that's because it has so much to tell us about where the industry stands in 2023. For the most part, things are going well for all of these brands; staffing shortages are not quite the issue they were in 2021, and menu price increases have failed to drive away customers and led to increased sales and profits. In addition to each brand's total sales in 2022, though, it's interesting to look at another metric: estimated sales per unit, or ESPU.
How To Dispose Of Cooking Grease The Easy Way After Frying
The ESPU is different in that it tracks the sales figures of a chain's individual locations. This is calculated by dividing the total number of annual sales across the total number of locations. McDonald's might be king of the mountain in terms of overall sales, with $48.7 billion in sales in 2022 (just in the U.S.!), but with such relatively affordable food and so many thousands of locations across the country, its sales-per-unit figure can't rival that of the full-service, sit-down restaurant chains, where customers pay a higher bill for more food upon every visit.
The top restaurants in America, based on sales per unit
So, which restaurants are making bank at each individual location? Here's the top 10 list:
10. Maggiano's Little Italy ($8.1 million)
9. Portillo's ($8.3 million)

8. Yard House ($8.6 million)
7. Lazy Dog ($8.7 million)
6. The Capital Grille ($9 million)
5. Eddie V's ($9.2 million)
4. Fogo de Chao ($9.9 million)
3. Cooper's Hawk ($10.3 million)
2. Ocean Prime ($12.1 million)
1. The Cheesecake Factory ($12.6 million)
Lots to unpack here—largely because so many of these restaurants seem to top the list for different reasons.
Steakhouses have not only proven their resilience coming out of the worst of the pandemic, but also their value to investors. Customers love them and are evidently willing to pay top dollar at places like Fogo de Chao, Eddie V's, Ocean Prime, and The Capital Grille, whose perceived sophistication makes them great options for anyone celebrating a special occasion. (And on special occasions, who doesn't like to splurge?) Similarly, at a spot like Cooper's Hawk that emphasizes its wine offerings, the total bill per table will be much higher thanks to restaurant markups on alcohol.
But The Cheesecake Factory offers all the trappings of a special occasion to an arguably broader swath of American consumers, with slightly lower price points and large portions to signal value. Additionally, this chain restaurant encourages a whole extra course—dessert!—where others do not. Sure, you might order a Bananas Foster Butter Cake from Eddie V's for $15 to end the night, but that's a rich shareable tacked on to a decadent meal; at Cheesecake Factory, in my experience at least, dessert is half the point of going, and it's customary for diners to mix and match an assortment of cheesecake slices, and they each cost $9-$12. You can also order whole 10-inch cheesecakes for roughly $65 each.
Finally, there's the real curiosity on the list: Portillo's, the only fast-casual chain of the bunch and the Midwest's gift to the rest of the country. You wouldn't think that a spot specializing in Italian beefs and cake shakes would end up raking in an average of $8.3 million per unit annually, but anyone who has sat in a literal 45-minute drive-thru line waiting for their chance to taste these Chicago flavors might not be entirely surprised. That, it seems, is Portillo's greatest strength: rather than aggressively expand its footprint (it still has under 100 units nationally), the chain wrings as much business as possible out of every location. It might be the middle of a Tuesday afternoon squarely between the lunch and dinner rush, but at Portillo's, there will still be so many cars that employees physically approach each waiting vehicle to write down orders and run them to the kitchen rather than waiting for customers to bottleneck at the window. Thanks to this tireless grind, it manages to compete with the fanciest chains in the game.
Which inclusions on the list surprised you most?