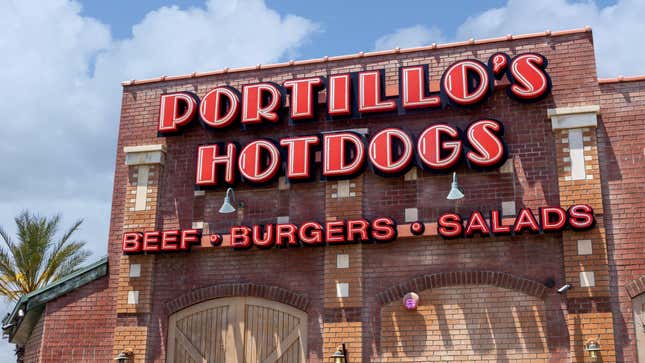 The Takeout is proud of its Midwestern roots. Because of that, we know which food brands best exemplify Midwest flavor—and it looks like the rest of the country will soon be getting better acquainted with those flavors as well. Portillo's, a pillar of the Chicagoland food scene, recently reported that its locations outside the region are performing even better than those in its core market, according to Nation's Restaurant News.

How To Dispose Of Cooking Grease The Easy Way After Frying
Portillo's is beloved in all its markets
The historic hot dog and Italian beef chain has a little over 70 locations, with the majority in the Midwest but with a few in California, Arizona, Texas, and Florida—and 10 more openings planned for the latter half of 2023. It's in those non-Midwest markets that Portillo's CEO Michael Osanloo says the brand is coming out of the gate hot. Its most recent opening in Texas generated almost $20,000 in sales within four hours of opening and without any advertisement or promotion to the surrounding community. People are learning the Portillo's name far beyond the Chicagoland area, and what's more, customers value the brand enough to stick with it through price hikes.
During a presentation at the ICR Conference in Orlando, Osanloo explained that despite having an average price increase of just under 8% in 2022 and plans to increase by another 2% within the month, the chain has not seen a dip in foot traffic to its restaurants.
Americans love Midwestern fast food
Just like Portillo's Home Run Inn pizza is expanding to meet increasing demand. The brand recently announced that its premium frozen pizza line will now be available nationwide via several major grocery chains. This expansion helps to bring Chicago's tavern-style thin crust, its lesser known but arguably most authentic pizza style, into the homes of millions who otherwise would not know that deep-dish isn't Chicago's only pizza.
Buona Beef and Rainbow Cone are two more cherished Chicago-area brands teaming up to reach a nationwide customer base. The new franchise partner program (under Chicago's Original Italian Beef Franchising LLC) will bring combo beef-and-ice-cream shops to other states across the Midwest, as well as Florida, Texas, Colorado, Tennessee, and Arizona. Not only is there increased nationwide demand for Italian beef sandwiches following the success of The Bear, but it's safe to say that Rainbow Cone's signature five-scoop concoction (Orange Sherbet, Pistachio, Palmer House, Strawberry, and Chocolate) is a flavor combo no other ice cream shop in America has ever devised.
And let's not forget about Culver's, a Midwest darling that is slowly spreading throughout the U.S. Although the restaurant began its ButterBurger in Wisconsin, it now has multiple locations in states across the country, including Alabama, Georgia, Florida, Idaho, Texas, and Arizona.
ButterBurgers with pucks of fried cheese in the middle. Hot dogs with absolutely not a drop of ketchup but plenty of peppers and relish. Beef sandwiches dripping with giardiniera oil. Admit it: the influence of the Midwest on fast food menus nationwide has only led to good things.