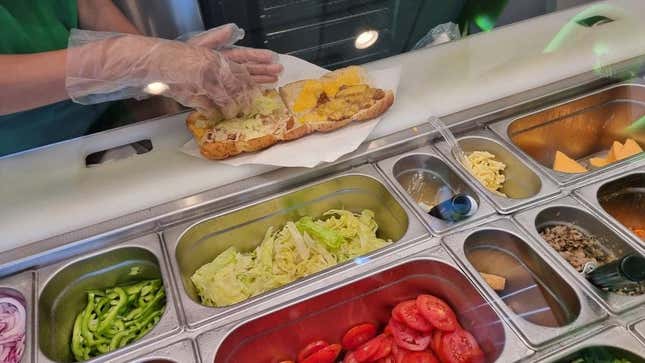 When the Top 500 Report comes out each summer, it's a little like Christmas morning in June. The annual chain restaurant rankings from Nation's Restaurant News (in partnership with market research firm Datassential) are full of insights into the fast food and fast casual industry, a series of intriguing discoveries to unwrap as we sit beneath the glowing tree of capitalism. This year, there's even a silver lining for a brand whose past decade has been riddled with slumps and scandals. We're talking, of course, about Subway.
How To Dispose Of Cooking Grease The Easy Way After Frying
A brief history of Subway's woes
To understand where Subway sits in the restaurant landscape right now, we need to understand where it's been—and it's been all over the place. As recently as 2012, Subway's sales made it the second biggest restaurant chain in America behind the ever dominant McDonald's. This was the result of many factors: Its successful positioning as a healthy alternative to fast food (remember Super Size Me?), its ability to build its small-format stores virtually everywhere and saturate the market with Subway locations, and the public's positive response to a prominent Subway spokesperson who is now in prison for crimes too horrific to mention.
Following the 2015 arrest of said spokesperson and a 2014 controversy in which Subway was accused of using "yoga mat chemicals" in its bread (a scandal that was perhaps unfairly pinned on Subway exclusively), plus ongoing reports that the chain mistreats its franchisees, each successive year has seen Subway try and fail to recapture the magic that once put it near the top. Last year, the chain ranked eighth in the Top 500 Report, and was the only chain in the top 10 to report a net loss in sales. Sure, total systemwide sales were still $8.9 billion, but it's been clear for a while now that something must be done to reverse Subway's fortunes. And the brand might have finally found a strategy that works.
Subway's comeback attempt
"What would it take to see Subway come roaring back in the rankings?" we asked upon the release of the Top 500 Report last year. While it hasn't exactly "roared back," it does seem to be making all the right moves.
Firstly, a menu overhaul: The Subway Series menu, introduced in summer 2022, features an upgraded lineup of new and classic sandwiches alike, such as the Great Garlic Footlong and the Outlaw spicy cheesesteak. By hyping up this preset menu of sandwich options, Subway has subtly guided customers away from the build-your-own format and toward tried-and-true flavor combos. Customers have responded positively to these items, leading to a record increase in sales for the previously flagging brand.
Secondly, quality control: In February of this year, Subway CEO John Chidsey told CNN that the chain would be investing in on-site meat slicers instead of supplying its locations with pre-sliced cold cuts. Because freshly sliced meat doesn't have an opportunity grow dry in the open air, this change will almost assuredly result in tastier sandwiches. CNN notes that Subway is also renovating and remodeling thousands of its U.S. locations, lending a more modern look and feel to the restaurant.
Thirdly, a streamlined ordering experience: Subway saw 1 million app downloads in February of this year—more app downloads than either Chick-fil-A or Taco Bell, both of which outrank Subway in sales. Part of the reason for this, as a Subway rep told The Takeout, is that Subway's new menu full of preset sandwich options makes it easier to place an order within the app. Additionally, the rep noted that Subway is strategically deploying BOGO offers and other app-based exclusives and that "digital continues to be one of our strongest growth channels."
America's top restaurant chains by sales
So, have all these moves launched Subway to the top of the fast food rankings? No, but the chain has managed to halt its backward slide in the back half of the top 10 for the first time in years. In 2022, Subway was ranked eighth overall, with $8.9 billion in systemwide sales. In 2023, it's still ranked eighth, but with $9.2 billion in sales. That's a fair amount higher than its next highest competitor, Chipotle, and just behind Burger King.
Here's the full list of the top 10 fast food chains in America by sales:
McDonald's
Starbucks
Chick-fil-A
Taco Bell
Wendy's
Dunkin'
Burger King
Subway
Chipotle
Domino's
Despite last year's grim outlook, Subway has managed to hold its position and start to reverse its fortunes. In 2024, will we see Subway slide upward for the first time since the early 2010s, toppling giants like BK, Dunkin', or Taco Bell to claim an even sweeter slot? That'll depend on its ability to continue convincing the public that its sandwiches are new and exciting—and its ability to wrap up the never-ending tuna lawsuit once and for all.