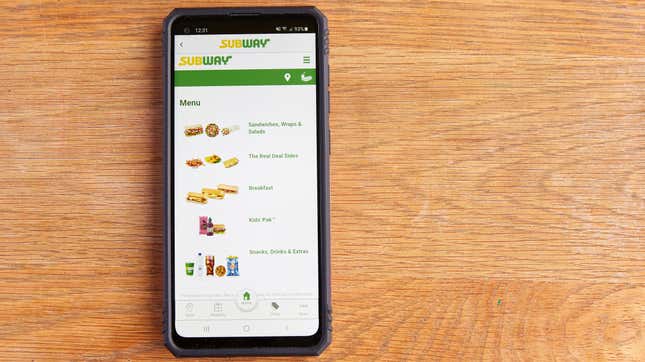 We're living in a world where we can order practically anything at the touch of a button, so that button is where fast food chains are currently vying for our attention. QSR Magazine reports that one particular fast food chain's app downloads have recently skyrocketed, and it's looking like people are really in the mood for sandwiches. Who knew Subway would be such a digital hit?

How To Dispose Of Cooking Grease The Easy Way After Frying
Why Subway's app is all the rage right now
QSR Magazine has been keeping tabs on fast food app downloads (via Apptopia) since 2021, and last month, McDonald's was in first place with 3.2 million. Second was Starbucks at 1.3 million, and third was Subway, with 1 million downloads. That marks Subway's biggest jump up the charts since QSR Magazine started monitoring this information.
This is no doubt partially due to the menu overhaul that Subway started last year, when the chain retooled its offerings and started focusing on signature sandwiches a little more than build-your-own options. At first I had my doubts about the Subway Series menu, but I've ordered a few of those sandwiches now, and the fact that they come with a default set of ingredients makes it way easier to browse through the app, select an item, and roll with it, rather then pecking around with customization. I must not be the only one who feels this way, either, since Subway saw very positive 2022 sales.
But there's more at play than just a new menu. Asked for insight into the app's recent success, a representative for Subway explained that the chain has been working on making the digital ordering process simpler and easier—and sweetening the deal with discounts and offers hasn't hurt, either.
"Guests using the app are also able to enjoy special exclusive offers, like our recent BOGO [Buy One Get One] Footlong deal, and easily earn loyalty points," Subway told The Takeout via email. "As a result, we've seen an increase in app usage, and digital continues to be one of our strongest growth channels – experiencing double digit growth last year."
I'm seeing a lot of offer notifications on my phone these days from various restaurant apps—free pizza, upgraded sandwiches, steeply discounted burgers—and I'd be lying if I said I don't window shop for lunch once or twice a week that way. A BOGO deal is even more appealing if I'm home with my fiancée and I'm not in the mood to cook, since it takes care of the both of us in one fell swoop.
The Panda Express app is popping off, too
Jersey Mike's, Potbelly, Jimmy John's, and Firehouse Subs are all experiencing some pretty steep year-over-year increases in app downloads as well. But in the non-sandwich category, Panda Express has shot up the charts, with a 47.5% increase in February downloads compared to the previous month.
Promotions were the main carrot here: Last month, Panda Express ran a Lunar New Year promotion in its app that made use of digital scratch-off tickets. Not only were the tickets cute and fun to "scratch," but customers had a chance to win gift cards, discounts, and free food.
It sounds like a deal shopper's paradise right now, though there's always the tradeoff of granting a corporation access to your personal information. And the more accounts you open via different fast food apps, the more you open yourself up to the possibility of being hacked.
For now, it looks like the occasional limited-time digital offer of free footlongs is paying off big time for Subway. There's certainly something to be said for the convenience of shopping for lunch in the palm of your hand, and since getting customers to actually download the app is often the biggest hurdle, any corporation that persuades us can expect to earn some serious money.