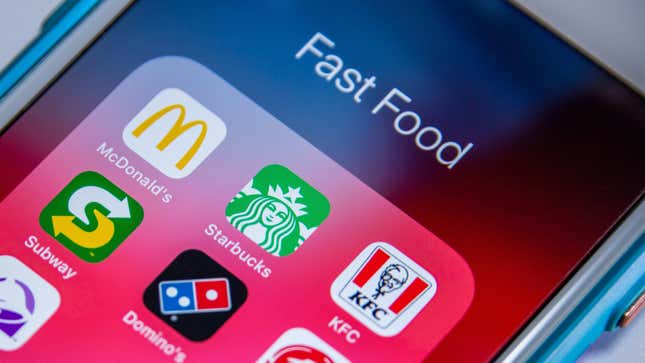 I've said it before and I'll continue to say it without hesitation: McDonald's is killing it. If you don't want to take my word for it, consider the fact that, according to QSR Magazine, the McDonald's mobile app was downloaded 127 million times worldwide in 2022, with 40 million new downloads in the United States alone.
How To Dispose Of Cooking Grease The Easy Way After Frying
The popularity of McDonald's mobile app, explained
To truly process just how insane that number is, consider the following: according to the latest numbers from the U.S. Census, there are 333,287,557 people in the United States. If 40 million of those people downloaded the McDonald's app in 2022, that means around 12% of the United States population granted Ronald permission to take up precious storage space on their smartphones (and harvest their personal data, of course).
In case it wasn't already clear, that number is way higher than any other American fast food chain's app download numbers. The next highest, Starbucks, trailed McDonald's at 13.6 million downloads in 2022, and Domino's came in third place with 10.6 million downloads. (Yes, Domino's outpaced Taco Bell, which gained 10.4 million users.)
Per QSR Magazine, a download means a "a new user and the first conversion on the mobile app customer's journey." Which means that 2022's 40 million figure doesn't even take into account the number of Americans that already had the McDonald's app on their phones by the time 2022 rolled around. It was the most installed app of 2021, too, jumping in popularity in July 2021 when the chain rolled out its revamped MyMcDonald's Rewards program, allowing customers to cash in loyalty points for free food.
Even in a more narrow category, the top 10 most downloaded quick-service restaurant apps in the United States for December 2022, McDonald's still achieved almost double what the competition did: McDonald's gained by 4.2 million downloads, while Starbucks landed in second place with 1.4 million downloads.
Why the McDonald's app is gaining so many users
Another number to keep in mind here is 24 million—again, that's the number of downloads McDonald's achieved in 2021. This means the brand went from 24 million annual downloads to 40 million in the course of a single year.
What explains this spike in new users? This could be the impact of record-setting promotions rolled out in 2022, including McDonald's Cactus Plant Flea Market Box (aka the Adult Happy Meal) and the return of Halloween Happy Meal Boo Buckets. The availability of these items is easier to scout out in the app, because you can check various locations to see who has what in stock without any driving around town, and you can use the app to place orders immediately, locking down prized items.
The chain also proved almost impervious to inflation in 2022. Despite the increased cost of menu items during Q3, sales actually increased. Even in a tough economy, it's still cheaper for consumers to buy McDonald's than to grocery shop—and if you can earn MyMcDonald's Rewards while doing it, all the better.
Let's zoom out and look beyond the quick-service restaurant category. QSR Magazine's list of the 10 most downloaded food and drink apps worldwide for 2022 indicates that McDonald's app downloads were more than twice the number of its closest competitor, UberEats. Notably, an app that provides access to a single menu achieved 212% more downloads than one that grants access to hundreds, if not thousands, of different menu options. Granted, this might mean more people already had Uber on their phones, but even so, it demonstrates the wide-scale adoption of MyMcDonald's Rewards in recent months.
No matter how you slice it, McDonald's takes first place in fast food app downloads by a landslide, which roughly mirrors the way it outpaces the competition in total sales. I say this with all love and respect to the other fast food chains that have satisfied my munchies and nourished my dehydrated body in its hungover state (shoutout to you, Whopper Jr. and Wendy's Four For $4 menu).
Love him or hate him, Ronald has game. He's sliding onto everyone's phone and he's staying at the top of your notifications (unless you opt out). The chain may have cracked the code to customer engagement in 2022, but whether it can possibly keep that same kind of momentum going will be something to watch in 2023.
And despite McDonald's massive success in the realm of fast food apps, it wasn't the most downloaded app of 2022—not by a long shot. That would be TikTok, of course, with 672 million global downloads.