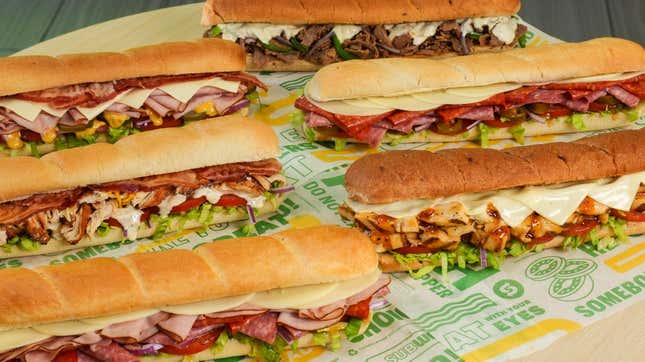 There's nothing like being valued at $10 billion to make us feel our best—just ask Subway, which is currently seeking a buyer at this rather astonishing price point. It's not just the price tag that has put a spring in the step of America's largest sandwich-focused chain, however. Strategic changes and surprisingly strong sales have begun to turn the brand around, reversing its falling fortunes in recent years. And now, Subway has announced that more of its classic sandwiches are getting upgraded, because if you're getting a makeover, why stop at the eyeshadow?
Dr. Pepper Strawberries & Cream Is Tearing Us Apart
Subway's menu overhaul
One of the key changes that has helped right Subway's sinking ship has been the Subway Series menu, which debuted in July 2022 and represented Subway's "biggest menu change in its nearly 60-year history." It's a lineup of 12 signature sandwiches in four categories: Cheesesteaks, Italianos, Chicken, and Clubs. You've probably seen the splashy ad campaign treating the Subway Series menu like the subject of a Last Dance–style documentary, featuring sports stars like Steph Curry and Tony Romo.
Now, a Subway press release notes that the 12-sandwich lineup will expand to 18 offerings. Two entirely new sub creations are being added to the Subway Series menu, and four sandwiches from the classic menu will be getting a Subway Series upgrade, which the brand describes as "changes that will make these fan favorites even more craveable."

Here's a quick rundown of the entirely new sandwiches, as described in the press release:
#19 Pickleball Club™: Named for one of America's fastest-growing sports, this toasted sub is piled with thin-sliced Black Forest ham, crisp bacon and American cheese on our Artisan Italian bread, plus finished with a brand-new honey mustard sauce only featured on this sub.

#33 Teriyaki Blitz: Tender steak is marinated in our Sweet Onion Teriyaki sauce and topped with American cheese, green peppers and red onions, toasted on Hearty Multigrain bread.
Though the press release does not specify, Subway confirmed to The Takeout that the Pickleball Club does contain pickles as well. [A previous version of this story indicated that it did not.] The honey mustard sauce sounds like a good pairing with the ham, and pickles, as we know, make everything better. These two sandwiches are digital exclusives, only available via online orders or through the Subway app.
The classic sandwiches that are getting upgrades are the Sweet Onion Teriyaki; the Italian B.M.T.; the Chicken & Bacon Ranch; and the Spicy Italian. Though each one is given a tweaked name to indicate its ascension to the more elite sandwich menu (the "Hotshot Italiano," the "Ultimate B.M.T.," etc.), it's actually hard to tell from the press release what makes each one different from its classic counterpart. To use Subway's terminology, what changes, exactly, have made these fan favorites even more craveable?
A side-by-side comparison with the classic menu descriptions of each sandwich gives us some clues. The All-Pro Sweet Onion Teriyaki, for example, appears to ditch the original's green peppers and spinach while adding American cheese. The new Ultimate B.M.T. seemingly eschews cucumbers while adding Provolone. The Chicken & Bacon Ranch has swapped out cubed bites of grilled chicken in favor of pulled rotisserie-style chicken. And while the original Italian invites customers to "pile on cheese," it doesn't come with cheese automatically; the Hotshot version adds provolone and apparently drops the cucumbers.
If Subway is moving away from its default setting of "cucumbers on everything all the time," this can only be a good thing. At their best, sliced cucumbers provide a fresh, vegetal crunch to a sandwich. At their worst, they are nothing more than soggy, waterlogged filler, and at a sandwich shop where they must sit pre-sliced in a tray for hours on end, they are often at their worst. Customers are, of course, free to customize their Subway sandwiches however they see fit, so if you want your cukes, you can keep your cukes. As we can see in the photo above, however, no sub appears to be lacking without them.
Other changes to Subway sandwiches
Beyond a big menu overhaul and the announcement of all-new sandwiches, Subway is making a few smart tweaks to its processes that will result in better subs, no matter how "signature" they might be.
First, the company announced in February that it will no longer serve pre-sliced meat, instead investing in deli slicers for every Subway location. Though this will have a large upfront cost, it will actually save money in the long run; pre-sliced cold cuts are more expensive, and the superior quality of fresh-sliced meat will hopefully result in a tastier sandwich and draw in more repeat business.
Secondly, the latest press release notes that the sandwiches on the Subway Series menu now come with "double cheese." Focusing on cheese is an easy way to make any product taste more indulgent, so this feels like a smart move, too. These updates all fall in line with Subway CEO John Chidsey's strategy of pinpointing areas for improvement upon the existing product; he told CNN earlier this year that the 2023 makeover is "all about crave." Given that no one on earth has ever craved pre-sliced cucumbers, I'm inclined to agree with him.