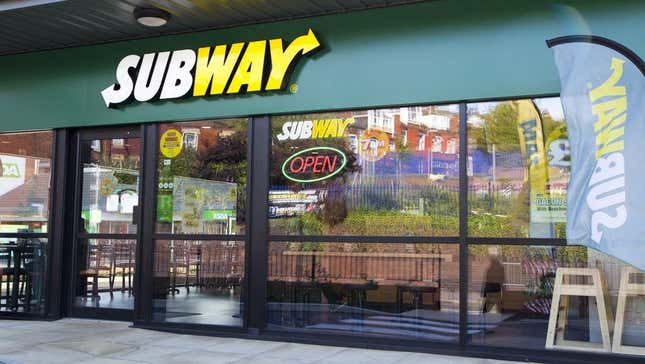 Back in February, after exceeding 2022 sales projections, Subway announced it was on the market, looking for the right buyer to come along. While a buyer has not yet closed the deal, the company's CEO, John Chidsey, explained recently why the brand is worth its $10 billion price tag. Industry publication Restaurant Business has the story.
McDonald's Shrinks Its Restaurant for the Digital Age
From the moment it was announced via press release, Subway has been extremely tight-lipped about the possible sale.
"There is no indication of timing or assurance that a sale will occur," the brief initial statement read in part. "The company does not intend to make any further public comment regarding the process until it has been completed."
Subway hired J.P Morgan to advise in the search for a buyer, and less than a month later some big fish were biting. Sky News reported in March that major corporations like Goldman Sachs Asset Management, Bain Capital, TDR Capital, and TPG were among the interested bidders.
The New York Post reported in April that Subway's $10 billion asking price had been cut down to $7 billion due to a lack of interest, but at the Restaurant Leadership Conference in Phoenix last week, Chidsey dismissed that claim, citing reasons Subway is worth the higher price. He noted Subway is at a point of growth, with significant improvement in sales in recent years.
Subway ended 2022 exceeding global sales projections, boasting eight consecutive quarters of positive same-store sales growth. The sandwich chain overhauled its menu in 2022 and released the Subway Series menu, which had a more streamlined array of sandwiches to choose from, rather than relying on the build-your-own model. This revamp (despite our initial skepticism) helped Subway report "record-setting sales." Online sales have also improved: In 2019 online sales were at 3% of the chain's overall sales, and now they're at 15.5%. Chidsey expects that figure to grow as well.
There are also growth opportunities for the brand overseas, not just domestically. Subway currently has 16,500 international stores and has signed deals that will add 9,000 more restaurants globally.
"I think the international growth piece is a layup," said Chidsey. "We have a clean running field outside the U.S."
Again, nothing has been confirmed regarding the sale, despite Subway's confidence in its $10 billion worth. Chidsey did not that he expects the sale to happen some time in May or June of this year. Hopefully, no matter what company buys Subway, it's an entity that has as much faith in these sandwiches as the current CEO has.