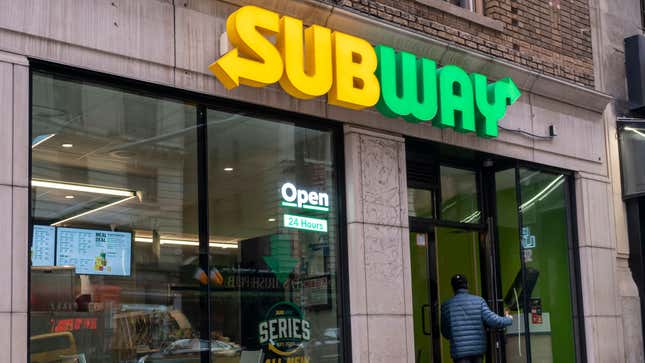 Update, March 8, 2023: Subway's been playing the field, and some major companies are interested in getting serious. Goldman Sachs Asset Management (part of Goldman Sachs) is just one of the big-name bidders in Subway's potential multi-billion-dollar sale, reports Sky News. Other actively interested parties include Bain Capital, TDR Capital, and TPG.

How To Dispose Of Cooking Grease The Easy Way After Frying
The UK news outlet notes that Goldman Sachs' involvement is interesting, since the company doesn't usually participate in these sorts of purchases. And, considering the fast food chain's $10+ billion price tag, most of the current bidders would not be able to afford a straight-up buyout, so they'd have to team up or partner with investors.
Nation's Restaurant News reports that Bain Capital has a long history of investing in food companies, including Bloomin' Brands, Domino's, Burger King, and Dunkin' (though not all currently). On the other hand, TDR Capital, another private equity firm vying for Subway, has a portfolio that includes Stonegate Pub Company and the French chain Napaqaro. TPG, meanwhile, has investments with Burger King, Mendocino Farms, and Philz Coffee.
Which of these bidders will be the right match remains to be seen, and since Subway made it clear it would not be making any statements until it's officially tied down, we likely won't know until someone puts a ring on it.
Original post, February 15, 2023: Like some singles on Valentine's Day, Subway is looking the right match. The sandwich chain is on the market and ready to explore its options, per a press release on the Subway website.

The short, vague press release doesn't reveal much regarding the potential sale. In fact, it seems designed to head off any speculation at the pass. "There is no indication of timing or assurance that a sale will occur," the statement reads in part. "The company does not intend to make any further public comment regarding the process until it has been completed." Subway has hired J.P Morgan to advise in the search for a buyer.
Though this statement was released February 14, CNBC notes that the potential sale was reported by the Wall Street Journal over a month ago.
It's hard to tell whether Subway's sale exploration is a sign of trouble or just an attempt to strike while the iron is hot. The chain has certainly had its ups and downs in recent years, making it difficult to fully determine where it stands. Not to mention the fact that the sandwich chain is privately owned and thus not required to share financial results; it only recently began doing so via press releases.
On the one hand, Subway ended 2022 exceeding global sales projections, boasting eight consecutive quarters of positive same-store sales growth. However, the journey to these successful quarters has been littered with hits and misses. In 2021, Subway launched its Eat Fresh Refresh program, a transformation that included tweaks to the menu and an improved online ordering experience. At the same time, Subway was committing to growth outside the U.S. only.
In 2022, the brand took a bigger swing by releasing the Subway Series menu, an overhaul that offered customers a streamlined selection of 12 signature sandwiches that each aligned with one of four menu categories: Cheesesteaks, Italianos, Chicken, and Clubs. The menu overhaul has proven to be a success, with Subway claiming "record-setting sales" over the past 18 months.
Non-traditional locations are another strategy that has worked out well for Subway. Venues such as college campuses, airports, and convenience stores comprise 25% of the chain's entire North American portfolio and had an average 13% increase in same-store sales at the beginning of 2022 compared to 2021. Subway also debuted an AI-powered grab-and-go vending machine in 2022 and made plans to roll out more.
Subway noted in its press release that it still plans to focus on these revamps and will "continue to execute against its multi-year transformation journey." If the brand does find a buyer, the Wall Street Journal estimates that Subway could go for more than $10 billion. Additionally, Nation's Restaurant News reports that this would be the largest sale since Inspire Brands bought Dunkin' in 2020 for $11.3 billion.
That is a lot of money to gamble on a chain that still looks to be "finding itself." Who knows if Subway is really ready for such a big commitment? Thank goodness it's just playing the field for now, letting everyone know it's available.