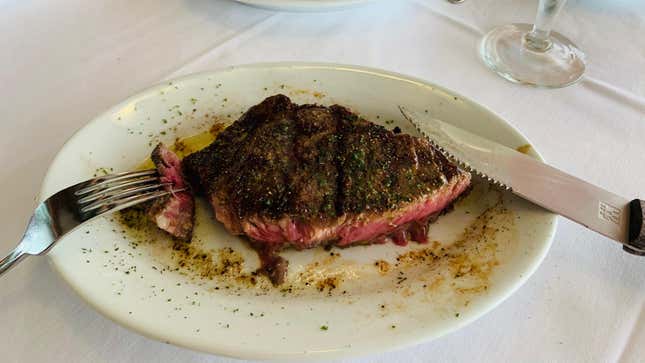 If you've ever wondered, as many do, about the oddity of the name "Ruth's Chris Steak House," it's because Chris Steak House, established in 1927 in New Orleans by Chris Matulich, was acquired in 1965 by businesswoman Ruth Fertel. We're glad that not every business uses this naming convention, however, because if they did, we'd soon have to start saying "Darden's Ruth's Chris Steak House," and that's a bigger mouthful than a 16-oz. ribeye.
McDonald's Shrinks Its Restaurant for the Digital Age
Darden Restaurants, the group that owns Olive Garden as well as several other major full-service restaurant chains, has acquired Ruth's Chris Steak House (technically Ruth's Hospitality Group) in an all-cash transaction for approximately $715 million. Ruth's Chris has 154 global locations and nearly 5,000 employees, so this is no small addition to the Darden portfolio.
That said, Darden is a massive corporation with billions in revenue. Here's a list of Darden restaurants (we'd be surprised if you haven't hit at least a few of them):
Olive Garden
LongHorn Steakhouse
Cheddar's Scratch Kitchen
Yard House
The Capital Grille
Seasons 52
Bahama Breeze
Eddie V's Prime Seafood
Ruth's Chris Steak House
Darden's strategy seems clear: bring on the steak. After a period of pandemic-related struggle, America's steakhouses are now thriving, with LongHorn in particular seeing sales above 2019 levels. It certainly seems like a savvy business move to add to that momentum by acquiring a steakhouse like Ruth's Chris, which sits at a price point somewhere between LongHorn and the more high-end restaurants in the Darden portfolio, Capital Grille and Eddie V's.
"Ruth's Chris is a strong and distinctive brand in the fine dining segment with an impressive history of delivering elevated dining experiences to their loyal guests," Darden CEO Rick Cardenas said in a company statement Wednesday. "It fits the criteria we have for adding a brand to our portfolio and supports our winning strategy."
Olive Garden will probably always be the crown jewel of this restaurant group, but never underestimate what a steakhouse brings to the table.