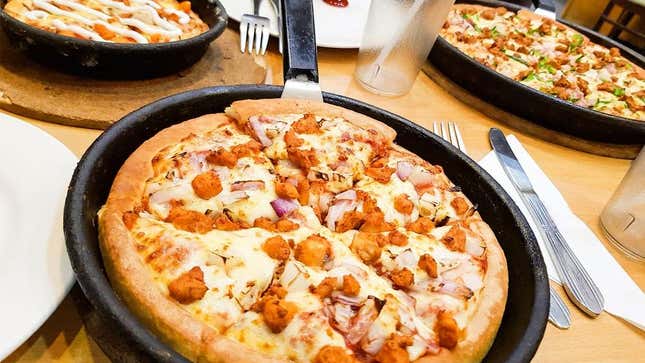 You, there! What day is this? Why, today marks the release of the annual Top 500 Report from Nation's Restaurant News, a most blessed occasion for anyone tracking the ins and outs of the fast food and fast casual dining landscape. This year's report, in which NRN compiled 2022 sales performance of the nation's 500 largest chains in partnership with Datassential, has some illuminating information on the successes and failures in the restaurant space, as well as some red flags for any brand that didn't do enough to mix things up in 2022. One particularly interesting category that came to light in this report was—what else?—pizza.
How To Dispose Of Cooking Grease The Easy Way After Frying
The top 500 restaurants in America by sales
In many ways, this year's report is the truest measure of how restaurants are rebounding from the pandemic. Last year's report looked at systemwide sales data from across 2021, a year that was still being impacted by restricted dining rooms, uneven legislation around COVID-safe practices, and a few pre-vaccine months in which everyone was still demonstrating caution around grabbing food outside the home (plus the rise of the Delta variant later in the year, which brought all that caution roaring back). This year's report, encompassing all 2022 data, shows a nation eager to get back out there to peal through the drive-thru for breakfast, lunch, and dinner.
Per Nation's Restaurant News, the top 10 restaurants in America by 2022 systemwide sales are as follows:
McDonald's
Starbucks
Chick-fil-A
Taco Bell
Wendy's
Dunkin'
Burger King
Subway
Chipotle
Domino's
McDonald's has been on top for years and years, and it's unlikely that it will be dethroned for decades. Starbucks, its next closest competitor and perpetual runner-up, did $27.5 billion in sales to McDonald's $48.7 billion. From there, the dropoff gets a little shallower as we move down the line: third-place chain Chick-fil-A pulled in $18.8 billion, and in tenth place, Domino's earned $8.6 billion.
As ever, it's worth remembering that total sales don't equal profits, and that different restaurants might have different profit margins on their food, as well as different overhead costs as it relates to labor, real estate, etc. But sales, at least, indicate where Americans' dollars are going, and which chains have our attention (or need to capture it) going forward.
Domino's is the biggest chain in the pizza wars
We often view the "big four" pizza chains—Domino's, Pizza Hut, Little Caesars, and Papa Johns—as being locked in a tight race with one another, but this year's report indicated that it might not be as neck-and-neck as we think.
Domino's is the dominant pizza chain in the United States, with $8.6 billion in sales in 2022. It's the tenth-highest-earning chain overall, and naturally, you might assume Pizza Hut is hot on its tail in 11th place. But in fact, it's 13th, with Panera and Sonic sitting between the two pizza giants. Pizza Hut made $5.3 billion last year. Little Caesars is in 17th place ($4.7 billion), and all the way in 26th place is Papa Johns ($3.7 billion). These numbers aren't shabby, but they're decisively spread widely across the fast food playing field.
This coming year might be a better one for Pizza Hut, though, because it was only late in 2022 that the brand introduced Melts, a whole new handheld category for the chain designed to cater to individual diners rather than groups. This theoretically opens up Pizza Hut as a weekday lunch option for consumers who might not have considered it before.
However, Pizza Hut and Domino's both fell in 2022 sales, with Domino's down by 0.8% and Pizza Hut down by 4.3% compared to 2021. So maybe in all the excitement of getting back out there, Americans are trying to sample a little of everything, rather than going all-in on old standbys. It's no wonder that Domino's and Pizza Hut are both currently trying out wild new delivery systems to incept us with pizza cravings all day long.