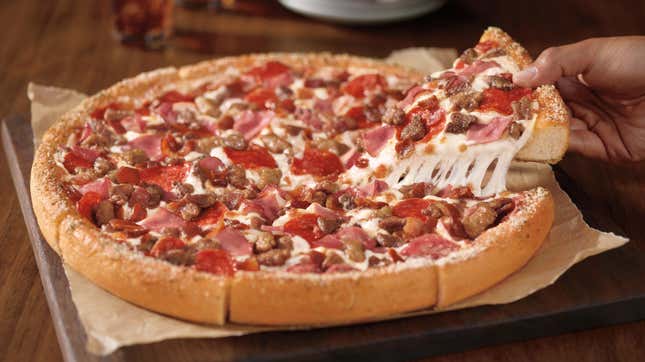 Despite rolling out some fun new menu items and enticing discounts near the end of last year, both Domino's and Papa Johns posted some disappointing fourth-quarter sales in 2022, CNBC reports. This comes after both chains raised menu prices to offset the increased cost of labor, transportation, and food. However, Pizza Hut—America's second-largest pizza chain behind Domino's—posted some Q4 results worth bragging about, having aggressively expanded locations and grown sales by 8%. The phrase "No One OutPizzas The Hut" might soon be more than a marketing tagline.

How To Dispose Of Cooking Grease The Easy Way After Frying
How did Domino's perform in 2022?
CNBC notes that Domino's changed some of its deals in 2022—all for the worse. Its $5.99 mix and match deal was raised to $6.99, and while its carryout large pizza special stayed at $7.99, it shrank the deal from a three-topping to a one-topping pie. (Alas, that three-topping carryout deal was my favorite, but I can easily go to Little Caesars for a $5.55 one-topping pizza if I'm looking for cheap food.)
Domino's is far from being in the red, however. When it comes down to it, the company missed expectations by bringing in $1.39 billion in revenue versus the $1.44 billion analysts had expected. Same-store sales did increase, but only by 0.9% as opposed to the 3.4% the chain was aiming for.
Nevertheless, the company is still attempting to innovate, as we saw with its recently released Loaded Tots, which will be a permanent menu item going forward. There's a chance the new novelty appetizer will boost sales this year.
Papa Johns fared a little better in Q4 sales
The outlook for Papa Johns is a little more favorable. Analysts expected $523.8 million in revenue, and the company exceeded that slightly by bringing in $526.2 million. It's expecting a modest 2%-4% range of growth in 2023 for North America and continues to fall on the lower end of America's top five pizza chains.
Its most recent innovation is a parmesan-crusted pizza whose bottom crust is lined with the cheese, adding a crunchy, salty layer to each thin-crust bite.
How Pizza Hut is gaining ground
Pizza Hut, like other Yum Brands properties (Taco Bell, KFC, and The Habit Burger Grill), is managing to stay relevant by adding items to the menu that are practical and convenient, specifically its handheld Melts, which are proving to be a solid meal option for single-person orders. The Melts are actually driving foot traffic to the restaurant, which is a pretty difficult thing to do these days given that many chains are choosing to focus on digital sales.
It's been a while since I've thought about Pizza Hut as a quick weeknight dinner option, since Domino's $7.99 three-topping carryout deal was the most appealing to me. But Pizza Hut is keeping up with the times, experimenting with Detroit-style pies and bringing back the Big New Yorker pizza to stoke our collective nostalgia. The brand has been catching my attention more than ever, and I can't be the only one.
We all know that kind of attention eventually leads to sales. While Domino's and Papa Johns have some work to do with cost logistics and pizza innovation, The Hut is positioning itself to grow even further and take a bigger slice of the proverbial pie.