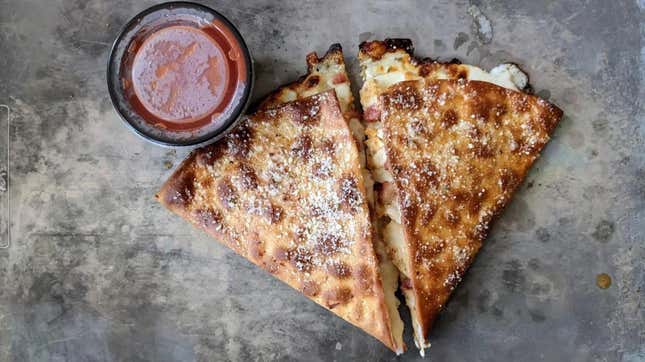 Toward the end of 2022 Pizza Hut decided to get a jumpstart on revamping itself for the new year, and part of that makeover included the introduction of a whole new menu category: Melts. Just one month into 2023, the melts are already helping the pizza chain improve foot traffic and shift its focus.
What are Pizza Hut's Melts?
The Pizza Hut Melt, which we deemed a direct competitor to the Papa Johns Papadia, is essentially two slices of sauceless pizza that are folded over onto each other, baked, and served as a handheld (similar to a calzone, but also not, because it's open on the side). The Melts come two to an order, and they're intended as an individual entree.
In its initial promotion of the Melts, Pizza Hut was adamant about this single-person serving size. The brand ran a social media campaign in which it encouraged customers to "go solo" and not share images of the Melts on social media.Pizza Hut's Melts cost $6.99 per order, and they come in four varieties, each with a dipping sauce:
Pepperoni Lover's: Pepperoni and mozzarella; marinara on the side
Buffalo Chicken: Grilled chicken, onions, buffalo sauce; ranch on the side
Meat Lover's: Beef, bacon, ham, sausage, pepperoni, pork; marinara on the side
Chicken Bacon Parmesan: Bacon, grilled chicken, creamy garlic parmesan sauce; ranch on the side
Unfortunately for veggie lovers, there's no meatless option among the melts, and no ability to choose your own toppings (technically fillings in this case). But considering the success of this new category, it wouldn't be a bad idea for Pizza Hut to explore either or both of those options in the near future.
Why Pizza Hut's Melts have been successful
Nation's Restaurant News recently reported that Pizza Hut launched the Melts with the intention of shifting the brand's focus away from family-focused, special occasion meals toward an individual, everyday lunch option.
G/O Media may get a commission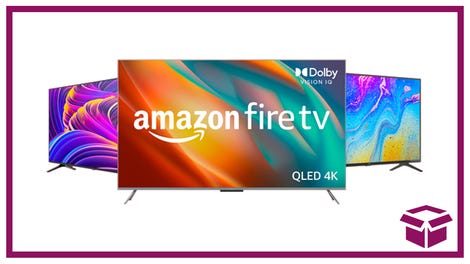 Ooh. stunning.
New Amazon Fire TVs
"This launch was intentionally designed for young people," said Pizza Hut CEO Aaron Powell during Yum Brands' Investor Day in December. "We're very pleased with the same-store sales growth, transaction growth, new customers and repeat customers since this has launched."
NRN also cites foot traffic analysis from Placer.ai that indicates Pizza Hut has, since the launch of the Melts, only had two weeks out of a 12-week period with negative traffic trends compared to the same time last year. The brand is extremely focused on getting away from being an occasional treat; it aims to become a modern, everyday meal option for the younger generation, and the Melts have the format and price point to accomplish that.
While Pizza Hut's upcoming Q4 earnings call will likely provide more specifics, Lindsay Morgan, Chief Marketing Officer for Pizza Hut, confirmed to The Takeout via email that Melts are one the brand's most successful launches to date. She cites the fresh tone of the marketing strategy behind the launch and the overall value of the Melts as reasons for its success.
"Melts are enough for two people but priced for one – which is a sharp price point during a time customers are being squeezed," Morgan wrote. "They're the perfect food for a solo eating occasion which we know resonates well with younger customers."