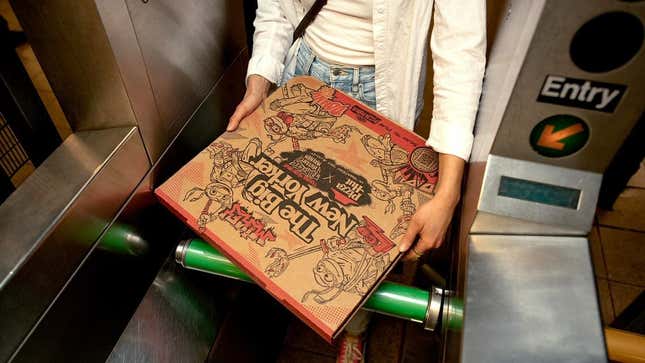 The nation's two largest pizza chains are each pushing the limits of what pizza delivery can look like, and where it can occur—but they seem to be going about it in totally opposite ways. Whereas Domino's new Pinpoint Delivery system allows customers to order a pizza to be sent to virtually any location (like a beach or a park), Pizza Hut's new underground pizza delivery is testing a system in which pizzas are delivered nearly instantaneously to a single location: the NYC subway.

How To Dispose Of Cooking Grease The Easy Way After Frying
The new limited-time underground delivery test is a promotion for the new Teenage Mutant Ninja Turtles movie, Mutant Mayhem, in theaters August 2. Even non-Turtles fans probably know these anthropomorphic, crime-fighting reptiles are named after real historic painters, live in an abandoned subway station, and seem to survive exclusively on pizza. So even though almost nothing about the Turtles franchise makes sense, the collaboration with Pizza Hut does.
Here's how it works: An ad placed in a Manhattan subway station designating itself a "Pizza Drop Zone" invited customers to text a turtle emoji to a hotline number. This prompted Pizza Hut to prepare and deliver a pizza "within minutes" directly to the customer at the Pizza Drop Zone within the subway station. Master Splinter would be so proud.
Although this was only a test and limited to one station, there's reason to believe The Hut could bring back this low-stakes execution. Many Pizza Hut locations are adjacent to underground stations throughout the city, and delivering to such drop zones would mean no traffic, delays, or cold pizza upon arrival. MTA pizza drop-offs don't have all the bells and whistles of Domino's recent "delivery to anywhere and everywhere" launch, but it's such a beautifully simple concept, it might not need to.
By contrast, Domino's new Pinpoint Delivery service uses GPS tracking via Google Maps and relies on the ability of both the delivery driver and customer to find each other using a physical description or a flashing signal on a cell phone. Those are quite a few variables in this system that could, like anything new, take some time to perfect. Pizza Hut's "Pizza Drop Zone" is pretty straightforward, but might have to contend with crowds, odd hours, and other hurdles.
Both chains should be commended for their efforts to expand the reaches of pizza delivery, and maybe they can even learn from each other. Reaching a future where you can enjoy a slice of pizza the exact moment in which you crave it is a future I'm happy we're working toward.