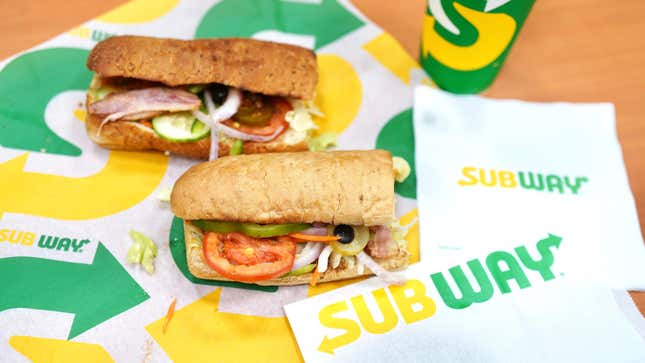 The sale we were expecting has finally gone through: Subway has gone to the highest bidder. Reuters reports that the fast food sandwich chain is going to private equity firm Roark Capital Group for a cool $9.55 billion, which is almost as high as the $10 billion price at which Subway valued itself earlier this year. That's a lot of footlongs.
How To Dispose Of Cooking Grease The Easy Way After Frying
Why Roark Capital Group bought Subway
Roark Capital Group is a private equity firm with investments in multiple industries including health/wellness and education, but it also has many restaurant brands in its portfolio. Roark might not exactly be a household name, but it has a stake in, or outright owns, many fast food chains that are.
Some restaurant groups that Roark Capital has full or partial ownership in include:
Inspire Restaurant Group, which owns Arby's, Baskin-Robbins, Buffalo Wild Wings, Dunkin', Jimmy John's, and Sonic Drive-In
Focus Brands, which owns Schlotzky's, Cinnabon, Moe's Southwest Grill, Carvel, McAlister's Deli, Auntie Anne's, and Jamba
Nothing Bundt Cakes
The Subway deal, Reuters says, makes Roark Capital one of the largest restaurant operators in the entire world. Because it's such a dominating force in the chain restaurant industry, Subway seems like a pretty good fit for the private equity group. Subway has certainly had its ups and downs in the past few years, including that pesky debacle over tuna that kept popping up, but things seem to be on the upswing for the brand, and having this investment behind it might keep things trending in the right direction.
Subway has been owned by its founding families since it opened, so this marks the first time the company has ever changed hands. The deal still has 12 months to officially close, but barring any issues, Subway will now have a new owner. No matter where Roark Capital takes the chain, we can all agree on one thing: The sandwiches have a little (okay, a lot) of room for improvement.