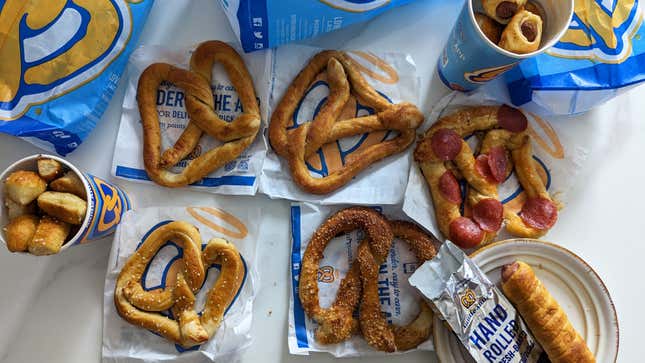 There's the smell of new clothes. A medley of scented candles, body lotions, and soaps. Filtered air with a hint of ozone. But the fragrance that screams out "mall" to me is the smell of Auntie Anne's pretzels.

There's no mistaking the scent of (what the brand says is) real butter, wafting through the air and into the olfactory nerves of shoppers, browsers, and hanger-outers. It's rich and full, not heavy or greasy; the scent could lead you to the Auntie Anne's kiosk as easily as if the butter were a trail of gold glitter at nose height.
Pretzels are perfect mall food, whether you're a parent in need of an instantly satisfying snack for your kids or a crop-topped teen in search of extra carbs. And regardless of whether you pick up a pretzel at the mall or the airport, they're made fresh on site, same as when Anne Beiler rolled her first pretzel in 1988 to sell at a Pennsylvania farmers market.
Now, even after the company's sale in 2005 and current inflation rates, Auntie Anne's remains an affordable option for those who need a fast belly-filler on the go, especially with bites that are easy to scarf down when you don't have the time to leisurely untwist a whole pretzel.
Deciding to get an Auntie Anne's pretzel isn't the hard part. It's which pretzel to order, and FOMO might have you feeling tied up in knots. That's where we come in, with a definitive ranking of Auntie Anne's flavors for your careful review.
First, though, we must discuss some notable omissions. I thought I would have eight pretzels to rank. After all, that's what corporate lists on both the nutritional guide and the website. However, to my great disappointment, I was told by the staff at my location that the Jalapeno Pretzel has been discontinued for some time already, and the elusive Roasted Garlic & Parmesan and Sour Cream & Onion had just been taken off the menu as well.
The employees were unsure if this was a corporate decree or a ruling specific to Kennesaw Town Center Mall. And they'd never ever even seen the mythical Raisin Pretzel. All four of these failed to show up in my very big radius check across metro Atlanta Auntie Anne's locations.
Not to be thwarted, I nevertheless emerged with eight pretzel products to try. Here's every pretzel item on the menu of my suburban mall storefront, ranked, and pro tips on how to make the perfect Auntie Anne's pretzel order.