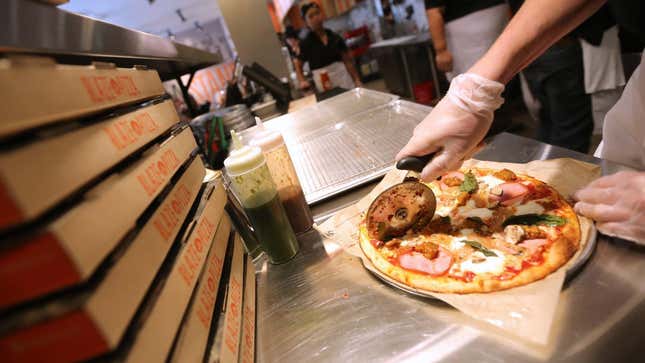 Getting food to go can be a toss-up. Whether you're picking up or ordering delivery, there are a lot of things that can go wrong: a rogue pothole can jostle a meal beyond repair, a long delivery route can leave the dishes too cold to enjoy fresh, and even before any food hits the road, the packaging needs to be designed to maintain the integrity of the dish before you unpack it at home.

All the Best Finds at the Sweets & Snacks Expo
There are some foods that will always be at risk from these complications. Fries get soggy. Soups spill. Melted cheese congeals. But recent survey results revealing the best brands for takeout show a clear pattern of which foods are best suited for the journey.
The highest-quality takeout foods
Nation's Restaurant News recently reported on the top 14 brands for takeout, as determined by a survey from market research firm Datassential. The survey focused particularly on customers picking up the orders themselves, taking some of the common issues encountered during third-party delivery out of the equation. Here's what the survey findings indicate about the foods that travel best.
Burgers and sandwiches. Chick-fil-A comes in at number one, with 77% of survey respondents labeling the chain "best in class" or "above average" when it comes to takeout. It makes sense that the chicken sandwich chain, along with the burger chains on the list (Culver's and In-N-Out), would be high quality because these concepts were created with the drive-thru in mind. The sandwiches are sturdily built, precisely stacked, and tightly wrapped; unlike McDonald's Big Mac, they don't contain an excess of layers that could easily go awry.
Deli subs. There are five deli sub chains on the list: Jersey Mike's, Firehouse Subs, Jimmy John's, McAlister's Deli, and Jason's Deli. Once again, it's the tightly wrapped packaging that helps maintain these sandwiches' integrity, and most of these chains specialize in cold subs, which removes any temperature-related issues. The main enemy to the sub in transport is too much sauce or other wet ingredients against the bread, often introduced by way of order customization.
Doughnuts. Krispy Kreme is the lone doughnut chain on the list, but its inclusion reminds us that when it comes to on-the-go foods, simpler is better. There's little that could cause a doughnut disaster before you get a box of the pastries to their destination—just don't squish the box and you'll be fine.
Pizza. Similar to the drive-thru model that makes burgers easy to transport, many large pizza chains rely on delivery and takeout for a majority of their business, so they'd better get it right. In particular, MOD Pizza, Blaze, Jet's, and Papa Murphy's all make this list. It's one of the most resilient fast foods out there, provided it can be kept level throughout transit.
What do all these foods have in common? A dense structure, tight packaging that keeps ingredients contained, and flexibility on temperature. It's important to remember that no food will be perfect when ordered to go—there's a reason the highest-rated takeout on the survey only clocks in at 77% of respondents labeling it "above average." But if you're committed to staying in, there are certainly some entrees that will treat you better than others.