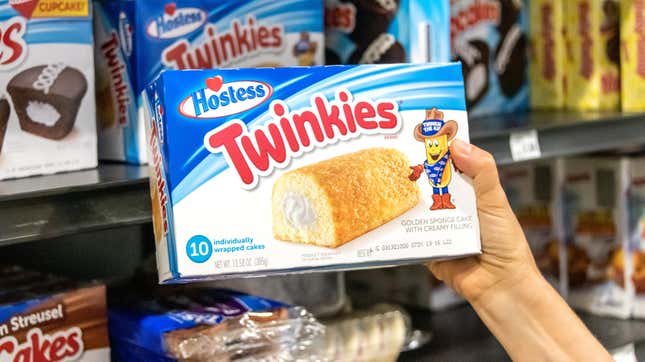 The J.M. Smucker Company is betting big on snack cakes. The company we know for its flagship brand, Smucker's (PB&J for life!), just muscled its way into snacks in a big way. The corporation has acquired Hostess Brands for a filthy amount of cash—did you know Twinkies were worth $5.6 billion?
How To Dispose Of Cooking Grease The Easy Way After Frying
Well, not Twinkies alone. The announcement from Smucker's outlines the scope of the acquisition: The jelly brand will now own Donettes, Twinkies, Hostess CupCakes, Ding Dongs, Zingers, CoffeeCakes, HoHos, Mini Muffins, and Fruit Pies, as well as the Voortman bakery brand. The sale of the company also means that 3,000 existing Hostess employees will now join the J.M. Smucker Company.
Hostess' post-bankruptcy journey
Twinkies have been around my entire life (and well before that, too). The sweaty sponge cakes would occasionally make it into my brown paper bag lunches for school, and I've been known to indulge in Hostess cupcakes, Ding Dongs, and Snoballs, too. The newest Hostess product, Kazbars, proves that the brand still has plenty of great ideas to bring to the table in the 21st century. But there have been many moments in recent history where the brand's continued existence was anything but assured.
Hostess has had some incredibly close calls with disaster. It filed for bankruptcy for the first time in 2004, and that wouldn't be the only time. It briefly recovered, but in 2012 the brand went into final bankruptcy liquidation. The company had to slash 18,500 jobs and sell its assets, including its brands and factories.
Notice, however, that the company is still around in 2023. That's because in 2013, a new version of the company was formed and dubbed Hostess Brands, which started as a joint venture between Apollo Global Management and C. Dean Metropoulos and Company. The partners purchased the assets from Old HB (the company that previously owned Hostess' assets) through bankruptcy court.
After some serious inner reworkings, Hostess Brands made a spectacular comeback, one that would eventually grow into a company with a valuation of $2.3 billion. In 2016 Hostess was sold once more, to Gores Group, which eventually took it public. And that brings us to today, with J.M. Smucker taking the reins.
All the brands owned by The J.M. Smucker Company
Aside from owning Smucker's, which manufactures jams, jellies, ice cream toppings, peanut butter, and more, the J.M. Smucker Company also owns some pretty common household brands. There's Uncrustables, a back-to-school staple, but it also owns Jif, Knott's Berry Farm, Carnation, Folgers, Café Bustelo, Dunkin's retail lineup, and some pet food brands like Meow Mix and Milk-Bone.
One key reason for acquiring Hostess is that Smucker's doesn't yet have a snack cake brand. The announcement notes that the acquisition "positions the Company to deliver on consumer needs across occasions with greater convenience and selection." Translation: Smucker's already has a lot of influence over breakfast and lunch, and Hostess treats fill in a lot of the underrepresented parts of the day.
This makes me wonder if we'll ever see some Smucker's x Hostess collabs, like Red Raspberry jam-filled Twinkies or Jif-filled CupCakes. Oh, and by the way, you should probably eat the ones you're hoarding now—they do, in fact, expire, and it looks like we won't have to worry about them disappearing from store shelves again, now that the brand's got an enthusiastic new owner.