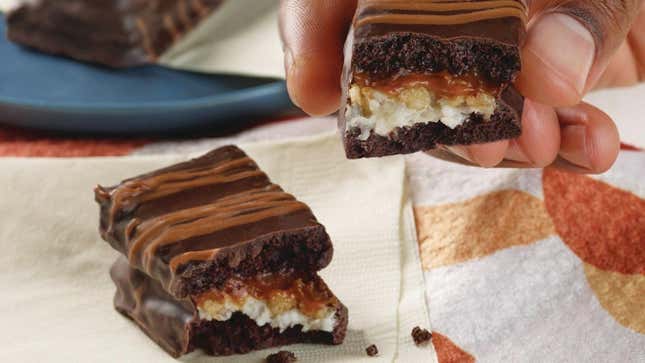 Since its bankruptcy filing in 2012, Hostess Brands has spent a solid decade regaining its footing in the snack category. Now, the company is looking to retool its image with a new product, one that underlines the type of consumer the brand hopes to capture. Say hello to the Kazbar.
Hostess Kazbars are just one tasty part of the brand's overall strategy to modernize. As industry publication Food Dive reports, the legacy brand is hoping to shed its image as a seller of antiquated treats and reach consumers during various "snacking occasions" throughout the day.

Hostess' road to redemption
In January 2012, NPR reported that Hostess Brands was seeking protection from its creditors because it owed millions to its suppliers and labor unions. The debt was due largely to the fact that sales of Twinkies, its flagship product, were down. Since then, the company has been working its way back into the snack space and back into consumers' mouths.
In 2018, the snack brand streamlined its portfolio and began introducing new products such as Baby Bundts, Crispy Minis, and Boost Jumbo Donettes. This past year Hostess also launched Bouncers, aka tiny versions of the brand's iconic Twinkies, Ding Dongs, and Donettes. Each of these products aims to position Hostess in new snack categories. For example, the Boost Jumbo Donettes are a larger version of the mini doughnuts already sold by the brand, but they contain as much caffeine as a cup of coffee, making them an ideal morning snack instead of an afternoon treat.
Per Nielsen data shared by Food Dive, Hostess Brands has increased its market share of sweet baked goods over 1.7 during the last two years and has had 12 consecutive quarters with net revenue growth of at least 9%.
G/O Media may get a commission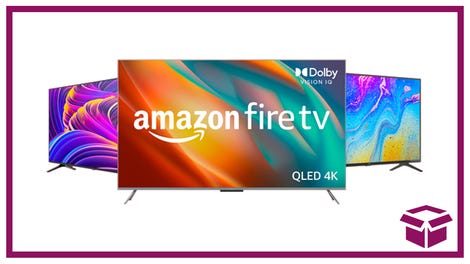 Ooh. stunning.
New Amazon Fire TVs
It's safe to say that just about everyone in the United States is familiar with Hostess snack cakes in some form or another—in fact, the company reports brand recognition at 90%. However, the issue lies is in consumer preferences. Fewer than 40% of consumers name Hostess items as their favorite sweet snack. With a new offering, the brand hopes to change that.
What are Hostess Kazbars?
A press release from Hostess describes Kazbars as "a first-of-its-kind candy-bar-inspired innovation within the snack cakes market." It contains layers of chocolate cake, crème, crunchy candy bits, and either caramel or chocolate fudge, coated in an exterior layer of more chocolate. The snacks will be available in convenience stores and grocery stores nationwide starting in mid-March.
How do Kazbars fit the "modern" image the brand is aiming for? Initially, Hostess thought the hearty layers and handheld convenience of the bars would perform best with younger male consumers. But as the company told Food Dive, testing the product with kids and millennial parents alike revealed that Kazbars are actually suited to a variety of different snacking occasions, such as an after-school treat or an impulse buy at the gas station.
For this reason—and at the request of some parents who tested the product—Kazbars will be released in two sizes. At the grocery store, you'll find them in packs of eight "mini" bars (1.25 oz. each). At convenience stores, you can pick up individually wrapped full-size Kazbars (2.75 oz. each).
"This new kind of snack delivers the familiar, moist Hostess cake consumers know and love with a new, delicious fusion of layers and textures," said Christopher Balach, general manager of Hostess Brands, in the press release. "The snack has performed strongly with consumers throughout product-testing and we're excited to see that translate in the marketplace."

After a century of promising the softest, moistest cakes on the market, Hostess is trying to liven things up with some crunch. We look forward to determining whether those candy bits make the product more fun to eat, or whether they merely feel out of place.