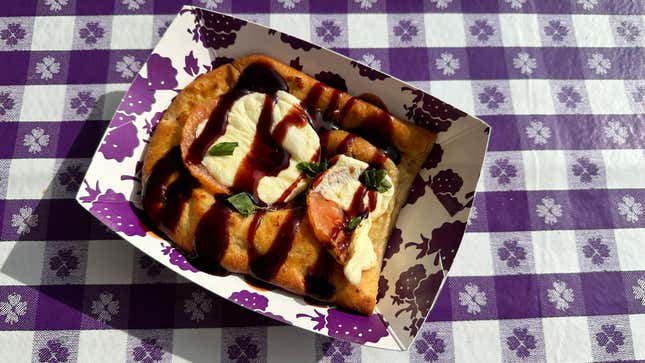 There is something uniquely enjoyable about theme parks in the springtime. It's when Walt Disney World celebrates with the International Flower & Garden Festival, which adds over 1,000,000 blooms to EPCOT. Universal Studios Florida hosts an annual Mardi Gras festival that fills the streets of the park with beads and beignets every night. And Knott's Berry Farm in Buena Park, California goes back to its roots—in every sense of the word—with its annual Boysenberry Festival, happening now through April 16.
All the Best Finds at the Sweets & Snacks Expo
A weeks-long event dedicated to one particular kind of berry might seem niche, but everyone deserves to experience the singular joy of watching a whole group of people face-down in boysenberry pie, trying to be the first to finish and win the contest, cheered on by a crowd of people wearing knit hats shaped like the pies themselves.
It's a fun, silly sort of special occasion, which is exactly what theme parks are all about. Knott's Berry Farm will never have the name recognition of nearby Disneyland, but its Boysenberry Festival might be the most delicious of all theme park events.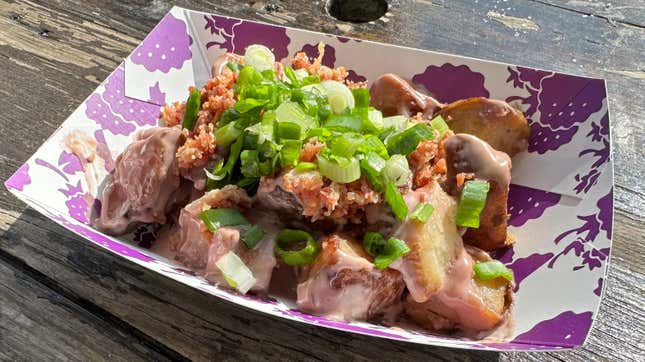 What is the Knott's Boysenberry Festival?
Every March and April, Knott's Berry Farm throws a massive event celebrating the berry that made it famous. There are pie-eating contests, live musicians and entertainers, and craft booths selling everything from hand-carved wooden statues to handmade jewelry. But the real centerpiece of the festival is food. Pop-up booths all over the park are serving boysenberry foods, everything from savory main courses to cocktails featuring the fruit.
This year, all 24 offerings at the booths are completely new, and I tasted my way through a lot of them. What's especially fun about the Boysenberry Festival is that the fruit shows up in ways you wouldn't expect: I quite enjoyed the buffalo chicken over macaroni and cheese topped with a boysenberry ranch drizzle, as well as the caprese garlic bread with boysenberry balsamic glaze. Similarly, I couldn't get enough of the boysenberry bread pudding, nor the ice cream cookie sandwich made with fresh sugar cookies and boysenberry ice cream.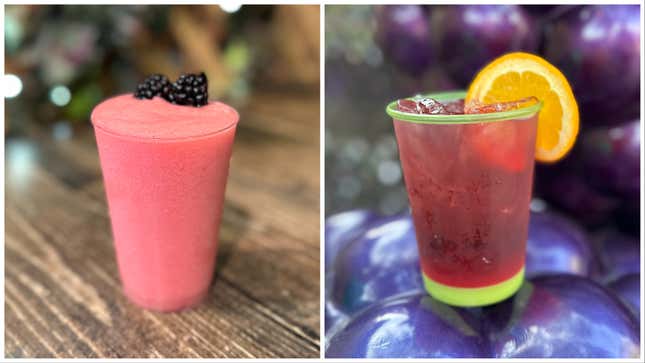 I also tried sweet corn nuggets with a boysenberry honey drizzle; a loaded potato bowl with boysenberry cheese sauce, bacon, and chives; and boysenberry panna cotta with a shortbread cookie—among too many others to name.
This year's adult beverages were the best I've ever had at Knott's. The boysenberry sangria was pleasantly balanced and not sugary. I especially loved the boysenberry wheat ale, the boysenberry frozé, and, best of all, the boysenberry lemonade seltzer.
A list of the most delicious sounding items I regrettably didn't manage to taste in my time at the festival includes:
Elotes with boysenberry butter, boysenberry mayo, and cotija cheese
A charcuterie board with boysenberry crostini and boysenberry mustard
A sushi burrito with spicy crab surimi, avocado, lettuce, crispy onions, sesame and unagi sauce and a boysenberry sweet chili dipping sauce
I've already written the word "boysenberry" 23 times. That just goes to show Knott's dedication to the theme of this festival.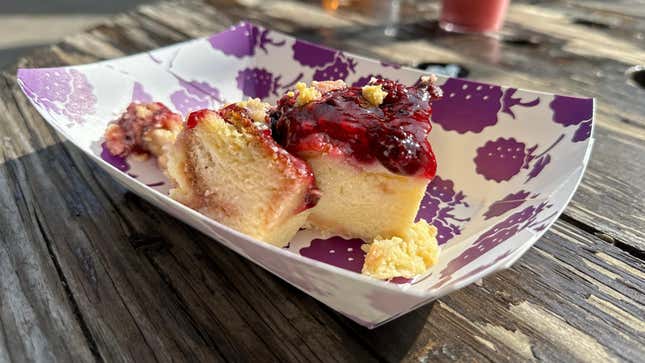 Why celebrate boysenberries in the first place?
It's no exaggeration to say that these berries are the foundation of the whole theme park. Knott's Berry Farm was started by Walter and Cordelia Knott as a fruit stand in 1920. It gained popularity for being the only farm selling the boysenberry, a hybrid of loganberry, red raspberry, and blackberry. In fact, according to Knott's, every boysenberry in the world today can trace its origins to Knott's Berry Farm.
Eventually the farm stand started selling pies and preserves, then hot food. To keep customers happy while they waited for Cordelia's dinner service, Walter started adding attractions. More people came. More attractions were built. The farm soon became California's first theme park, with "lands" celebrating different elements of the state's history and geography.
The centerpiece of the park, Calico Ghost Town, is based on a real silver mining town that Walter Knott eventually bought and revived into its own tourist attraction. There's also the northern California–themed Camp Snoopy, the coastal Boardwalk, and a Fiesta Village (currently being reimagined) that harkens back to California's days of Spanish colonization.
To a certain extent, Knott's Berry Farm celebrates boysenberries every day. It's easy to sip a boysenberry lager in the Calico Saloon while an old-timey piano player and performers put on an Old West saloon show, and the Ghost Town Bakery sells slices of berry pie and cookies. And there are jars upon jars upon jars of preserves just waiting to be brought home.
About those preserves: While Knott's Berry Farm's products are sold across the country, those are made by Smucker's. The boysenberry preserves you can buy at the park are still made by a family farm on California's Central Coast.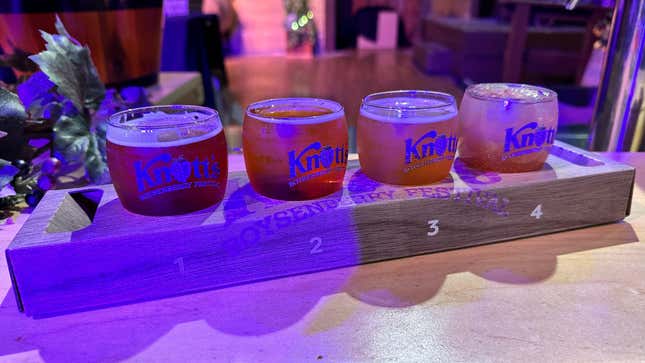 What if I don't like boysenberries?
You can still have a good time at a theme park obsessed with fruit even if you don't want to eat any of it. Yes, Knott's will serve you a funnel cake topped with boysenberry preserves and boysenberry soft serve. But it will also serve you one draped in chocolate sauce and whipped cream. And there is a lot of really good food at Knott's, from barbecue smoked on site in the middle of the park's Ghost Town land to excellent fried chicken at Mrs. Knott's Chicken Dinner Restaurant, which is so popular that it can seat more than 900 people at a time.
Beyond food, the park has really fun entertainment, including a burley-q show in Ghost Town and appearances by Snoopy himself in Camp Snoopy. Then there are thrill rides like GhostRider, the largest and most intense wooden roller coaster on the West Coast, and the surfing-themed HangTime, a coaster with the steepest drop in California—96 degrees—which pauses you mid-hang so you get a few extra moments to contemplate your doom. Just make sure to take in the rides before you sample all the food.