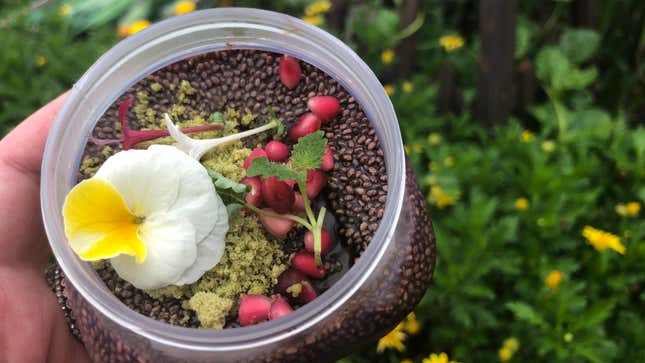 There are a lot of festivals to love at EPCOT, but there is something undeniably special about the EPCOT International Flower & Garden Festival. It's a celebration of spring, when everything is blooming in vivid shades and the whole park bursts into bloom. For the festival, which is running this year from March 1–July 5, Walt Disney World adds 30 million flowers to the park, and 200,000 plants. It takes a team of hundreds of horticulturists all year to prepare for the festival—and when you walk in and see the riot of color, you'll quickly see that it's worth the effort. What you might not see right away is how well this festival will satisfy your appetite as well.
How To Dispose Of Cooking Grease The Easy Way After Frying
All around the park you'll find flower topiaries of all the iconic characters, many of which are themed to each international pavilion in the World Showcase, too. Snow White and the seven dwarfs are in Germany, Anna and Elsa are in Norway, Lady and the Tramp are in Italy (but tragically, not eating spaghetti). The France Pavilion, my favorite for many reasons including champagne and black truffle croissants, features not only Remy from Ratatouille near the walkway to his new ride, but also Beauty and the Beast in all their finery, stationed in front of the land's recreation of the Eiffel Tower.
Besides Flower & Garden, there are three annual festivals at EPCOT: the International Festival of the Arts in January and February, the International Food & Wine Festival July through November, and the International Festival of the Holidays in November and December. Understandably, the Food & Wine festival gets the most attention for its culinary delights—but there is a lot of delicious food no matter which event you attend.
At Festival of the Arts, the "festival kitchen" food booths offer treats designed as works of art come to life. And at Flower & Garden, there is a real emphasis on the beauty of nature presented on the plate. That means there are some especially inventive plant-based offerings because, well, the whole festival celebrates plants.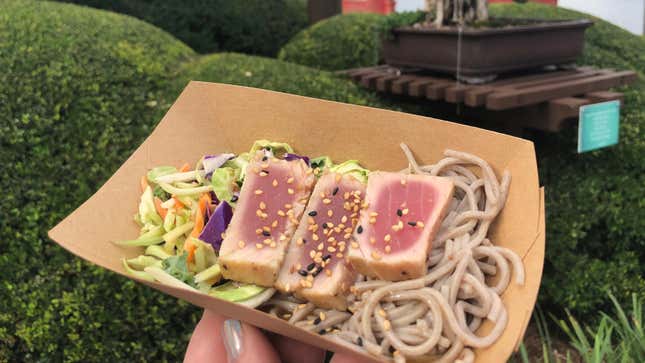 Last year, the Florida Fresh kitchen served Grilled Street Corn on the Cob with savory garlic spread and spicy corn chips, or with savory garlic spread and plant-based cotija cheese, which are both returning this year—as is the Coconut Tres Leches cake from La Isla Fresca, which is soaked in oat milk, almond milk, and coconut milk with toasted coconut on top.
The Trowel & Trellis kitchen is bringing back its boneless Impossible Korean short rib with cilantro-lime rice, danmuji slaw, and kimchee mayonnaise; in 2023, it will also debut a chocolate cake with black current ganache, mixed berry compote, and chocolate ice cream, among other creative animal-free offerings.
The menu for the 2023 festival features a mix of popular recurring items and nearly 50 new ones. The Germany Pavilion's Bauernmarkt: Farmer's Market kitchen serves reliably delicious potato pancakes with various toppings. Last year, I loved the version topped with caramelized ham, onions, and herb sour cream. The frushi from the Japan Pavilion's Hanami kitchen is fruit-based dessert sushi, which is as artistic as it is delicious. In the China Pavilion, artists make stunning flower sculptures out of cotton candy (really, cotton candy), each an edible and endlessly Instagrammable work of art.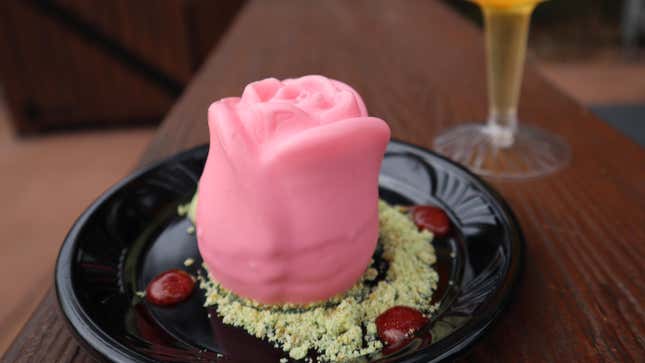 Of course, not everything comes back from one year to the next. The best dish I ever ate at any EPCOT festival was the Chocolate Pudding Terrarium in 2019, which was chia seed pudding made with avocado cream, matcha crumb, pomegranate seeds, fresh herbs, and edible flowers; though it has returned in subsequent years, it isn't on the 2023 menu. The same is true for the Vanilla, Rose Water, and Pistachio Panna Cotta from Tangierine Cafe in the Morocco Pavilion, which came inside an edible white chocolate rose—the floral flavors held inside a floral vessel was truly impressive, and tasted better than I could have imagined.
The Honey Bee-stro, a kitchen with honey in every dish (and drink), last year served a perfect Tupelo Honey and Sweet Corn Spoon Bread with jalapeños, bacon, and house-made whipped honey butter. While it's gone in 2023, there is a new and equally promising Pollinator Flatbread with honey-whipped mascarpone, honey caramelized onions, blueberry gastrique, prosciutto, honey-whipped goat cheese, arugula, honey vinaigrette, and bee pollen.
This year is the 30th Flower & Garden Festival, which started in 1994; the 2023 festival is its longest-ever run time. Previously, this festival has been held strictly in the spring, but has gotten so popular over the years that it's been extended into summer. In addition to great food and lush landscaping, there are educational and culinary gardens around the park, a walk-through butterfly house, and concerts by national touring acts on the weekends. It's a lot to take in, but don't rush. Make sure to stop and smell (and taste) the flowers.