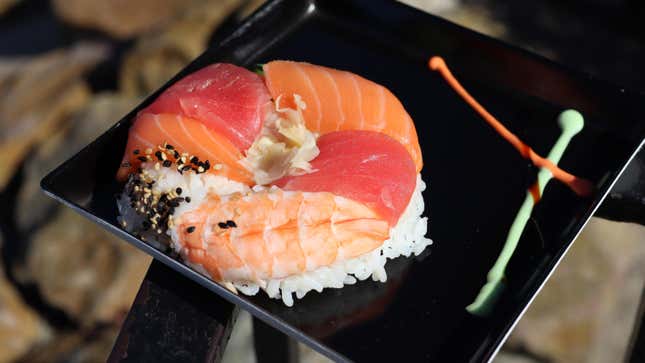 I would never have thought that freeze-dried Skittles would make it to the top of my must-try list, but I must admit they're surprisingly good, especially as a garnish for a five-layer rainbow cake inspired by an imagination dragon.
We Rank Three New Grillo's Pickles Flavors
The cake in question is at Walt Disney World's EPCOT park, and it's available only for a brief window, during the EPCOT International Festival of the Arts. It's the park's shortest festival—it only runs from January 13 to February 20—but it's arguably the best.
What is EPCOT Festival of the Arts?
The annual event is a celebration of visual, performing, and culinary arts. Artists sell their works throughout the park, with some creating pieces in real time and some offering guests opportunities to participate. Live performances include Broadway stars singing hits from Disney musicals like Newsies and The Lion King. And there is culinary art, too—dishes directly inspired by artistic movements and famous paintings.
G/O Media may get a commission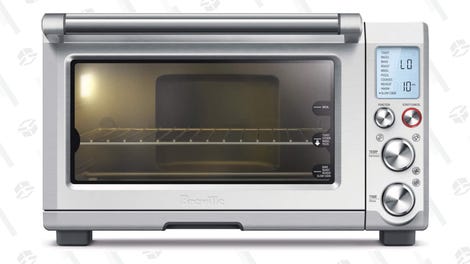 36% Off
Breville Smart Oven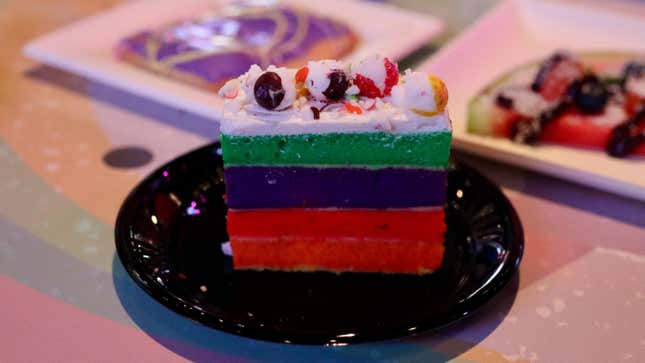 The aforementioned rainbow cake (seen above) is one of the offerings at Figment's Inspiration Station, serving, as EPCOT says, "art, food & little sparks of magic." Figment is the purple dragon mascot of both the park and the festival; he has his own ride, but has never been a main character in a Disney movie, so he has something of a cult following with EPCOT fans. On the opening day of last year's Festival of the Arts, people stood in line for over seven hours just to get a new collectible Figment popcorn bucket.
What to eat at EPCOT Festival of the Arts
The food booths that pop up during Festival of the Arts offer some of the most creative food you're likely to find not just at Disney World, but anywhere. The Pastoral Palate in the Germany pavilion serves "hearty dishes inspired by timeless Bavarian folk art"; I sampled a red-wine-braised short rib with parsnip puree and aged balsamic that was as good as anything you'd expect in a sit-down restaurant. At Moderne, a booth celebrating abstract modern art, I tried something that totally defied my expectations and surprised my palate: compressed watermelon tataki with pickled watermelon rind, yuzu pearls, and wasabi, a dish that looked like sushi and tasted like spicy, savory fruit.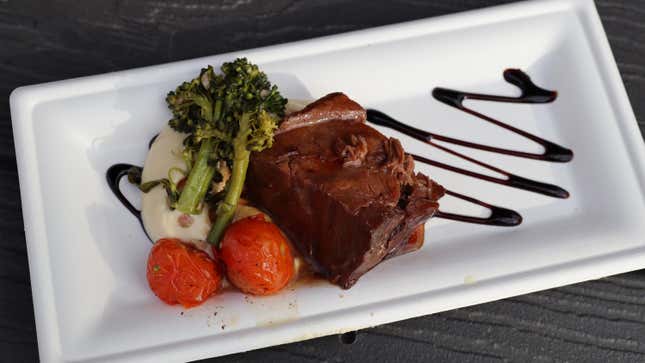 "It's about the culinary arts, so [we're translating that as] not only just cooking, but as 'food is art, cooking techniques are art,'" says Kevin Downing, chef of the EPCOT festival team. "A lot of times it's not literally, 'How do we get this on a plate? How do we translate this piece of art onto a plate?' Sometimes it's, 'How do we take an art form and really draw inspiration from that… and make it something that not only tastes good, but looks great as well?'"
The Deconstructed Dish, a booth inspired by the deconstructivism movement in art and architecture, breaks well-known foods apart and presents them in a manner you've never considered. I ordered two items from this booth that were—not to be too hyperbolic here—absolute revelations.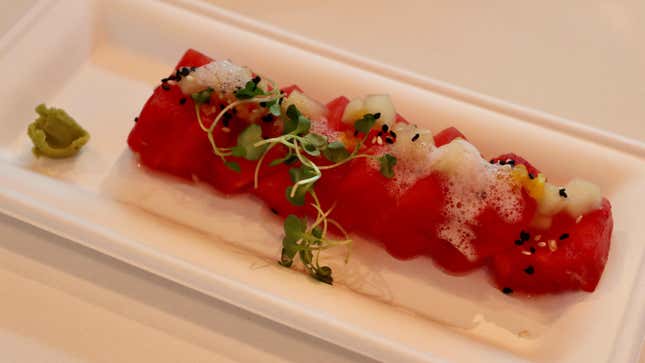 Deconstructed French onion soup was a large raviolo filled with beef broth, placed on top of onion bread pudding and garnished with gruyere cream and both caramelized and crispy onions. Deconstructed apple pie a la mode, meanwhile, wasn't actually a piece of pastry, but rather an ice cream float: a scoop of apple cinnamon gelato surrounded by apple cider, topped with apple pie filling and streusel.
On a day when I was trying to sample as much as possible, I needed to be careful with how much of each item I consumed. But against these works of art, I didn't stand a chance. I devoured them both.
Other booths interpret "food as art" more literally. Deco Delights, for example, serves Art Deco–inspired desserts. There are beautiful chocolate creations that pay tribute to the Jazz Age, but I opted for orange mousse inspired by Miami's Art Deco architecture.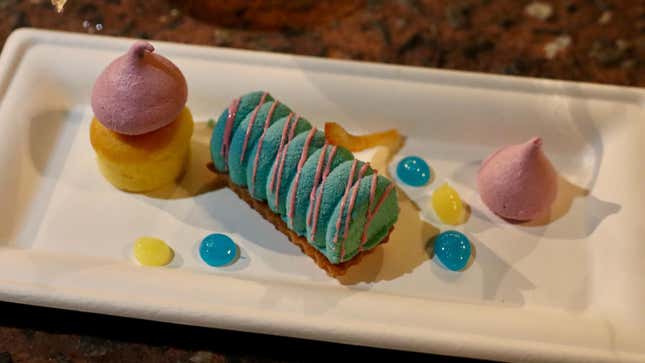 When I got it, I couldn't believe what I saw: a bright blue mousse drizzled with purple chocolate, accompanied by lemon cake and raspberry meringues, with not a hint of orange on the plate—except for the central flavor. You know those Stroop Effect tests where the words "red" and "blue" are written in yellow and green? This dessert tasted like that, scrambling my senses.
Orlando's weather was unseasonably cold during my two days at the festival, especially at night, which might explain why the longest line of the day was for the pop-art-inspired booth, "Pop Eats!" The food takes its cues from the works of famous pop artists; a grilled cheese is paired with tomato soup served in a canister covered in designs that recall the comic art of Roy Lichtenstein. I opted for the gussied-up grilled cheese with fried green tomato, bacon, and pimento cheese, which paired perfectly with the steaming soup. On the near-freezing night, it was exactly what I wanted to see on my plate, and it tasted beautiful, too.