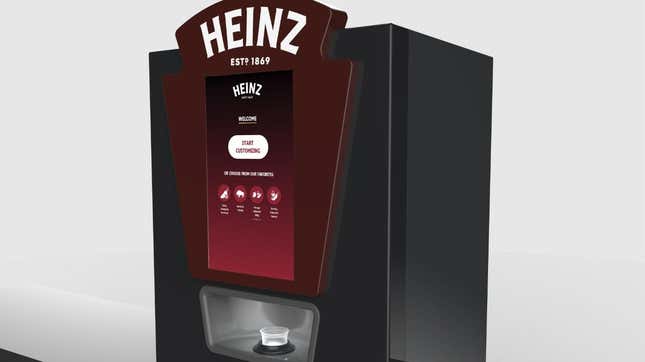 Like a kid in a candy store, or anyone filling a cup of soda at the movie theater concession stand, ketchup fans are about to have more options than they ever dreamed possible. Kraft Heinz has announced the upcoming debut a the Heinz REMIX, a new digital sauce-dispensing machine capable of serving over 200 unique condiment combos.
All the Best Finds at the Sweets & Snacks Expo
The Heinz REMIX sauce dispensing machine, explained
The company plans to launch the new machine at the 2023 National Restaurant Association Show in Chicago this weekend, with an eventual rollout to restaurants by the end of 2023 and into 2024. Aside from positioning the machine to deliver a cornucopia of sauce to restaurant diners, Kraft Heinz plans to use the REMIX as a consumer research tool.
"With Heinz Remix, it's more than a sauce dispenser; it's an insights engine and business model enabler that will help Kraft Heinz understand and respond to consumer trends and flavor preferences in real-time," said Alan Kleinerman, Vice President of Disruption at Kraft Heinz. "Who knows – maybe our next new sauce combination will come from a superfan using Heinz Remix!"
The expense of designing and producing this machine makes a lot more sense when you think about how Heinz might use it to outsource, or at least complement, its R&D process.
Other new Heinz products
Heinz has seen massive success in recent years whenever it has put a spin on its core products. Mayochup, a combination of mayonnaise and ketchup in a single bottle, debuted in 2018, and it sold so well that Heinz has, in the years since, followed up with the release of Mayomust, Mayocue, Kranch, Tarchup, Hanch, Wasabioli, Honeyracha, Buffaranch, and Ketchili (all beautiful names for children).
Aside from these high-profile mashups, Heinz has been playing with heat in 2023 by introducing a lineup of three spicy ketchups and one Heinz 57 sauce, all made with various peppers. It's the first new addition to the Heinz 57 line in over a decade.
With the Heinz REMIX machine, restaurant customers will have the opportunity to take things a step further. The dispenser features a digital touch screen, much like the Coca-Cola Freestyle machines that let customers add flavor syrups to their soda. REMIX starts with four base sauces: ketchup, ranch, 57 sauce, and barbecue sauce. From there, the bases can be "enhanced" with one or more flavors such as jalapeño, smoky chipotle, buffalo, and mango. Users can also customize the intensity of the flavors by selecting low, medium, or high.
Where to find the Heinz REMIX sauce dispenser
Kleinerman told CNBC that the Heinz REMIX was developed because Heinz consistently receives feedback from consumers who want spicier condiments, as well as restaurant operators seeking more variety. Once it was proposed, it only took six months to develop.
The sauce dispenser will only be available to restaurants, since Heinz is looking to grow its "away from home" division, focusing on the foodservice industry. Sorry, home grillmasters—if you want a buffalo mango ketchup on that burger, you'll have to do it the old fashioned way and mix it up yourself. For now.
CNBC reports that Heinz is also looking at how to implement this sauce dispensing tech into drive-thru operations. However, the sheer number of potential sauce combinations might actually slow down efficiency rather than simplify operations, so that's still being worked out.
In general, though, everyone sounds excited about the REMIX. You might soon be able to step into a quick service dining room and see someone declare of their burger, "Hmm, needs more Smoky Chipotle."