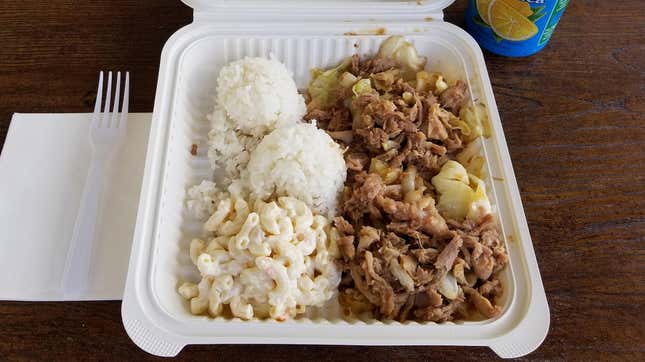 Although so-called bowl food remains a popular trend, with chains from Sweetgreen to Chipotle cashing in on our love of customization, we might be seeing a resurgence of the good old-fashioned plate. As part of its annual Top 500 Report, Nation's Restaurant News has rounded up the 10 fastest-growing restaurant chains in America by sales, and while many of the quick-service joints on the list specialize in the same old bowl food, a few standouts are serving up a category we hope to see more of in the future: the Hawaiian plate lunch.
How To Dispose Of Cooking Grease The Easy Way After Frying
The fastest-growing restaurant chains in America
Here's the top 10 list, as reported by Nation's Restaurant News in conjunction with Datassential:
DIG
Salad And Go
Cafe Zupas
Mo'Bettahs Hawaiian Style Food
Hook & Reel
Hawaiian Bros Island Grill
Crab Du Jour
Ziggi's Coffee
There are several chains on the above list I haven't heard of before, but of course, that's the point: the fact that these are the "fastest growing" restaurants implies they started from relative obscurity and scaled up quickly, hoping to gain market share. (Crumbl and Dave's Hot Chicken are anomalies, since it's unusual for chains to make the list multiple years in a row.) Let's look at the pair of Hawaiian restaurants in the list.
America's top Hawaiian restaurant chains
At number six in the list sits Mo'Bettahs Hawaiian Style Food, which began in 2008 and has become more recently focused on nationwide expansion. (The installation of a new CEO in September 2022 has only stepped up those efforts.) It was founded by brothers Kimo and Kalani Mack, who were "blessed to be born of native Hawaiian ancestry on the island of Oʻahu." Their goal with Mo'Bettahs is to "share Hawaiʻi as the island locals know it, which is very different from the stereotypical representation." Mo'Bettahs offers combo plates of rice, macaroni salad, and protein, the latter a choice between chicken, steak, shrimp tempura, or kalua pig.
The menu is quite similar to that of the number-eight restaurant in NRN's list: Hawaiian Bros Island Grill, which currently operates in nine states. It was founded in 2018 by Californian brothers Cameron and Tyler McNie, whose family owned a West Coast Hawaiian grill restaurant and whose own concept puts "their own spin on the plate lunch." Though the chain originated in Missouri, the McNies note that the restaurant is "working with local civic centers and organizations in the state of Hawaii and on the mainland to celebrate Hawaiian people, land, arts and culture."
At Hawaiian Bros, the unique spin on the plate lunch appears to be a focus on catering to dietary restrictions. The menu is advertised as being entirely nut free, mostly gluten free (except for the macaroni salad and chow mein noodles), and customers can choose a low-carb swap of extra veggies instead of white rice.
The lunch plate is refreshingly straightforward, its basic elements bursting with barbecue flavor and Asian influences such as teriyaki and tempura. And of course, Hawaiian style food has long understood what standard American fare can't seem to grasp: that SPAM is an incredible protein to build a dish around.
We don't mean to say that Hawaiian food itself is a "trend"—the plate lunch is a tradition that spans centuries, and the influences upon the dish stretch back much further. Rather, it's fair to say that Hawaiian cuisine deserves much more attention from the other 49 states than it gets, and that two Hawaiian style chains rising at once is an encouraging signal that the rest of the country is finally starting to latch onto its appeal.
Mo'Bettahs pulled in $71.1 million in systemwide sales in 2022, a year-over-year increase of 84.6%. Hawaiian Bros made more money altogether, with sales of $99 million, but this represents a slightly year-over-year change of 80%. The restaurants are neck-and-neck in their expansion, each with roughly 30-45 locations in fewer than a dozen states. However, with Hawaiian Bros on track to build 100 more locations and Mo'Bettahs poised for "massive growth," you can probably expect at least one of them to crop up at a food hall or strip mall near you. We should be so lucky.