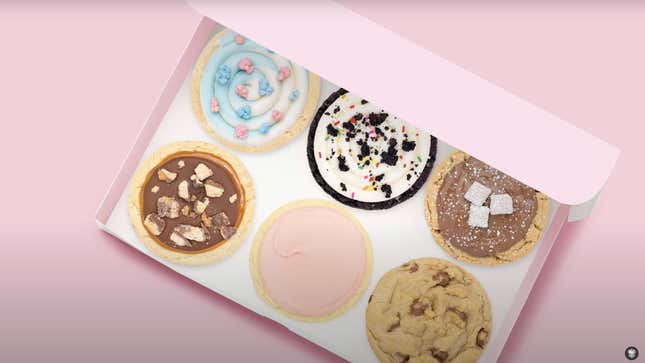 April 17 was either a slow news day or a very important cookie day, because this New York Times story about Crumbl by food reporter Priya Krishna was whatever the digital equivalent of "above the fold" is nowadays—that is, it was an email subject line. Krishna's story unpacks how the rapidly expanding franchise is quickly becoming bigger than hula hoops, and it makes clear that Crumbl is unconcerned with what we think about its hand-sized cookies.
Dr. Pepper Strawberries & Cream Is Tearing Us Apart
All Crumbl cares about, of course, is dough. Crumbl seems to delight in our discourse, actually feeding off the drama that surrounds its cookies, relishing in it, and spinning it into profit. Should we resist this cookie takeover, or should we simply let the sugar rush wash over us?
Why everyone's obsessed with Crumbl Cookies
The first thing to understand is that Crumbl's cookies are big. They are the size of a child's face, which is a huge part of their appeal. They are also ultra sweet, often covered in a thick layer of melted chocolate or buttercream.
Crumbl's rotating flavors include an element of surprise for consumers and keeps them coming back for more—although the classic chocolate chip and "pink sugar" cookies are available all the time for people who prefer a routine. The rotating flavors range from the somewhat nostalgic, like "Birthday Cake" or "Chocolate Cookies and Cream," to more wild-card options like "Key Lime Pie" or "Cosmic Brownie."
The cookies are approximately $4 each and can be ordered in store or through the app for delivery or pickup. The general public either loves them or hates them, for a number of reasons. Some people bellyache about the price. Others think the product is generally overrated. And because the cookies are so large, some people love to freak out about how many calories are in "one serving," which might be one-fourth of a cookie depending on the particular flavor.
Personally, I only like the classic pink sugar cookie, and only after I've had a hearty meal. Then I love it. As a dessert, it reminds me of those Lofthouse cookies with the seasonally colored frosting, but better.
Why some people are mad at Crumbl Cookies
Those who seek to rage against the franchise are mad for reasons that extend beyond the product itself. One reason is that these pink storefronts are popping up in strip malls at a rate not seen since the ascendance of Starbucks and Pinkberry, a fact that pisses off anyone who considers themselves against "the man" (Gen X and the like).
"Crumbl is the fastest-growing chain of dessert shops in the United States, and the fourth-fastest growing food chain of any sort in the country, according to a 2022 report from Datassential, a food and beverage analytics company," Krishna writes for the Times. "In the last six years, Crumbl has opened more than 750 stores from coast to coast. The company says that last year it sold, on average, nearly a million cookies a day." Crumbl is also the social media champ of the fast food world.
The chain seems to be a suburb favorite, or at least, that's where the brand seems to be focused on opening up new locations. For example, a Crumbl just opened next door to my therapist's office (which is either going to be a great comfort or a potentially problematic coping mechanism). It's a whole fifteen minutes away from the Crumbl that's otherwise the closest to my house.
City folk, especially those mentioned in the NYT article, hate on Crumbl because of its corporatization of the bakery market. Crumbl, so the thinking goes, is taking business from local, smaller bakeries, but also other chains; Levain Bakery is named in the NYT piece. I recently had the pleasure of visiting the NoHo Levain and it was, hands down, the best chocolate chip cookie I have ever had, and I have eaten many chocolate chip cookies. If I lived anywhere near a Levain (I'm 2,869 miles away at the moment), I'd never, ever darken Crumbl's door.
In my humble opinion, Crumbl's chocolate chip cookie is gross. Yet the concern remains that Crumbl is stealing business from arguably better local bakeries all over this great nation.
More egregious than personal taste and ubiquity, Crumbl has come under fire for violating child labor laws. It was also part of the Utah "Cookie War," a lawsuit in which the Crumbl founders alleged two other Utah cookie companies infringed on its trademarks. Also, in case you heard "Utah" and your ears perked up, yes, the founders are Mormon, but the company is not owned by the Mormon Church. Do with that information what you will.
Additionally, while many chains and local businesses have made strides to accommodate food allergies and dietary restrictions, Crumbl has not yet released a gluten-free or vegan cookie, nor has it enacted food allergy safe practices. This alienates a large chunk of the cookie-loving population.
Finally, though it remains speculation because the tweets have since been deleted, Reddit users claim Crumbl had a less than delicate response to the ongoing COVID pandemic in the winter of 2020, and that during said pandemic its masking and other sanitation practices were inconsistent in many locations.
Crumbl, cookie champs, DGAF
Ultimately, Crumbl does not have to give a toot whether or not its dissenters buy any cookies. Nor does the company care if you eat one-fourth of a cookie or the whole darn thing—Crumbl even sells a cute pink cookie divider for $8 if you want to have a branded way to divvy up its products (though it's worth noting that a butterknife also works).
If you like these cookies, great. If you don't, that's fine. Crumbl is on top financially, and that's what matters. In fact, all this press we're giving the company (oops) is likely to boost the brand even further. People will read the New York Times feature on Crumbl and think to themselves, "Hmm, I've never had a Crumbl cookie, but a new store did open up right next to my therapist's office. I should try one and see what all the fuss is about." The cookie kings have secured their dominion over us all.