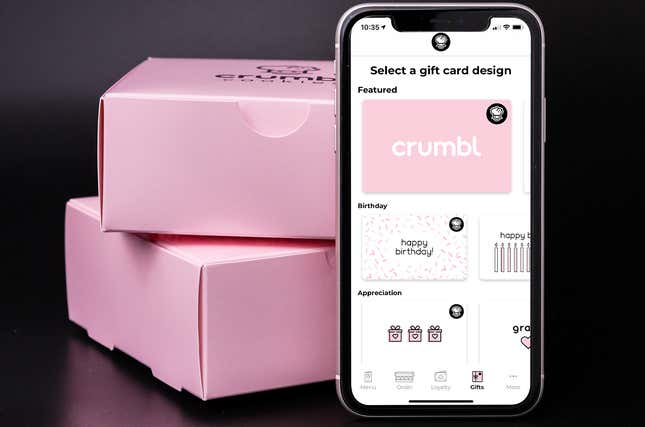 From loyalty programs to Super Bowl commercials, food brands are constantly fighting to grab our attention, but only one brand has cracked the code on creating a loyal fan base from TikTok views: Crumbl Cookies.
How To Dispose Of Cooking Grease The Easy Way After Frying
Crumbl Cookies is a relatively young bakery chain, famous for its weekly drops of new cookies. The brand began its journey in 2017 in Utah, and now—just six years later—has expanded nationwide with 700 locations across the U.S., reports Nation's Restaurant News. Although 700 locations may not seem like a lot compared to longer-established chains like Chick-Fil-A (which has more than 2,600 locations), its rapid growth is notable given the brand's short life so far.
How many people follow Crumbl on social media?
Where Crumbl truly shines is in its social media presence, specifically on TikTok and Instagram, which has led to the bakery chain having the ninth-most downloaded app on the Apple Store, ahead of Dunkin and Pizza Hut. On Instagram, Crumbl currently has 3.4 million followers, placing it not far McDonald's 4.5 million and far ahead of Burger King's 1.8 million.
As for TikTok, the cookie chain has its strategy here on lock. Boasting 6.4 million followers on the platform whereas a major chain like Starbucks has 1.9 million followers.
So, what is it about Crumbl's Reels and TikTok videos that gets the people going more than a close-up of a Whopper? First, cookies just lend themselves to a better behind-the-scenes, how-it's-made shot than the assembly of a burger or watching chicken nuggets being fried. Take, for example, the cookie company's most recent TikTok, which is basically the most intense cookie food porn set to EDM music. The video was posted January 29 and already has almost 275,000 views.
Compare that to, say, this Starbucks TikTok posted on January 26 that demonstrates how one barista makes a custom drink. The video is a behind-the-scenes look similar to the way Crumbl shows its cookies. It lands closer to 30,000 views.
Crumbl's business model also creates the perfect opportunity for hype. Because the brand "drops" new cookies each week, it's able to build anticipation by dropping teasers to its fanbase about what's to come. Back in 2021, Modern Retail also cited the exclusivity of these cookies drops as another factor in Crumbl's social media success.
"Having only four flavors a week is a great marketing tactic, and gets consumers excited about it," said social media influencer Kelsie Flaim, @thehungryfoodie on TikTok, to Modern Retail. "Each cookie feels exclusive, so consumers feel the need to rush to the store to be able to try it before it's gone."
Crumbl Cookies' physical footprint might be small, but it's obvious that it's growth in the digital space is what will drive the company forward.