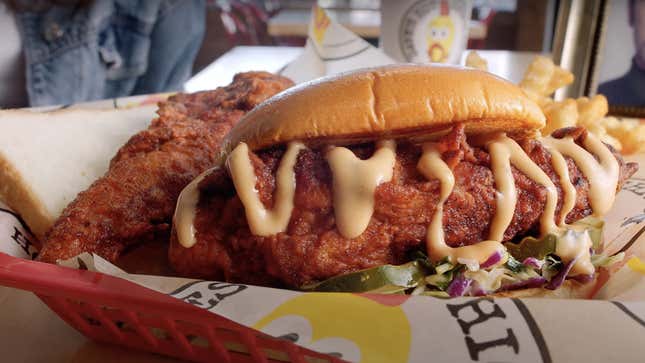 It seems like we might never stop talking about fast food chicken sandwiches, but even amid the biggest boom of the now popular menu item there's been a glaring void. Even as chains try to (quite literally) spice things up with items like the Mexican Chicken Sandwich or offer DIY variety with choose-your-own sauce sandwiches, no major brand has brought Nashville hot chicken to the masses in sandwich form. Dave's Hot Chicken has exploded onto the scene to fill that gap.
How To Dispose Of Cooking Grease The Easy Way After Frying
As the name suggests, hot chicken is the main focus of this chain, in both sandwich and tender form. And that specificity is leading to its success: The restaurant's 100th location in five years opened in Brooklyn, New York last month, QSR Magazine reports. That momentum makes Dave's Hot Chicken one of the fastest growing chains in franchise history.
A brief history of Dave's Hot Chicken
Dave's Hot Chicken has an especially brief history because its existence itself has been brief. The restaurant started in 2017 in a Los Angeles parking lot as a popup aiming to serve simple, delicious Nashville hot spiced chicken strips. The titular Dave is chef Dave Kopushyan, who trained under chef Thomas Keller at the French Laundry, one of California's most well known fine dining restaurants. Kopushyan decided to leave high-end dining to open a chicken tender stand with his best friends Arman Oganesyan, Tommy Rubenyan, and Gary Rubenyan.
The parking lot popup got instant buzz, starting on Instagram. The fanfare was stoked by an Eater article that came out just days after its first service with the headline, "East Hollywood's New Late-Night Hot Chicken Stand Might Blow Your Mind." One year later, the chain opened its first brick-and-mortar shop, decorated by local street artists. That aesthetic has remained in subsequent locations, and as the business grew it attracted well-known investors like Samuel L. Jackson, Drake, and Boston Red Sox Chairman Tom Werner.
The menu has also remained relatively unchanged since the restaurant's inception. Customers are presented with four meal options: two for chicken sandwiches (which Dave's calls "sliders," even though they're average sandwich size) and two for chicken tenders. There are six side dishes to choose from. Each sandwich or tender can be ordered with one of seven spice levels, ranging from "no spice" to "reaper." Then, of course, there are the standard soft drinks, with the addition of milkshakes to temper those higher heat levels (just like we saw at Shake Shack).
The focused menu and clear vision has made Dave's Hot Chicken an easy and appealing concept to replicate across the country, especially in areas where other Nashville hot chicken options aren't available.
The future of Dave's Hot Chicken
In 2022, Dave's Hot Chicken went global, expanding into Canada, UAE, and Qatar. And in 2023, the chain is poised for even more growth, riding the high of its milestone 100th location. According to QSR Magazine, there are currently 620 units in development with 85 restaurants expected to debut globally this year, nearly doubling the chain's current footprint.
To help gain awareness, Dave's released its first advertising campaign in October 2022, aligning with Drake's 36th birthday. On that day, Drake posted on his Instagram about a giveaway that allowed anyone who followed Dave's Hot Chicken to get a free slider or tender. From there, Dave's starting pushing ads with the slogan, "Don't Die Before You Try." With the rapid expansion of the chain underway, we should all be able to get a taste soon.