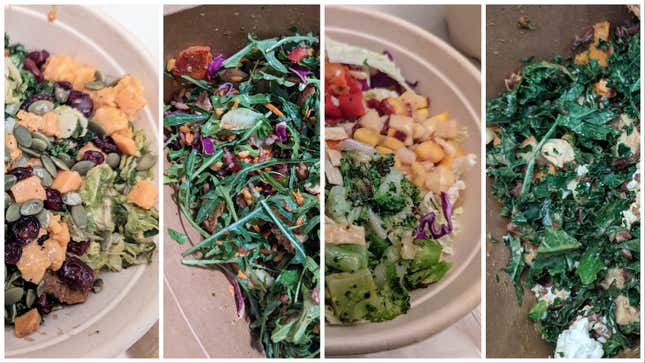 We cannot live on fried chicken sandwiches alone (particularly if they're starting to "Double Down" again), nor can we subsist entirely on The Meats and/or hacked delivery pizzas. Or at least, I certainly can't, which was why I was relieved and excited to dig deep into the garden of Chopt with my guide for first-timers. But of course, Big Brother Google is always watching, and its algorithm picked up on my natural affinity for some good green stuff. Some sweet green stuff. So it served me up some Sweetgreen.

How To Dispose Of Cooking Grease The Easy Way After Frying
In no time, I was seeing Sweetgreen ads pop up everywhere, reminding me that, oh yeah, there's a whole other chain devoted to expensive-ass fancy salads in my area. What are the differences, if any, between Sweetgreen and Chopt, the latter of which I've just become a seasoned expert on? Which artisanal salad chain makes the better artisanal salad? I wanted to get the dirt on Sweetgreen and determine if one artisan lunch spot would come out on top or if it's simply—apologies in advance—a toss-up.
Sweetgreen vs. Chopt: The Menu
Okay, obviously, both menus heavily feature salads, and both offer a variety of base greens. Sweetgreen offers chopped Romaine, shredded kale, arugula, baby spinach, and spring mix (aka mesclun greens), all at the same cost. Chopt has all of the above plus a cabbage and cilantro blend and marinated kale—however, Chopt charges extra for both arugula and the Chopt Lettuce Blend (which includes two types of kale, baby spinach and arugula, and napa cabbage).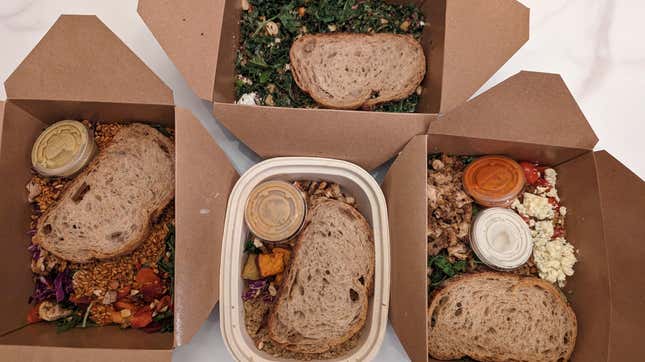 Warm grain bowls are also available at both restaurants, but set themselves apart with different grains. At Chopt, there's a proprietary blend of brown rice, quinoa, and lentils, or you can pay $2 more to sub in cauliflower rice. You can also go halfsies if you're indecisive, but it'll cost you wholesies. Sweetgreen has quinoa or wild rice, the latter of which is actually a blend with some undisclosed type of regular rice. The grains are minimally seasoned, no matter where you go.
Then there's the bread, in both cases a single piece of tangy, sourdough-adjacent, "healthy"-tasting artisan bread. Chopt loses a point here for only throwing in a half slice of dry bread, while Sweetgreen includes a whole slice of soft, seemingly fresher bread.
Score: Sweetgreen takes a slim lead by not nickel-and-diming, and for better quality and quantity of bread.
Sweetgreen vs. Chopt: Customization
The choose-your-own-adventure approach to bowl-building is a big selling point for both Chopt and Sweetgreen. But sometimes, when I don't feel like thinking too hard, I like when other people tell me what to do—chefs in particular. For moments like that, they both have fixed menus of corporate-developed dishes: five bowls and eight salads at Chopt, plus a featured bowl and salad for the current promotional collaboration; six bowls and six salads for Sweetgreen, including online exclusives.
Sweetgreen loses its lead here; it's kind of annoying that you need the app and/or must order food online to "unlock" the full menu at Sweetgreen. This comes across as an obvious ploy to increase app downloads, send you push notifications, and otherwise sell your information, all for a couple more salad options.
Those online-exclusive salads, by the way, are just okay. Sweetgreen seems to play it safer with its menu on the whole, embracing classic profiles: Kale Caesar, Buffalo Chicken, Super Green Goddess, Guacamole Greens (which, fair warning, doesn't actually have guac), Garden Cobb, etc.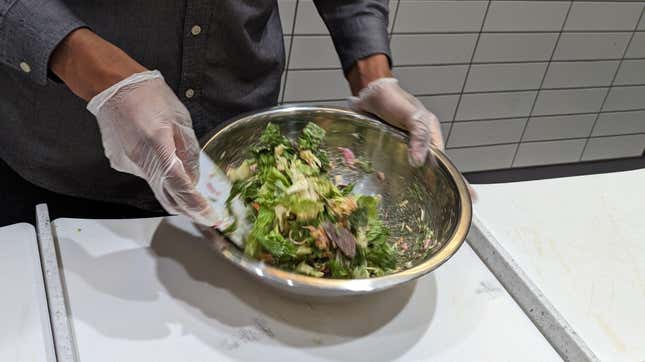 While I dog Sweetgreen about its fairly ordinary selections, there are some genuinely interesting toppings on offer that are unique to the chain, including chopped pickles, spicy broccoli, crispy (but also chewy and not fried!) rice, za'atar breadcrumbs, hot roasted sweet potatoes, warm portobello mushroom mix, and seasonal stuff like BBQ butternut squash with caramelized onions and miso root vegetables.
Chopt, on the other hand, keeps things exciting on the daily. Some of the more interesting of the 35+ "choppings" offered at regular price are corporate team faves Mama Lil's spicy peppers, hearts of palm, SIMPLi olives, pickled red onion, cage-free egg whites, pepper jack, cotija, feta, blue cheese, goat cheese, croutons, crispy shallots, dried cranberries, and crispy wonton strips.
Then we have to consider dressing. There are eight on the sweetgreen menu, the most interesting being the Spicy Cashew, Sweetgreen Hot Sauce, and Lime Cilantro Jalapeno. This tallies up to half of what Chopt offers, and that's not even counting the seasonal ones. Most Chopt dressings feature some kind of funky twist, like a Mexican Caesar or Smoky Bacon Russian, Mexican Goddess instead of Green Goddess.
Score: With nearly twice the mix-ins and dressing options, Chopt takes the category of "standard menu creativity" by a landslide.
Sweetgreen vs. Chopt: The Menu Expansion Pack
Both brands supplement their status quo with seasonal rotations. Sweetgreen doesn't make as much noise about its collabs—it wasn't until I was at the store that I realized the Honey BBQ Sauce was by Lillie's Q, a two-time world barbecue champ. Sweetgreenalso offers different items depending on regional availability: hummus and roasted salmon in California, blackened catfish in Atlanta, and shrimp in Miami and Houston. From a business perspective, that's a good way to get folks to try Sweetgreen while traveling.
Chopt makes no secret of its big-name partnerships, proudly touting the names with a lot of in-store marketing like a McDonald's celebrity meal. It'll also sell you a bottle of seasonal dressing for at-home enjoyment, something that more chains in general ought to do.
You'll also find soup (tomato and chicken), cookies, brownies, chips, and, randomly, individual sea salt caramels available for purchase at Chopt. Sweetgreen just added a virtuous Crispy Rice Treat to the menu with brown rice, quinoa, and puffed millet, sweetened with honey date caramel.
Score: Chopt wins another round by sheer volume.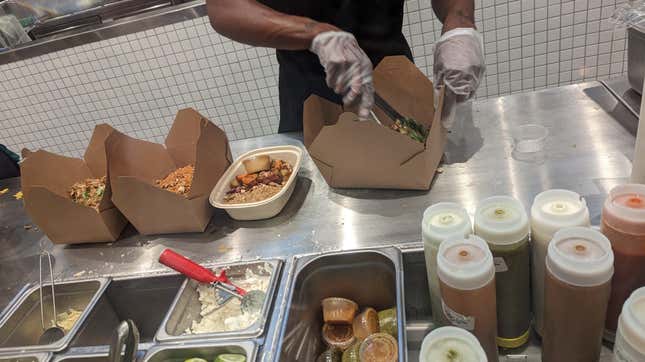 Sweetgreen vs. Chopt: The Price
No bones about it (or maybe some bones, as I got in my Sweetgreen blackened chicken): These salad chains feature "premium" ingredients and thus sell the product at a premium price. At each, most salads on the preset menu clock in at around $12. Sweetgreen is a little pricier, with a range that goes from $9.95 for veggie-only recipes like the Super Green Goddess to $13.95 for the double-protein plates, while Chopt starts at $8.49 for meatless Caesars and tops out at 12.99. Kids meals are pricier at Sweetgreen, $7.95 for a choice between two plates with no modifications permitted; Chopt Jr. selections are only $5.99 each, featuring a salad or a bowl with two choppings of your choice, plus chips or an apple.
But let's look at the banner DIY element that has made fast casual salad concepts so popular. Both stores let you choose two bases (be they grains, greens, or both) and four toppings from the regular list at no extra charge. That'll run you roughly $9. But since it's pretty hard to make a salad satisfying without protein and pizzazz, the add-on toppings are the true "gotcha" at these salad shops.
Sweetgreen's regular toppings seem, well, regular, 50 cents per extra ingredient versus 79 cents each at Chopt. And let's remember that Chopt charges extra for certain greens in the base, too; I'm happy to manually pull out the weird long strands of grass I found in my Sweetgreen arugula if it means I'm paying less.
But then you get to Sweetgreen's premium toppings for a little more excitement and considerably more cost. They start at $1.50 each and include hard-boiled eggs, sweet potatoes, and all the cheeses, including Parmesan crisps. Granted, the amount of cheese—a cookie scoop of it—might feel like $1.50 worth, but I still feel that cheese is essential to some salad recipes and balk at paying three times more for it than red onion. Suddenly, 79 cents per chopping at Chopt feels more reasonable.
Your total cost at Sweetgreen makes another jump upward for avocados, warm portobellos, then roasted tofu, and tops out at $3.50 extra to add your choice of chicken: blackened or roasted. There might be regional proteins, like shrimp or catfish, to supplement the bowl at a similarly premium price. In comparison, Chopt lets you get chicken grilled, panko fried, chipotle, or tinga-style for $3.29–$3.99, plus shrimp nationwide, falafel, bacon, and cauliflower rice, which are all a $2 upcharge.
Portion-wise, I got more for my money at Sweetgreen; the scoops that dole out all of the toppings looked larger than those at Chopt, and my servings at Sweetgreen definitely offered more volume when poured out into a mixing bowl at home during my test run. Sure, it wasn't smashed down by chopping, but I mean, arugula is pretty flat to begin with.
Score: This one's a solid draw since they've chosen different ways to play the nickel-and-dime game.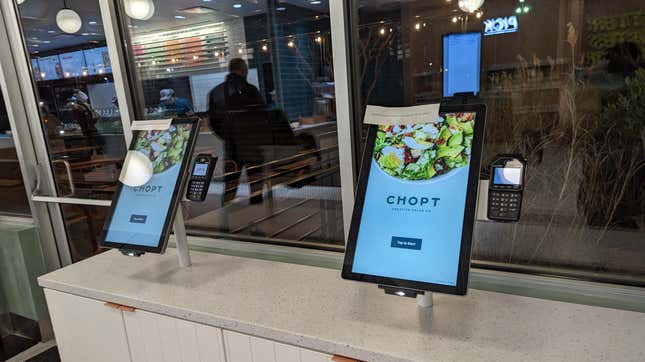 Sweetgreen vs. Chopt: Service and Ordering
Service sounds pretty straightforward, right? You pick out a bunch of stuff, they throw it in a container, ask you if you want light, medium, or heavy dressing, and then mix it up. But again, the devil is in the details. Chopt gets its name from the fact that your salad is not only tossed, but also chopped up into nice bite-sized pieces. Amazing. Sweetgreen will also toss your salad, but the traditional way, with tongs, with no chopping. (On the other hand, you do get a prettier salad at sweetgreen, since all the salad components are portioned neatly in a spiral just in case you don't want the thing tossed.)
Both shops are pretty clean, with a bright, modern layout that showcase large pickup walls for online orders. At Chopt, you can place your order via app, on website, or big kiosks at the store. I loved this option since it means I can limit contact, get my food made fresh so it won't sit and sog, and have my indecision meltdown in relative privacy. Prices and calorie counts for all add-ons are clearly posted, and I love the two-column layout that lets you scroll for max options on one side and seeing your full selection splayed out on the other. I also love that it guides you on how to make a good salad by dividing the ingredients by texture, including dressing.
Sweetgreen, as mentioned, is also making a big push for digital orders. But without kiosks, you're funneled to the app, where you will be rewarded with a secret menu. The visually pleasing interface has too much padding, hampering visibility since you can't see as much of your selections at a time. As you opt into items, they get added to a long carousel at the top; only up there will you find out just how much money and calories each component adds to your order. It keeps a running count, but it's very annoying to have to math backwards.
Score: The ordering experience is better at Chopt, even though staying within budget at either involved a bit of painful math, Also, I like my salads chopped for better mixing.
Sweetgreen vs. Chopt: Location
Then again, does any of this even matter? Might just be that you're a customer of one instead of the other by circumstance, since neither are fully sea-to-shining-sea yet.
Unless you live in Atlanta, DC, or a major market like New York or California, any crossover between the two isn't as common as you might think. The customer Venn diagram meets in the middle for those areas, plus Connecticut, New Jersey, Virginia, Maryland, and Pennsylvania. But if you live in the Georgia 'burbs, North Carolina, Alabama, or Tennessee, your choice is Chopt. Sweetgreen has locations in Illinois, Texas, Massachusetts, Florida, Michigan, Minnesota, and Indiana.
Score: Entirely dependent on where you live. Luckily, you win either way—both are great options for veggie-filled fast casual food and custom meals with fresh ingredients. I'm glad to live and travel in a world where both exist.