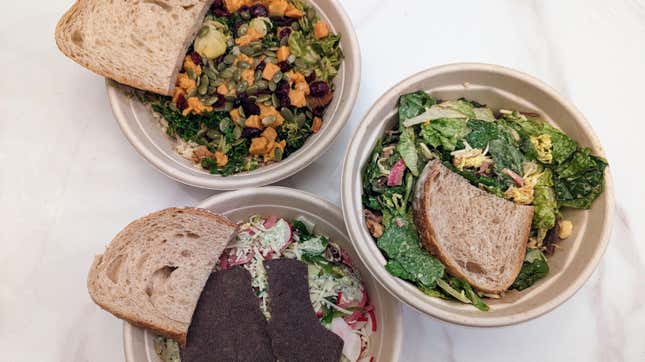 I'm far from a vegetarian, but damn, do I love eating my veggies. I love them so much that I also love yelling at others to eat their veggies. And then promptly eating their veggies when they're too slow to comply.
How To Dispose Of Cooking Grease The Easy Way After Frying
But I also travel a lot, which makes eating the rainbow at a reasonable price nearly impossible. Vegetables are afterthoughts at fast food chains, limited at many fast casual chains and overpriced at nice restaurants, where a side of three scraggly florets as pathetic as weeds in a wintertime garden costs $8. Pathetic. When gadding about, the salads are sad—unless you've got a Chopt nearby.
What is Chopt?
This fast-casual salad chain has become a garden oasis in the weary traveler's barren desert of quick-serve food options. With a big bar of mix-ins and toppings to choose from, a wide range of base components, and full-service salad composition, it's a boon for the bane of finding filling, nutritious, on-the-road meals.
However, having too many options can be overwhelming. To help you out, here are some pro tips for how to make the most of your Chopt order.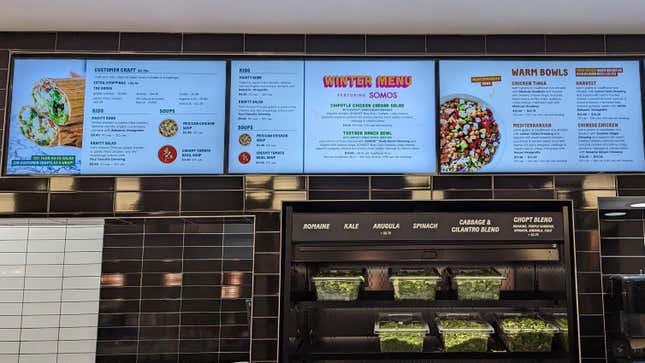 Chopt isn't just a salad place
I mean, yeah, salad is the headliner here. It's great stuff. The restaurant offers a multitude of different types of greens and "choppings" to combine in an infinitude of ways. But you can also turn any salad into a wrap, or veer off into the warm grain bowl side of the menu.
Two soups are always on offer as well, as are snacks like cookies, a brownie, and, somewhat randomly, individually wrapped sea salt caramels. Also for sale are 12-oz. bottles of each signature dressing, which I haven't tried but sound highly convenient for weekday lunch prep.
It's not on the menu, but you might find a piece of tangy, sourdough-esque "artisan bread" in your takeout bag. It's a thin half-slice included with your salad by default, though I found its inclusion with grain bowls inconsistent when ordering in person. If it's missing, just ask for it. The bread is sometimes fresh, sometimes not, but well worth it when it's the former.
Yes, every salad is "Chopt"
You know how annoying and awkward it can be forking up a particularly leafy green and munching on it in public? Well, now it's not. True to its name, this chain makes sure to chop up your salad into a perfectly mixed bowl composed of manageable bite-sized bits.
When placing your order in person, you can watch employees assemble the ingredients behind a glass display of "choppings" (a la Chipotle), and then the bowl gets passed down the line to a team of choppers. There, they'll ask you how much dressing you want (light, regular, or extra), and they'll put their wrists to work for you, rocking and chopping those greens into submission. There will be some shrinkage as they chop, so don't be shy about asking them to fill up on the greens. I myself was too shy, and I sorely regretted it one $15 soggy half-salad later.
Try the set menu before building your own bowl
You wouldn't go into Snape's Potions class and jump right into alchemy, would you? Similarly, it might not be wise to walk into Chopt and immediately go full-ass salad wizard on their bar. It's not the cheapest place to buy lunch, and mistakes can be costly. You're better off sticking to the signature salad recipes and the limited engagement collaborations, at least at first.
All of the ingredients for each salad are listed on the signage, so you can decide whether to modify your order before you step to the front of the line. Hate onions? Pickled reds, begone. Want to trade crunchies? Go ahead. You can swap any regular "chopping" on a 1:1 exchange before you start racking up extra mix-in charges.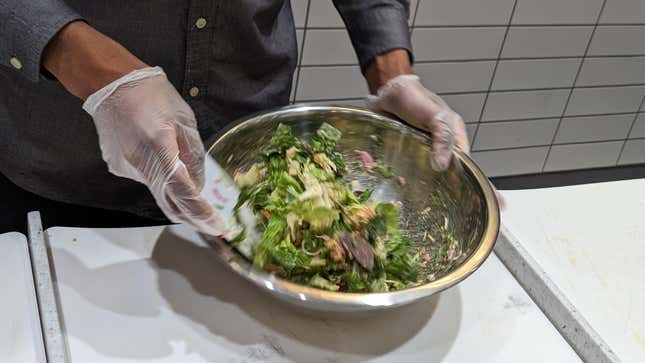 Again, do not sleep on those seasonal partnerships. "They rotate every 60 days," Chopt co-founder Colin McCabe tells The Takeout. "We seek out and partner with people doing the very best things in food and introduce them on our menu."
In the recent past, Chopt has paired up with consumer brands like Omsom and SOMOS, and celebrity chefs/cooks; sometimes the chain makes seasonal or trendy ingredients its core focus, as seen with a recent hatch chile promotion. This keeps the salads fresh and your appetite voracious.
Avoid spending a fortune on a potentially mediocre meal
It's easy to get decision paralysis in a build-your-own scenario. As Chopt's VP of Culinary Ali Banks puts it, "Just because you love Mexican Caesar, beets, corn, and feta doesn't mean your favorites belong together in the same bowl."
It's also easy to way overspend if your eyes are bigger than your stomach. So if you're an overanxious planner who tries to stay on a budget and hates the pressure of on-the-spot decision-making, congratulations, you're me ... but Chopt can help you fix that.
Their online ordering interface is a godsend. Leafy greens don't exactly sit well and punctuality isn't my strong suit, so I like to play around with combos on my computer or phone without actually placing the order until I get there. By making a test order, can check there first to make sure your desired meal won't break the bank. The interface adds it all up automatically; this way, you can do a dry run to see if your customizations are any more cost-effective than designing your own bowl from scratch.
In this way, pre-designing my meal lets me account for both caloric and monetary expenditures.

Chicken's not just chicken
While avocado always costs extra just about everywhere, chicken is the diva ingredient at Chopt. At last count, there are a whopping five ways to order white-meat chicken: grilled, panko-breaded and fried (served cold), warm roasted, chipotle seasoned, and warm chicken tinga. If you double up on protein, that'll cost you around $3 more, depending on preparation.
If bird isn't the word, though, other protein options include plain shrimp, plain tofu, and smoked bacon. Falafel also falls into the "Goods" category, but the eggs, chickpeas, black beans, and red quinoa are listed among the regular choppings, and cost considerably less.
Get creative with your order
"My hot tip is to think about what dressing you're craving first, and then pick the ingredients that work with that dressing," Banks says. "I make sure I have something for richness like cheese or avocado, something acidic, something crunchier, and something sweet or spicy, depending on my mood."
To that end, you don't have to limit yourself to one dressing. Both McCabe and Banks say that mixing dressings is their favorite menu hack. Sweet and Smoky Chipotle Vinaigrette mixed with Buttermilk Ranch is one combo they suggest, as well as Mexican Goddess and Chimichurri Ranch.
You can get a combo of two different greens as your base, too. I love making my bowls half grain mix and half cauliflower rice, even though I get hit with the full upcharge for upgrading to the crucifer. And of course, add or swap choppings as they tempt you at the counter. The more unique stuff, like Mama Lil's Spicy Peppers, is worth any potential surcharge.
Make your own secret menu
If you love something at Chopt, do not let it go. Write down your favorite orders, because nothing is forever, least of all produce.

As of January 11, the Chopt permanent menu has changed: Some items have been reconfigured, such as the Harvest Bowl, which will no longer have sprouts but adds cranberries to the mix now. Gone are the Kebab Cobb, Mexicali Vegan, and Palm Beach. Goodbye, crispy chickpeas, toasted pumpkin seeds, Brussels sprouts, walnuts, and the cucumber tomato salad. And Tex-Mex Ranch, Creamy Lemon Herb, and Jalapeno Yogurt Crema have made their exit.
On the upside, the new menu ushers in a Market Bowl, a Greek salad, and the ability to customize a warm bowl. New choppings include warm roasted vegetables (carrots, broccoli, and red onion), fresh radishes, and roasted almonds, which you can dress with Honey Dijon or Red Chile Ranch.
If you know what you're missing, you can go the DIY route to make a pretty decent simulacrum of what is gone but not forgotten, implementing a few minor substitutions.
And hey, if you dine in, you don't have to wonder whether your cardboard bowl is compostable. Dine-in orders are served in reusable, washed melamine-type bowls a la Le Pain Quotidien or Panera Bread so you're not creating more waste. After all, our carbon footprint grows as we go, so it's nice to be able to curtail it by leaving less of a trace.