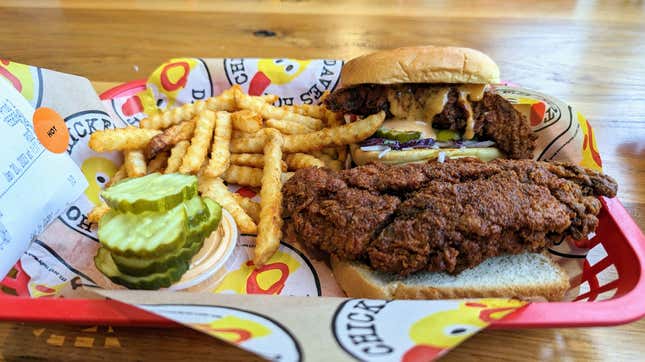 Dave's Hot Chicken is one of the fastest-growing restaurant chains right now, and perhaps one of the fastest-growing chains in history. It recently opened its 100th location in under five years, a fairly astounding acceleration in growth. Dave's started in a Los Angeles parking lot as a popup that simply sold Nashville hot chicken tenders; it was founded by Dave Kopushyan, who trained beneath chef Thomas Keller at famed restaurant The French Laundry.
Dr. Pepper Strawberries & Cream Is Tearing Us Apart
Kopushyan and his friends Arman Oganesyan, Tommy Rubenyan, and Gary Rubenyan banded together to start the restaurant in 2017. Since then, it's become evident that the country can't get enough of Dave's Hot Chicken. With locations having expanded to Chicago, I paid Dave's a visit to see if the hype and excitement around the chain is warranted.
What is Nashville hot chicken?
"Nashville hot chicken" is about as literal as you can get. It's fried chicken, typically bone-in, that's slathered or dunked in a paste of spices and oil. Yes, it's hot, and it did in fact originate in Nashville, Tennessee.
The dish is widely believed to have come from a restaurant called Prince's Hot Chicken Shack, where the chicken has a legendary origin story. It goes like this: A man named Thornton Prince was allegedly cheating on the woman he was seeing at the time (i.e., during the Great Depression). As punishment, she served him up a piece of spice-coated fried chicken meant to sear his face off, but that maneuver apparently backfired, because he loved it. He loved it so much, in fact, that he'd go on to develop his own recipe and eventually open up a restaurant to sell it. Thus a treasured regional food was born.
Andre Prince Jeffries, Thornton Prince's great-niece, has operated Prince's since 1989. Nashville hot chicken is now growing in popularity across America. Hell, even Boston Market has tried to get in on the trend.
What does Dave's Hot Chicken sell?
Dave's menu tight and neat; the restaurant only sells Nashville hot chicken in tender form, and its sliders are made with the same tenders. There's a limited menu of sides, which consists of fries, cheese fries, kale slaw, and mac and cheese. When ordering tenders, you must choose your heat level from seven different options:
No spice
Light mild
Mild
Medium
Hot
Extra hot
Reaper
Overall, the menu shares a lot of similarities with the Raising Cane's menu, which is limited to chicken tenders (and one sandwich made with the tenders) at customizable spice levels. At Dave's, I ordered a combo meal with one slider and one tender, both hot, along with a medium-spicy tender for comparison.
What does Dave's Hot Chicken taste like?
These chicken tenders are served with a hard fry. Rather than a lightly crispy and craggy exterior like Popeyes' chicken, the crust on Dave's chicken is thicker and tougher, but not in a bad way. The spice and oil mixture tossed with the tenders clings fiercely to each piece (and eventually to your fingers). I was mildly concerned I'd get my ass kicked by the spice levels since Nashville hot chicken can be brutal, but the "hot" level is, in fact, pretty manageable if you actively enjoy spicy food.
The "medium" level is what most fast food chains would call "hot," as there's a noticeable kick, but nothing that might offend or overwhelm the palate. Medium is a comfortable place for casual fans of spice to start. But I much preferred the hot tender, which in addition to having more of a kick just seemed to have more overall flavor. The extra spicy and reaper versions might very well be cruel to your tongue in a way that obscures the flavor rather than enhancing it, so be careful on that side of the menu. Don't try to be a hero.
The extra flavor in the hot tenders comes with a caveat: There are almost holy-shit levels of sodium happening here. I love savory food, but this bordered on too much—which is a shame, because the flavor of the spice blend was otherwise robust and enjoyable. There's also a barely detectable sweetness, which was something I didn't expect but grew to enjoy.
The white meat chicken itself is plump and moist, which is a nice change of pace from the typical fast food tenders that lean toward being too dry. But get ready to reach for the water, because you'll need every sip; I can't imagine this amount of sodium is good for you.
Because of the amount of salt involved in the chicken coating, the slider is much more balanced than the plain tenders. Each slider comes with fresh kale slaw and the chicken is drizzled with Dave's Sauce, a mayo-based secret sauce that I found to be too sweet for the chicken (it's served on the side with tenders, too). The chicken's sodium content is better distributed across each bite once you add a starchy bun and some toppings to the mix, providing a little relief from the salty onslaught.
The fries, meanwhile, were a perfectly fine representation of crinkle-cut, and mine came out exactly as crisp as I'd hoped. These weren't the sad, soggy crinkle fries I'm used to seeing, so they get a passing grade from me.
Overall, I can definitely see why people love Dave's Hot Chicken, and why the chain continues to find new fans nationwide. The chicken is juicy, the seasoning doesn't pull back on flavor, and the sides complement the poultry without overshadowing it. Even in spite of all that salt, I wanted to eat more than I did, and had to actively stop myself from doing so. I'm still thinking about it hours later, which means Dave's got a whole lot right.
Rapper Drake is such a fan that he has an ownership stake in the chain, and it looks like that investment has already paid off. There's definitely something to the hype, but the level of excitement for this spot might correlate to the level of spice you order on your chicken, and to whether or not you've remembered to take your blood pressure medication.