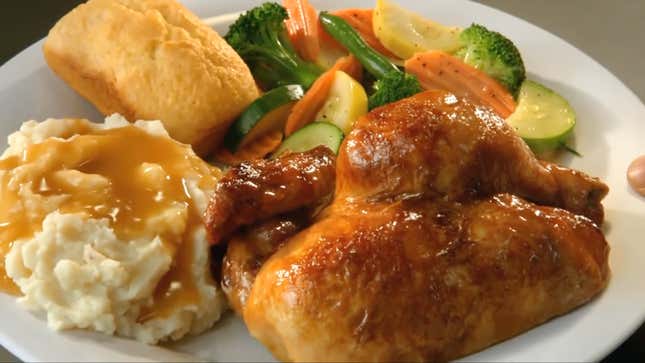 When I was growing up, I remember frequently seeing Boston Market commercials on TV touting the brand's signature rotisserie chicken, which was always featured hypnotically rotating on a spit. It sure seemed like home cooking, a comforting alternative to greasy buckets of KFC. Fast forward to 2023, though, and fried chicken chains are on an absolute tear. It only takes a glance at Popeyes, Dave's Hot Chicken, and everywhere in between to see that the fast food world has changed quite a bit since Boston Market's heyday. These days, it's okay to embrace the grease.
How To Dispose Of Cooking Grease The Easy Way After Frying
Trade publication Restaurant Business recently published a list of the restaurant chains that closed the most locations in 2022 (proportional to their total number of units), and it looks like fewer and fewer of those birds are spinning in place. Perhaps the days of quick service rotisserie chicken are coming to a close.
How many locations did Boston Market close in 2022?
Restaurant Business reports that Boston Market shuttered 41 of its units last year, which amounts to 12% of total locations. That's a mighty fall from what RB cites as its onetime peak of 1,200 outlets—and what's worse is that at least 50 more units have closed in 2023. We haven't even reached September yet.
That 12% figure is way larger than any other restaurant on the list. While Subway closed a whopping 571 locations in 2022, Subway has so many locations to begin with that this number only amounts to a 2.7% decline in total units. The only chain that approaches Boston Market's percentage of closures is Long John Silver's, which shrank its units by 8% domestically last year, and which RB notes has closed one-third of its locations in the past five years.
This leaves Boston Market with about 300 total locations. There are still a handful of these restaurants operating around Chicago, one of which I pass frequently on my commute. It appears to be limping along, despite some of the experiences I've had with its food.
Boston Market has hit a rough patch lately
Beyond its significant number of closures in 2022, Boston Market is having a tumultuous 2023, too. It's been dealing with numerous lawsuits regarding allegedly unpaid bills and alleged non-payment of employees in Massachusetts. Back in May, the Colorado Department of Revenue seized the company's headquarters, going so far as to change its locks in order to obtain $328,592 in unpaid sales and payroll taxes.
On top of that, Boston Market had already been ordered by a judge to pay its landlord $600,000 for defaulting on a lease while simultaneously ignoring a lawsuit that was filed back in January. (Read all about all these troubles here.)
As if all of those anxiety-inducing twists and turns weren't enough, the chain ran into even more trouble in New Jersey just a few weeks back, when 27 of its 31 locations were forced to temporarily shutter due to multiple alleged violations of workers' rights, some of which included failure to pay earned sick leave, failure to pay minimum wage, and either unpaid or late payment of wages.
I'm stressed just having written all of those sentences. It's clear that Boston Market has hit a really rough patch in its history, one that might throw its future into question. These troubles signal operational issues from the inside out, which means that its mediocre food might be the least of its problems.