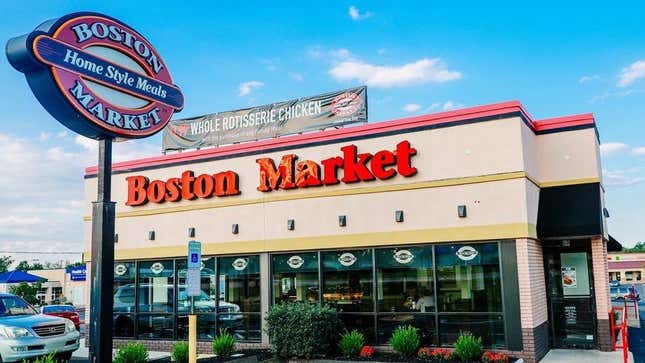 If there's anything most people know about Boston Market, it's that the rotisserie chicken is delicious (best served whole, rather than in nugget form), and the catering menu can save holiday feasts in a pinch. But something not as widely known is that the fast casual chain has recently had its share of legal troubles.
How To Dispose Of Cooking Grease The Easy Way After Frying
Boston Market's many legal battles, explained
Boston Market is being sued by distributor US Foods for $11.6 million, Restaurant Dive reports. Per the filing, Boston Market allegedly owes millions of dollars in unpaid bills for produce and other food products purchased from US Foods. But this isn't the only legal action the restaurant chain has faced recently: The restaurant is also being sued by Ben E. Keith, another food distributor, for $1 million, and by Polar Leasing, a refrigeration company, for $338,850 in unpaid bills.
That's still not all. In addition to allegedly owing money to vendors and distributors, Boston Market is being sued by workers at 11 locations in Massachusetts for either delaying paychecks or not paying them at all. In Massachusetts, it is required that employers pay wages within seven days of the end of a pay period; the lawsuit alleges that wages due to be paid July 2 were not paid until July 14, and some workers never received payment at all. Paychecks for the pay period ending July 9 had also allegedly not been paid by July 20, when the lawsuit was filed.
The legal battles facing Boston Market are not limited to the operation of its restaurants, either. Back in May, The Denver Post reported that the Colorado Department of Revenue seized the company's headquarters and changed the locks in order to recoup $328,592 in unpaid sales and payroll taxes. Earlier that same month, Boston Market had already been ordered by a judge to pay its landlord nearly $600,000 for defaulting on its lease and ignoring a lawsuit filed in January.
Thought we were done listing Boston Market's struggles? Think again—the hits keep on coming. Restaurant Business reports that the chain is also being sued by McDonald's, which owned the Boston Market brand from 2000 to 2007 and now acts as landlord of multiple locations. This is the second time McDonald's has sued the brand since last year regarding unpaid rent at two of its restaurants in Massachusetts. After reaching a settlement agreement in the first lawsuit, Boston Market allegedly violated the lease agreement again, which led to McDonald's suing again this year.
Boston Market has had several years of ups and downs, ping-ponging between significant restaurant closures and aggressive expansion. The chain is part of the same family of brands as Corner Bakery, which filed for bankruptcy earlier this year.
With the holiday season closing in, Boston Market really needs to pay its vendors, its distributors, its employees, its landlords, its taxes, and whoever or whatever else needs paying; otherwise, we risk losing a great option for our family feasts. If all else fails, maybe this guy can help save Boston Market.