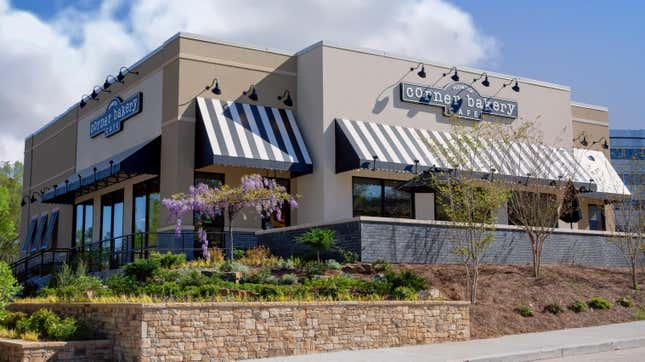 When's the last time you visited a Corner Bakery for a quick muffin or Caesar salad? Maybe not recently enough, it turns out.  Nation's Restaurant News reports that Corner Bakery Cafe has declared bankruptcy and is seeking protection from its creditors. The filing, dated February 22, is hardly a surprise—the chain has been struggling for years.
How To Dispose Of Cooking Grease The Easy Way After Frying
The fast casual cafe and bakery chain, founded in 1991, was bought by Pandya Restaurant Growth Brands in 2020, around the same time that company also bought Boston Market. And while Boston Market has certainly had its ups and downs in recent years, it looks to be doing better than Corner Bakery, the latter of which is somewhere between $20 million and $34 million in debt, as reported by Restaurant Business.
For the uninitiated, Corner Bakery is similar to Panera Bread, in that it's a fast casual cafe chain offering soups, sandwiches, salads, and pasta entrees, along with various breakfast and bakery items like cinnamon rolls, muffins, bagels, and yogurt parfaits. If that sounds like a broad menu that doesn't really have any defining specialties, well, that might be part of the problem. While Panera has taken some big swings lately with chicken sandwiches and a flatbread pizza menu, Corner Bakery seems to have played it safe, debuting a spring menu last year that included blueberry pancakes and hazelnut cold brew coffee.
I admit I sort of forgot about the chain up until hearing this news, and I imagine many others did as well. The chain does not appear to have run any sort of splashy new promotion or product since the summer of 2022, when loyalty program members were offered freebies and discounts throughout the month.
The chain's decline in recent years has been evident in other ways as well. The chain ranked 118th in sales in 2021, according to data on the top 500 restaurants from Datassential—down eight spots from just the year before. Per Technomic's Top 500 Chain Restaurant Reports for 2018 and 2019 the chain remained in the No. 154 spot. Not exactly a threat to the top performers. (Not even Subway.) The Takeout reached out to Pandya Restaurant Brands but has not received a response.
Crain's Chicago Business reports that Corner Bakery currently has 20 locations in Illinois, with the majority being in Chicago and a new one planned to open this spring. The planned opening of a new location is surprising, given this recent news of the chain's financial woes. Kevin Schimpf, director of industry research and insights at Technomic, also told Crain's Chicago Business that Corner Bakery's number of locations had declined for the past seven years.
Would the closure of Corner Bakery devastate you, or do you tend to purchase your scrambled egg wraps elsewhere? Let us know in the comments.