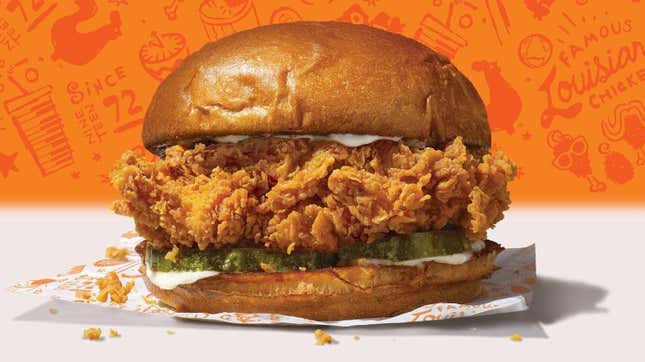 August 12, 2023, is a special someone's birthday: the Popeyes Chicken Sandwich. On that day only, Popeyes is celebrating by giving away free a la carte chicken sandwiches (Classic, Spicy, Blackened, or Bacon and Cheese) with the purchase of any chicken sandwich combo meal via the app or Popeyes website, good for pickup or delivery.

How To Dispose Of Cooking Grease The Easy Way After Frying
But we'll be damned if this occasion is only marked by a fairly standard giveaway—after all, this is no standard chicken sandwich. This deceptively simple menu item, consisting of a fried chicken breast, pickles, and mayo on a shiny brioche bun, forever changed the way America thinks about fast food chicken. Let's take a stroll down memory lane to see just what impact it's had on fast food since its debut.
August 12, 2019: The Popeyes fried chicken sandwich is released
When we first reviewed the Popeyes fried chicken sandwich upon its release, we were floored. Featuring a massive, impossibly juicy chicken breast and craggy fried breading, the sandwich was not only substantial, but also well-seasoned. And at $3.99 apiece, the price was remarkably fair. In short, it did what we had believed impossible: beat Chick-fil-A in a side-by-side taste test.
Despite the flood of imitators (more on them later), the Popeyes OG chicken sandwich still remains our favorite fast food fried chicken sandwich today.
August 27, 2019: The Popeyes fried chicken sandwich sells out everywhere
Only two weeks after it launched, the sandwich sold out. As in, stores were wiped out of it entirely. Popeyes had initially anticipated the product stock would last seven weeks, but it all cleared out in a record amount of time.
The shortage devastated customers who had already become fans of the sandwich as well as those clamoring to try it. One sandwich showed up on eBay for $7,000, and violent incidents erupted. A group of people at a Houston location flashed a gun at employees, and one man was killed after allegedly cutting in line at a Maryland Popeyes.
There's never been a fast food frenzy quite like it before or since, and this includes the fuss over the release of McDonald's Szechuan Sauce. The media attention afforded to the sandwich and its ripple effects was estimated to be worth a mind-boggling $23 million in free press.
2019-2021: Fried chicken sandwich copycats proliferate
The mad success of the Popeyes fried chicken sandwich spawned copycats at seemingly every chain, even though most of them pale in comparison to the originator of the trend. (Hell, we even came out with our own recipe, designed to be made in an air fryer, since deep-frying at home is often more trouble than it's worth.)
Here are just a few of the sandwiches released since 2019 that bear suspicious resemblance to the Popeyes chicken sandwich:
Of course, there are many more. But since 2021, new iterations have slowed to a trickle.
2020-present: Popeyes chicken sandwich is evolving
Once the hubbub around the sandwich calmed down, Popeyes released a quick 2020 follow-up that included barbecue sauce and bacon. Then in 2022, it released the Buffalo Ranch Chicken Sandwich.
Eventually Popeyes developed a chicken sandwich that ditched the breading altogether, adding a permanent sibling to the menu: the Blackened Chicken Sandwich. But Popeyes, perhaps assuming the brand can't live and die by its sandwiches forever, also added nuggets to round out its menu in the summer of 2021.
With the sensation of the 2019 release in the rear view mirror, the entire fast food industry has to think about what it wants to do with chicken next. Right now we're in an era of piling on the toppings, but part of what made the original sandwich so intriguing was its minimalism. We don't expect the latest releases to inspire many copycats.
It's hard to imagine that a single fried chicken sandwich could raise so much hell, but here we are today, four years later, still editing the Wikipedia page for the chicken sandwich wars. We've never seen anything in the fast food world quite like the Popeyes chicken sandwich, and somehow, I doubt we ever will again.