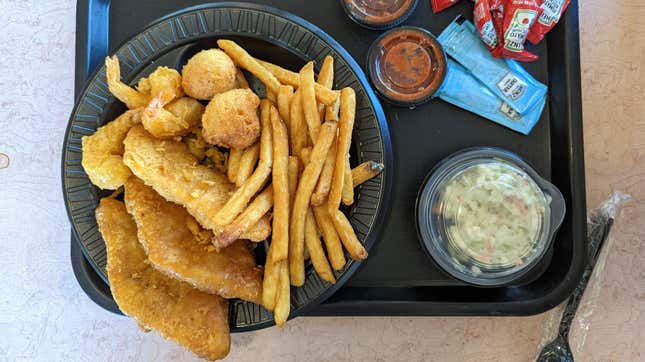 We love our fish sandwiches here at The Takeout, and the Lenten season is always a good reminder of how many options abound at fast food restaurants nationwide. (I'm partial to Culver's walleye and Popeyes' flounder, both of which are returning to the menu this year.) But out of all the restaurant chains serving fried fish, one brand has reliably satisfied America's cod cravings for 50 years with relatively little fanfare: Long John Silver's. And I've never been to one.
How To Dispose Of Cooking Grease The Easy Way After Frying
There are just under 600 locations in the United States, with a large concentration in Texas, Indiana, Ohio, and Kentucky (where the chain is based). While I've been seeing nationally broadcast TV ads for the seafood giant ever since I was little, somehow it never occurred to me as an option when I started spending my own money on fast food. As it turns out, there's a Long John Silver's about 15 minutes away from my home—though oddly, I arrived to find that the location is combined with, of all things, a Taco Bell.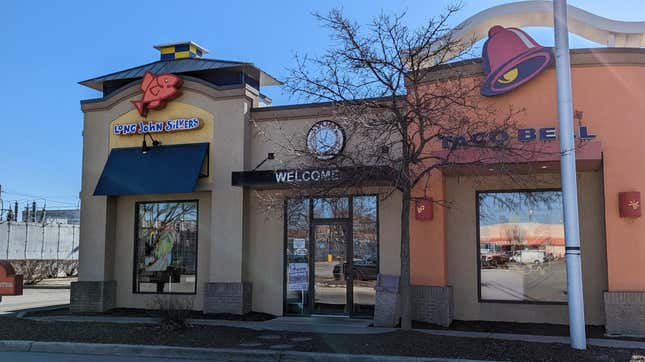 Yum Brands, parent company of Taco Bell, Pizza Hut, KFC, and The Habit Burger Grill, used to own Long John Silver's for a period of time, until it was sold off in 2011; this would explain the unusual legacy arrangement that conjoins the two in my neighborhood. I can understand why the Das Racist didn't rap about this combination. It just doesn't roll off the tongue the same way.
Because it's a combo shop with Taco Bell, the Long John Silver's menu at this location is somewhat truncated. Instead of the full spread, which includes cod, grilled salmon, grilled shrimp, and more, my LJS sticks to the main attractions: fried pollock, fried shrimp, and chicken strips.
As an aside, I'm sure you're wondering if you can ask the employees at this combo shop to make you a weird Taco Bell/Long John Silver's mashup meal, like a fried shrimp Crunchwrap Supreme, since everything comes out of a shared kitchen. The employee politely declined my request. If you're feeling insistent, you'll just have to order multiple items and assemble them yourself.
Impressions of Long John Silver's, from a first-timer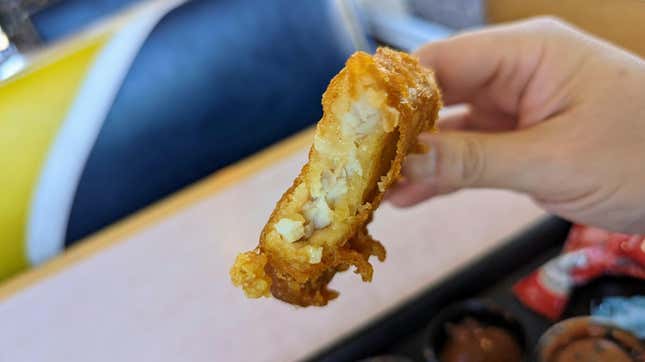 I ordered the hefty variety platter, which consists of two pieces of fried Alaska pollock, three fried shrimp, one chicken strip, hushpuppies, coleslaw, and fries. I admittedly had my doubts about whether any of it would be good, since most of the pop culture references to the place have been mostly jokey. (Arby's knows how that feels.)
But after that first bite of fish, I was hooked, pun unfortunately 100% intended. The battered fish was crisp, oily, and indulgent, to the point where I couldn't believe I'd never gone all-in on it before. I similarly loved the shrimp, whose batter was like tempura breading. The chicken strips aren't my favorite, but I get the appeal; they're similar to Chili's recently departed Original Chicken Crispers.
The hushpuppies were crisp and satisfying, the fries were pretty good for a second-tier chain, and the coleslaw was a spitting image of KFC's, which is the ideal fast food cabbage. Damn. All this time I'd written the place off, yet its gloriously unhealthy fried seafood almost puts Red Lobster to shame at a much more affordable price.
It was all admittedly very heavy, however. Everything I had on my tray was deep fried, aside from the coleslaw. It didn't take much to fill me up. But mere hours later, I found myself wishing that I had another bite of rhomboid fish filet in front of me.
Let's give Long John Silver's another chance at success
Unfortunately, Long John Silver's is a chain with a history of struggles. In its heyday, which was between 1979-1989 (yikes), LJS had around 1,500 locations, and now there's far less than half that number. Its year-over-year sales continued to decline until late 2021, when the closure of hundreds of units led to better sales at the remaining locations. The place doesn't claim to be anything it's not, and it might once again be rewarded for it.
Long John Silver's deserves its second chance. Even after my first visit, it's clear that it does belong in the pantheon of American fast food. Every other major seafood-forward restaurant chain is a proper sit-down one: Red Lobster, Bonefish Grill, and Joe's Crab Shack. But when you think about it, Long John Silver's is really the only American equivalent of a fish and chips shop, price point and all. Why don't we have more?
With only certain major cities situated along the coasts, Americans have a strange relationship to seafood. Having grown up in the Midwest, it isn't uncommon for people here to outright refuse to eat fish. A funny thing, given that many of those very same people treat fishing trips like a sacred ritual. We've just never tasted the catch that New Englanders have.
Now, I'm not going to convince myself that Long John Silver's is anything but fast food—it's not comparable to fresh-caught anything. It's fried and greasy as hell. But considering Long John Silver's is a leader in its category and nothing appears to be positioned to take its place, we should maintain a spot in the fast food landscape for fast fish. I'll be sure to head back to LJS the next time I have a fast food craving that a burger won't satisfy.