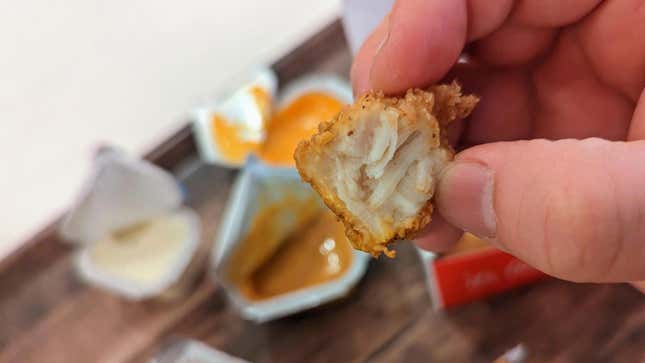 Try to wrap your head around this figure: 100 million nuggets sold in less than two months. That's a whole lot of fried chicken bits, and KFC has confirmed to The Takeout that these sales numbers are currently driving KFC's overall success.
How To Dispose Of Cooking Grease The Easy Way After Frying
KFC's new nuggets were added to the permanent menu back in late March, knocking Popcorn Chicken off the menu. The nuggets are available not only as a standalone offering, but also as a component in the KFC Famous Bowl and the limited-time-only Mac Bowl.
"Frankly, we knew we could do better than the popcorn chicken," said Nick Chavez, KFC's Chief Marketing Officer, to Nation's Restaurant News in March. "It's hard to believe we've never had a true nugget. We've been ceding nugget buyers to other brands for too long now and these nuggets will give us a way back to families, which is our imperative."
Why KFC added nuggets to the menu
In addition to nuggets, KFC also recently brought back the famous/infamous Double Down, a menu offering consisting of bacon, cheese, and mayonnaise sandwiched between two fried chicken breast filets instead of bread. Both menu additions are part of the chain's strategy to attract younger customers. Chavez noted to Nation's Restaurant News that over 50% of chicken nuggets are consumed by customers 25 and younger.
"It's fair to say our core customer, the customer who comes to KFC most frequently, is older than the average quick-service customer," said Chavez to NRN back in February, before the launch of the nuggets. "And we need to bring in new audiences and invite new generations of customers to discover or rediscover KFC."
KFC's nuggets are made of chunks of white meat chicken and are hand-breaded with the fried chicken chain's Original Recipe coating. The nuggets are available in five-piece, eight-piece, 12-piece, and 36-piece boxes starting at $3.49 and can be ordered in a combo meal and in kids meal options as well.

The KFC nuggets have been selling well
Although KFC declined to share specific sales data around the performance of the nuggets versus expectations, a brand representative told NRN, "we're very excited with the success we've seen to date." This is confirmed by data from Placer.ai, whose April report indicates an 8% rise in year-over-year foot traffic at KFC in the weeks immediately following the release of nuggets.
Based on how well the nuggets did in their test run, it's not surprising that they're faring well on a larger scale. Back when KFC tested the nuggets in North Carolina, Chavez said they generated over 10% of the sales mix in that test.
KFC is aiming to be hip and relevant to a younger audience, and the potential solution has been straightforward and simple. After all, you can't go wrong with chicken nuggies.