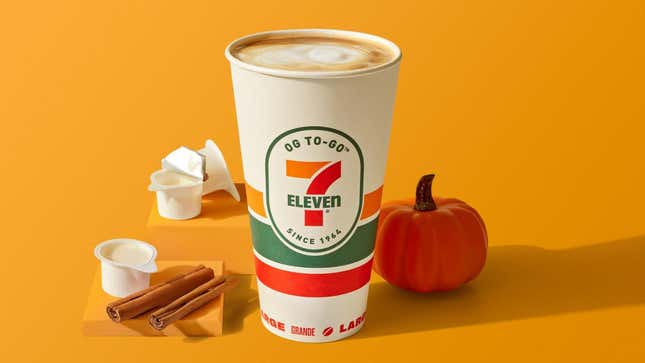 You can wrestle summer from my cold dead hands, because I'm not letting big corporate brands simply decide it's autumn just yet. Take, for example, Samuel Adams, which thought it was appropriate to break out this year's pumpkin brews as early as July. Coffee is, as we all know, a whole other harbinger, and one convenience store chain has made the bold decision to release its Pumpkin Spice Lattes (PSL) earlier than ever before—starting on August 1. The gall! It's still hot outside!
How To Dispose Of Cooking Grease The Easy Way After Frying
The first pumpkin spice lattes are already available
7-Eleven, which has historically released its Pumpkin Spice Latte relatively early, got the jump on just about everyone this year, and I'm over here fuming. It pulled a similar stunt last year when it released its PSL during the first week of August, but not on the very first day of the month as it did this year.
Please make it stop. I'm not done grilling and playing bocce and catching fireflies in my backyard just yet. And what's making me rage even more is that I'm seeing retail stores put out all their decorations and candy for Halloween, a holiday that is still three months away. Pump the damn brakes, people.
Is the Starbucks Pumpkin Spice Latte available yet?
The true corporate icon that started this entire craze, Starbucks, hasn't publicly announced when its own PSL will debut this year, and it's the Starbucks product which we all seemingly take as fall gospel. Rumors are swirling that Starbucks will release its version on August 24, but that hasn't been confirmed by the brand.
Verified Instagram user @markie_devo says an internal leak indicated that Starbucks' PSL would originally make its debut on August 29. But according to the post, which has now been updated, the date's been pushed up to August 24. Regardless of whether the rumors are true, it won't be long before Starbucks confirms the release date. (It was released August 30 last year and arrived on August 24 in 2021.)
Part of this early longing for fall could be due to the massive heat waves that have battered much of the country this summer. Still, for the moment, I choose to ignore the smell of nutmeg and cinnamon emanating from 7-Eleven. There's plenty going on in its hot food display right now to distract me.