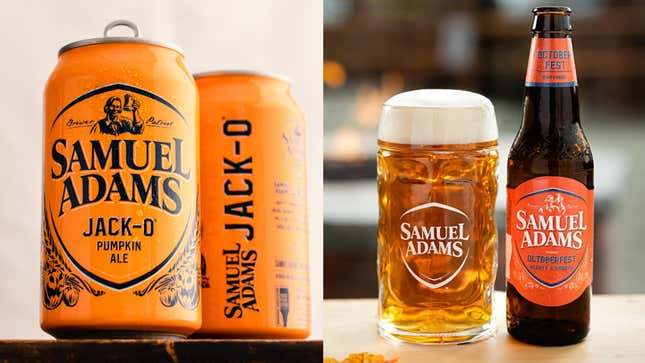 We haven't even hit August yet, but the onslaught of pumpkin spice has already come for us all. Starting on August 1, if you're browsing for beer, you'll see some orange labels beginning to infiltrate store shelves—yes, a few mass-market brands are getting a head start on fall colors already. To them I say: Please slow down. I swear, I'm clinging to every last drop of summer this year.
How To Dispose Of Cooking Grease The Easy Way After Frying
What is "pumpkin creep"?
The term "pumpkin creep" refers to the fact that pumpkin spice stuff seems to appear earlier and earlier every year, despite the fact that the actual autumn itself has always begun in late September and runs through late December. During the pandemic in 2020, we saw pumpkin spice products nudge upward in the calendar since everyone was bummed about missing out on their summer plans. Since everyone was stuck inside anyway, the theory went, they might as well start feeling the cozy fall vibes.
It's a marketing strategy we don't seem to have moved away from since. That's why we're talking about cozy autumn brews in the middle of July. Sorry. 
Autumn beers debuting in August 2023

Two major beer brands, Samuel Adams and Dogfish Head, are ushering in this early fall season. On August 1, Dogfish Head is dropping its annual release of Punkin Ale, which has the distinction of using actual pumpkin flesh along with pumpkin spice and a touch of brown sugar.
Samuel Adams, meanwhile, is releasing the majority of the early pumpkin brews. There are three fall varieties to look forward to, starting on August 1:
Samuel Adams Jack-O: If the name isn't a dead giveaway, Jack-O is a pumpkin beer. It's brewed with the usual suspects like cinnamon and nutmeg and is balanced out with citrus flavors to keep it tasting fresh. With this early release date, hopefully the citrus will still evoke a bit of summer flavor (can you tell I'm sore?).

Samuel Adams OctoberFest: In the States, our version of Oktoberfest brews lean toward a style called Märzen, and that's what Sam Adams evokes here. Märzens are red-hued lagers with a touch hops and a bit of sweetness; in the case of Sam Adams OctoberFest, the sweetness is a malty one.
Samuel Adams Beer Fest Variety Pack: Variety packs are usually just a convenient blend of items you can already get from one brand, but this year's Sam Adams bundle is slightly different. The aforementioned Jack-O and OctoberFest beers are included, but two new beers are also being released that are exclusive to the Beer Fest Variety Pack: Hoppy Lager and Flannel Fest. Hoppy Lager will be what it sounds like it sounds like, a hop-forward lager, which Sam Adams describes as having "juicy hop notes and aromas of pine, pear and orange with crisp drinkability." Flannel Fest will be in the style of a Munich Dunkel, with bready and caramel notes and a bit of floral hops.
At least Starbucks hasn't announced when it's releasing its Pumpkin Spice Latte yet, which is the truest herald of falling leaves. However, 7-Eleven released its pumpkin spice stuff as early as August 5 last year, which made me feel irrationally annoyed. Sam Adams and Dogfish Head are just getting the leg up on everyone, but come on. I'm going to keep being a little grumpy about this for a while.