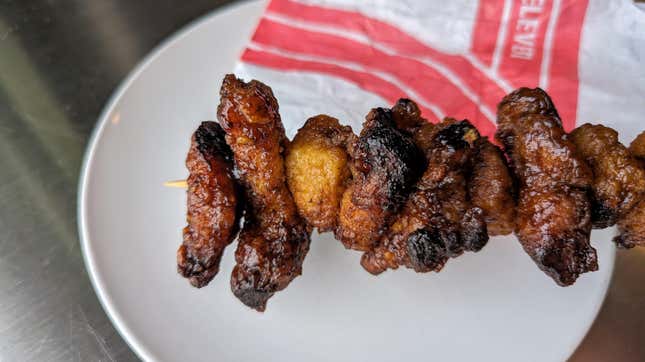 When I heard that 7-Eleven had released a limited-time selection of boneless wings at its hot food counter, I didn't expect my interest to be piqued, but the new flavor certainly caught my eye: Korean BBQ.
How To Dispose Of Cooking Grease The Easy Way After Frying
As a Korean-American, I've been fascinated by how the food I've grown up with has influenced popular cuisine in the United States, particularly in the past decade. Korean flavors have permeated everything from packaged goods to street food to celebrity meals from McDonald's, and yet the idea of being able to stop in 7-Eleven for a snack and see Korean-inspired chicken in the display case still feels novel to me.
Specifically, I wanted to see what 7-Eleven's take on Korean barbecue is all about. Though consumer brands and fast casual restaurants often refer to their products as being Korean barbecue-flavored, that's usually just an alluring way of marketing something with vague teriyaki sauce flavor. In reality, Korean barbecue comes in a wide array of flavors, each one nuanced and layered. Would these new boneless wings remind me of my mom's home cooking or a night out at a Korean barbecue restaurant? Only one way to find out.
How do 7-Eleven Korean BBQ boneless wings taste?
Unlike the other boneless wing options sold at 7-Eleven, the Korean BBQ ones are sold on a wooden skewer for some reason, maybe to more closely resemble street food. (It's important to note that Korean barbecue isn't cooked on a stick.)
My order of boneless wings had a sweet soy sauce smell, and the glaze was very sticky. The sauce had lost nearly all of its moisture after sitting beneath the heat lamp for a while, and it was darkened on random areas of the chicken's surface. Unfortunately, the nuggets of white meat chicken were dry to the point of being almost jerky-like, which is the roulette wheel you spin when you order cooked food sitting beneath a heat lamp.
The dry poultry all but ruined the wings themselves, but the darkened spots of glaze were actually the best bites. Those overcooked areas had a more concentrated, sticky soy flavor that was pretty damn good—but the rest of the chicken wasn't nearly as rewarding, since it was practically naked.
I couldn't identify a specific flavor note I'd consider Korean. If anything, the wings just a nondescript "Asian" taste to them due to the soy sauce, and that's a condiment used all over Asia, not just Korea. So if you're looking for something Korean-specific, you won't get that here, and you won't get decent boneless wings, either. But maybe you already knew that about 7-Eleven.
It's kind of a shame, too, because convenience store food is a category bursting with potential. There's something intoxicating about the idea of picking up a slice of breakfast pizza from Casey's, or one of those pre-made chicken salad sandwiches from the refrigerated section, or a hot dog straight from the rollers, whenever you're on your way somewhere. And don't get me started on how badly I'd love to visit a Japanese 7-Eleven someday. Why do customers abroad have a culinary experience that's so unattainable here?
Korean BBQ boneless wings from 7-Eleven are not enough to take your senses on a trip to Seoul. You're much better off planning a night of Korean barbecue with your friends, which won't leave your taste buds feeling like they got the short end of the skewer.