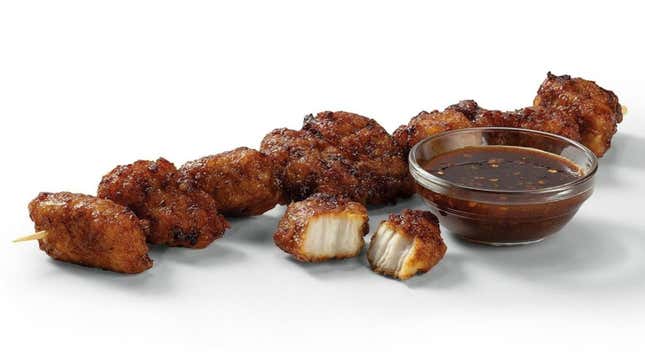 National Wing Day is July 29, and 7-Eleven is releasing a brand-new flavor of boneless wings just in time for the food holiday. Unlike most of the convenience store's hot food offerings, these wings are inspired by international tastes: the new flavor is Korean BBQ, a flavor profile that's become increasingly popular in the United States over the past decade.
How To Dispose Of Cooking Grease The Easy Way After Frying
The press release announcing the new wings says the wings will be "a culinary excursion with lightly breaded all-white-meat chicken that is coated generously with a savory and sweet soy, garlic and pepper glaze sauce." Let's talk about what makes this, or any other snack, "Korean" flavored.
What is "Korean barbecue" flavor, exactly?
Chances are you've seen plenty of products by now labeled "Korean BBQ flavor," whether it's almonds, pork rinds, jerky, or potato chips. The term is sort of a catch-all description for a sweet and salty soy sauce flavor, sometimes with other seasonings such as garlic, ginger, and spicy red pepper.
As the child of Korean immigrants, I've followed the rise of this flavor in popular American foods, and it's been interesting to track its spread. There's a certain type of joy that comes with eating a perfectly sweet-and-savory snack, and "Korean barbecue" flavoring nails the balance of both.
That combination of soy sauce, garlic, ginger, and peppers really is found in popular Korean barbecue dishes like yangnyeom galbi (commonly referred to as just galbi), the long, flat cuts of marinated short ribs you can order at Korean barbecue restaurants, as well as bulgogi, or thin slices of beef marinated in a sweet soy sauce similar to that of galbi.
Snack foods aren't the only products to have been imbued with Korean-type flavors—fast casual restaurants have embraced them as a marketing hook, too. Wingstop has a wing flavor called Spicy Korean Q, and Noodles & Company has a Spicy Korean Beef Noodles bowl, among many others.
Korean barbecue comes in many flavors
Korean barbecue isn't just that soy-sauce-driven sweet-and-savory note on our chips and jerky strips, however. At its simplest, Korean grilled meat can be thrown on a live fire grill without seasoning, to be dipped or dabbed with various sauces after it's cooked, then tucked neatly into a lettuce wrap for easy consumption. It's more versatile than a lot of the snack products make it seem.
There are multiple spicy marinades for the meat itself, primarily based off fermented red pepper paste, like gochujang, which has also become a much more popular flavor in America these days. And even further still are the dipping sauces that complement barbecue dishes, but aren't the main flavoring component of the meat.
All of these are a far cry from the sweet soy sauce flavor that's used to describe "Korean barbecue" as a whole in the American snack landscape. That's not to say the mass-market flavor is not delicious—because it is, all of it. It's just that there's so much more to this cuisine than a mashup of salty and sweet. It's got real depth, and it's worth seeking out at Korean establishments after you sample the new offerings at 7-Eleven.