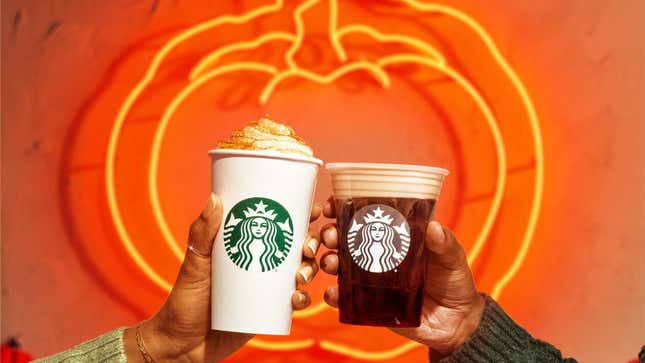 Update August 23, 2021: It's finally happening, people! We are only one day away from the Pumpkin Spice Latte's return to Starbucks, thus officially ushering in autumn. Sure, temperatures across the country might be well over 80 degrees, but remember that fall will be getting progressively hotter every single year, and it's only a matter of time before bikinis and flip flops replace cozy sweaters and infinity scarves as the official uniform of apple picking season. So quit your kvetching about the "early" start and allow yourself to get excited, because Pumpkin Spice Lattes are meant to bring us joy, no matter the weather.
If you find yourself too sweaty tomorrow to jump headfirst into #PSL season, Starbucks is also bringing back its Pumpkin Cream Cold Brew for the third year in a row, which delivers cool refreshment with warm pumpkin spices and enough caffeine to launch you into space. Pumpkin mania is returning to the Starbucks' bakery case as well, with Pumpkin Cream Cheese Muffins and Pumpkin Scones back on the menu.
This is almost too much excitement to handle on a Monday, which I'm guessing is the reason Starbucks is waiting until Tuesday to ring in autumn.
Update August 12, 2021: Clang-clang. Clang-clang. That's the melancholy funeral toll ringing for summer 2021. Yesterday, we reported that Dunkin's fall menu launches next freakin' week; today, we've confirmed that Starbucks is declaring war on summer starting August 24. A few outlets, including Taste of Home, have reported on the alleged PSL launch date; while we haven't heard official word from Starbucks spokespeople, an unnamed barista at a Chicago Starbucks consulted some insider paperwork and confirmed the August 24 launch date for The Takeout. Bid farewell to your tank tops and your water slides, because pumpkin mayhem is coming back with a vengeance whether you like it our not.
Original post, August 2, 2021: You, there! Sir! Might you be a gambling man? If so, allow me to propose a gentleman's wager: let us take bets on the imminent return of fall beverages, shall we?
Last year, Starbucks released the ever-controversial Pumpkin Spice Latte on August 25, the earliest release date in cozy fall beverage history. In covering the release, we failed to ask one question: why was the release so early? If I had to guess, I'd say it was because the coffee giant wanted to soothe coziness-starved customers. The release came at the end of a brutal pandemic summer when I, for one, was desperate for some kind of relief. I'd wager that Starbucks saw the desperation and decided to grace the thirsty public with a treat a bit earlier than normal.
So here we are. It's 2021, and we're midway through what some have dubbed "Hot Vax Summer;" basically, a rip-roaring, tongue-kissing season full of post-vaccination debauchery. A few weeks ago, I'd have guessed that Starbucks would delay the Pumpkin Spice release, as customers likely want this summer to last as long as possible. But now, as Delta variant numbers continue to baffle and terrify, I'm changing my tune.
With that in mind, my money's on a September 1 drop. Even though the first few weeks of September are often hot as hell, September typically ushers in the first whisper of fall (slightly yellowing leaves; inappropriately dense cardigans on public transportation, et cetera). I have my doubts about an August PSL drop; Starbucks knows its customers, and I have a feeling that the general Hot Vax Summer mentality is going to continue until public health officials shut it down (if they ever do). September 1 seems like the most reasonable sweet spot for a successful Pumpkin Spice launch: at the tail end of a wild few months, and at the very beginning of a nerve-racking fall/winter plagued with cold, flu, and COVID.
So, let's take bets. When do you think fall beverages like Pumpkin Spice will return to menus? Do you have an exact date in mind? Think I'm wrong about Hot Vax Summer? Sound off.