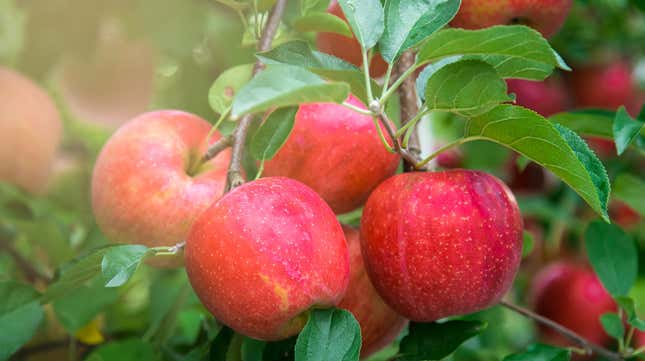 In my house, Apple Picking Day is sacred. My husband and I have both spent most our our adult lives in the food service industry, and 10 years of that was owning our own small family business. Holidays were always about work. They were never anything for us to celebrate—they were seasons that we wanted to survive. Apple Picking Day, though, is an entirely different story. It's a holiday with no specific date, meaning we could work it in whenever our schedule allowed.
Every Apple Picking Day, we come home with an entire trunk full of apples. Truthfully, I don't eat all that many apples. You get caught up in the spirit of Apple Picking Day, and next thing you know you've spent close to $100. But it's imperative to find a way to use up every single apple before they start to rot, otherwise it could potentially spoil all the good feelings we have toward Apple Picking Day.
I simply cannot bake enough pies to make a dent in my apple stash. If you're serious about using up every bit of your apple haul, you need to diversify your strategy. Make items that can be frozen, so as to extend apple season into the cold winter ahead. Bake desserts that require a fraction of the effort that pies do. Work apples into your savory dishes. What follows are some of my best ideas, and I hope you share a few of your own.
Note to desktop users: If you'd like to view this story in a scrolling layout, you can narrow your browser window. You can also click "List Slides" at any time to see the full list and navigate to particular slides.