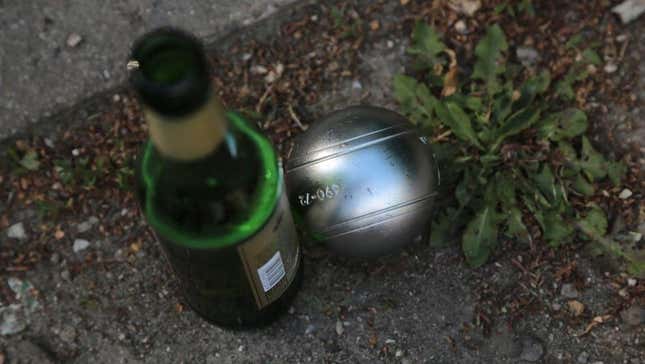 Growing up in rural Pennsylvania, summer cookouts in my Italian and Greek family functioned a bit differently from the neighbors'. Our grilling didn't focus on hamburgers and hot dogs, but rather legs of lamb marinated with garlic, olive oil, lemon, and mint. This lamb came served with toum, pepper sauce, and Syrian bread, all plopped on a paper plate beside some potato salad, deviled eggs, and beans. To the rest of the neighborhood, we were probably the weird family that ate gamey lamb instead of all-American beef. Even more peculiar, we kids chose to play bocce, a game typically enjoyed by older Italian men.
All the Best Finds at the Sweets & Snacks Expo
To me, bocce has always been a kid's game. During these leg-o-lamb summer cookouts, we played our own unique version of this ancient game and dubbed it "all-terrain bocce." It was just bocce without a court. By neglecting the rigidness of an angular bocce court, you're free to embrace nature's erratic beauty and boundlessness. Bounce the pallino off of a tree or roll it underneath the lawn chair on which Grandpa naps. Play the many contours of the backyard—its hills, the dirt, the bushes, the tall grass near the road—or chuck it near the graveyard for some nefarious silliness. To us, the world functioned as an official bocce court, not that manicured rectangular box you see at the park.
All-terrain bocce was the summer holiday game of my youth, and it's one I plan on bringing back this year. I hereby submit all-terrain bocce to be 2023's grilling game of choice, and I also call on this nation to put an end to the stale monotony of cornhole once and for all.
Bocce vs. Cornhole
Cornhole sucks. Aren't we all ready to admit that? Unless you love it, in which case, cool, to each their own. But I've always felt a dull hum of pervasive boredom running underneath cornhole games that I refuse to endorse. This game is everywhere, but especially the worst places: Jimmy Buffet tailgates, lame-ass bars filled with college bros, and my neighbor's America First compound. I'm not going to outright call it a "white" game, but do a quick mental scan through all the people in your life you've seen play cornhole, then get back to me.
Plus, it's called cornhole. Could have led with that. Is this really the game we want to be associated with as a society? No. America's grill game needs to be bocce.
Bocce, like cornhole, is a continuous battle of "who's closer?" but with more exciting variables. The wooden cornhole board is too static a target, too grounded. A bocce pallino, meanwhile, can bounce around multiple times over the course of a round of bocce. The game shifts with the pallino, meaning the field of play always changes. Every game is different.
The game also leaves room for competitive grudges. If you wish, you can use your turn to slam a ball into your opponents', causing a chaotic mess much like breaking open a game of pool. And the end of a round, which usually involves using your feet (or measuring tape) to determine whose ball is closer to the pallino, adds an extra layer of suspense to the game. Even after you each take turns throwing balls, there's excitement in discovering whose throw actually got closest.
I have an affinity for this YouTube video, made by the Little Italy Association in San Diego, in which John Falcone of the Amici Park Bocce Ball Club explains the rules, before further adding, "There's a strategy to this game. There's moves to this game. It's like playing chess or checkers, but you're using a ball to do it."
While most games of bocce are played on a court, I simply think it's unnecessary. The strategy, the moves, the mind games—it all gets ramped up outside of a traditional bocce playing field. If you really want to have fun with the game, take bocce to a park or background with hills, divots, and trees.
Bocce needs to be freed. Don't try to box it in. Embrace nature. Embrace the outdoors. This is a call to action—I need everybody to buy a bocce box right now, because I'm damn sick of seeing cornhole everywhere I go.