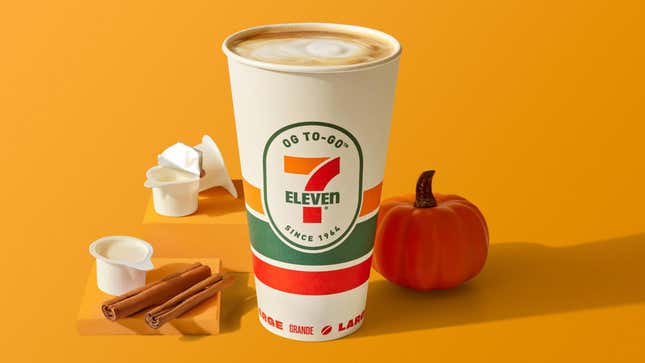 We're only just approaching the end of August, but that has not stopped the fall vibes from hitting menus well before the first leaf can hit the ground. For the pumpkin spice lovers, that "pumpkin creep" is a welcome change that could not arrive too soon.
How To Dispose Of Cooking Grease The Easy Way After Frying
These chains have decided that fall does not need to wait until late September and that customers deserve their pumpkin fix right now. Here's where to find the autumnal bliss you're craving:
7-Eleven
Earliest to the pumpkin game this season was 7-Eleven. Starting on August 1, the convenience store began offering the Pumpkin Spice Latte, Pumpkin Coffee, and Pumpkin Syrup to add to any coffee beverage. The brand recommends the "Pumpkin Somethin'" recipe hack, which consists of adding two pumpkin spice and two sweet and creamy creamers to any hot or iced coffee. (Reminder that 7-Eleven's iced coffee game is strong.)
"We know our customers wait all year long for their favorite fall flavors… so we decided to break out the pumpkin a little bit early this year," said Dennis Phelps, 7-Eleven's senior vice president of merchandising (vault & proprietary beverages) in the announcement.

Dunkin'
As of August 16, Dunkin' entered into a comeback season with a fall lineup of returning pumpkin favorites. There's the ever classic Pumpkin Spice Signature Latte, which is available iced or hot, as well as the Nutty Pumpkin Coffee (also available iced or hot) and Pumpkin Swirl, a flavor that can be added to just about any drink, whether it's hot, iced, espresso, cold brew, or frozen coffee.
On top of sippin' on pumpkin flavors, Dunkin' has its bakery lineup stocked with fall vibes as well. If a pumpkin drink with a pumpkin dessert is your idea of a perfect pairing, then you can grab a Pumpkin Cake Donut, the Munchkins (aka doughnut holes) version, or a Pumpkin Muffin.
Starbucks
As the brand that popularized the #PSL and all that surrounds it, Starbucks would never miss out on this season. When the classic Pumpkin Spice Latte from Starbucks makes its way back to the menu each year, it is a cause for celebration. But since Starbucks hasn't announced when the PSL is returning yet, if you're in need of that pumpkin spice fix in the middle of August, you can still turn to the bakery menu.
Regardless of the season, Starbucks always has its Pumpkin & Pepita Loaf on hand, which is a "gently spiced" pumpkin bread topped with pepita seeds for crunch.
Though the sun is beaming and the fruity summer drinks abound, there's always a little bit of pumpkin to be found.