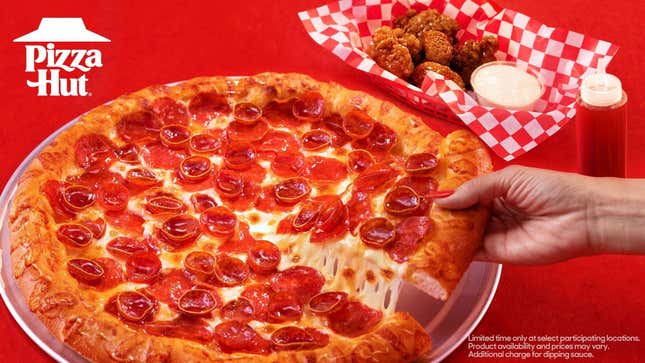 Ever seen the "bee sting" listed on a pizza menu and wondered if you should take the plunge? Hot honey has been a hot topping for some years now, mostly at artisan pizza restaurants, and it seems like the trend is finally catching on at major chains. Pizza Hut has revealed that it will be rolling out its Hot Honey Pizza for a test run in two markets—Cleveland and Dallas—beginning on July 18 for a limited time.
How To Dispose Of Cooking Grease The Easy Way After Frying
Pizza Hut has been on a pretty good run of successful items in recent years, such as its Detroit-style pies and its handheld Melts (the latter of which have been a runaway hit), and the chain has even been fooling around with novelty toppings like pickles. Clearly the pizza giant has been keeping up with the latest trends, and now that everyone wants spicy everything all the time, a hot honey pizza only makes sense. Who's excited?
Hot honey pizza, explained
Hot honey is an excellent topping for pizza, but especially when it's used in tandem with cured meats such as pepperoni, soppressata, and prosciutto. It helps temper the saltiness of those toppings, adding an extra layer of golden sweetness with a tiny bit of kick.
Pizza Hut agrees, noting in its press release that "The secret behind Pizza Hut's Hot Honey Pizza lies in its perfect balance of sweet heat from the honey and the savory-salty flavors of the pepperonis." The chain will be using the superior cup and char pepperoni on this pizza so that each little "cup" holds a portion of the hot honey, "creating an explosion of taste with every bite."
Mike Kurtz of Mike's Hot Honey is widely credited with raising the profile of hot honey pizza in America after seeing a similar condiment at a pizzeria in Brazil and experimenting with his own version around 2010 while working at Paulie Gee's in Brooklyn. The fact that it's become such a sensation in the 13 short years since then is proof of how delicious it can be.
Other uses for hot honey
Hot honey is also excellent on other rich, salty foods like biscuits, but I especially like it on fried chicken. As it does with cured meats, hot honey helps cut through the salt and the richness of the chicken's breading while adding some sweet contrast. Along with its new pies, Pizza Hut will also be releasing Hot Honey Wings at those test locations in Cleveland and Dallas.
For those of you outside the Pizza Hut market test radius, it's worth noting that Wingstop also uses the ingredient in its hot honey rub, a limited-time flavor that pops up regularly (and is currently available).
I also like mixing it into sauces—hello, hot honey mustard!—and salad dressings as a secret ingredient. Of course, it's also great in desserts: drizzle some on vanilla ice cream and you're good to go. But you can be funky with it too. Imagine baklava with a bit of fire at the end.

Where to find hot honey
The most popular brand on the market is Mike's Hot Honey, which you can get at various grocery stores and online. Mike's also does lots of product collaborations, most recently with Utz potato chips.
Big-name brands have clearly been paying attention to the popularity of hot honey, too, because some of them, including Heinz, have released alternative versions of the stuff (and Heinz is cheaper than Mike's). Other boutique sauce shops like Bushwick Kitchen carry similar products with eye-catching branding.
For anyone who wants to play around with the heat levels, here's a recipe for homemade hot honey to get you started. A lot of us will probably have to wait a while to try the latest offering from Pizza Hut, but in the meantime, you can always pick up your pepperoni pizza of choice and drizzle the honey on there yourself for a DIY gourmet pie.