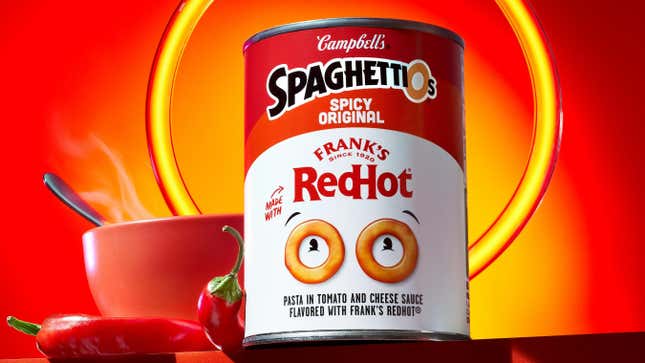 If you pay any attention to the goings-on at the drive-thru, you've probably noticed that limited-time offerings from fast food restaurants have been skewing spicy in recent years. Ghost peppers have popped up at virtually every chain, Dave's Hot Chicken is growing at breakneck speed, and Shake Shack released its hottest menu ever last fall. So it should come as no surprise that grocery store products have been trying to latch onto the craze too, and it looks like the trend isn't slowing down anytime soon.
MTN DEW Baja Blast Hot Sauce Is a Gorgeous Oddity
Spicy foods, once relegated to specialty sections of the grocery store, seem to have found their way into every aisle. It says a lot about Americans' preferences and where our food is headed.
SpaghettiOs are getting spicy
One of the more interesting canned goods to hit the market recently is the newly announced collaboration between Frank's RedHot and SpaghettiOs. The product will be available starting this month, and it's explicitly aimed at adult palates. I didn't realize adults still ate SpaghettiOs frequently enough for this to become a thing, but according to the press release, millennials comprise one-third of SpaghettiOs' annual sales.
The spicy SpaghettiOs are going to be a permanent offering in the lineup. Knowing how corporate juggernauts work, that's a decision that's never taken lightly, and it speaks to the company's confidence that hot flavors aren't just a passing fad. The press release notes that the new product "meets growing consumer demand for spicy food."
It's not the only Frank's RedHot–infused product on the market, either. The hot sauce brand collaborated with Pepperidge Farm on spicy Goldfish crackers in 2021, and the snack remains available in 2023, presumably thanks to consistent sales.
Comfort food is feeling the burn
Campbell's also recently announced the release of Chunky Ghost Pepper Chicken Noodle Soup this year, and the public's reaction was so positive that the product became a permanent offering shortly after its debut.
Chicken noodle soup and deeply spicy flavors aren't generally two things we associate with each other. Clearly, something we once exclusively viewed as comfort food is taking on a different tone now.
Even ketchup is heating up
Our favorite glossy ketchup, Heinz, is basically perfect in every way—but Heinz itself sees room for improvement. The company has announced the release of three new spicy ketchups of varying heat profiles: Chipotle, Jalapeño, and Habanero. Additionally, a new spicy Heinz Hot 57 sauce will be available, the first new variation on 57 Sauce in over 10 years.
If Heinz is going to mess with its most iconic product, you know there's serious money to be made by adding a kick. Seeing these companies add all this spicy stuff to their permanent product lines, it's clear that Americans really are looking for more engaging flavors in their everyday lives, even when it comes to the foods we've grown accustomed to across decades.