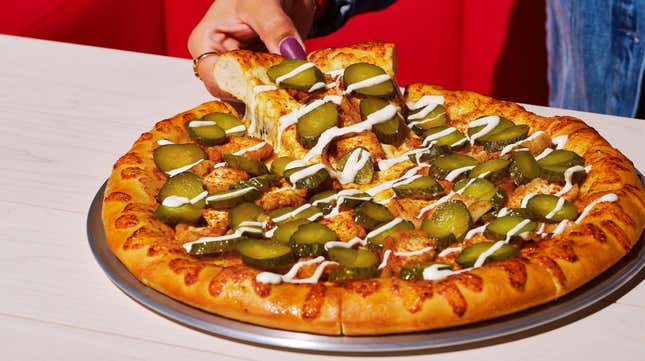 The pickle gods have spoken, but they're playing favorites. Pizza Hut has announced it will be dropping a Pickle Pizza onto its menu, but only one restaurant location will be offering the new pickled pie, and only for one weekend. What is this, June Fools' Day? I'm not happy about this at all.
How To Dispose Of Cooking Grease The Easy Way After Frying
The Pizza Hut Pickle Pizza will be available June 9 to 11, while supplies last, at one precise location: 932 8th Avenue in New York City. It is only available for carryout, must be ordered in-store, and costs $17.99. The super-limited-time offering features Pizza Hut's hand-tossed crust sauced with Buttermilk Ranch and topped with cheese, breaded chicken breast seasoned with Nashville Hot Seasoning, and sliced white onions. The whole pie is then loaded with spicy dill pickles and a drizzle of Buttermilk Ranch to finish.
Pickle pizzas are not new, though Pizza Hut's press release notes that it's the first national chain restaurant to release one. Smaller, local pizza spots have been offering them for years. In fact, you can find one here in Chicago at a spot called Bob's Pizza.
Pickles themselves have gained massive popularity in recent years. From hot sauces to pickle fries and slushies, brands have been appealing to the fervor of the pickle-loving masses. That fandom informs Pizza Hut's decision to bring this briny idea to life.
"With our new Pickle Pizza, we're tapping into the latest food trends while also putting culinary thought into how they come to life on a pizza," said Penny Shaheen, Head of Food Innovation, in the Pizza Hut announcement. "Our recipe is all about great flavor, balancing the tanginess of pickles with other classic ingredients we know taste good on our beloved pizza."
However, given pickles' extensive track record of market success and their persistent cult-like following, this author has to admit deep disappointment in Pizza Hut's decision to only sell the pizza at a solitary location in New York for 48 hours. We asked Pizza Hut why the release is so limited.
"Pickles are a hot trend and we know how much New Yorkers love their pickles, so we wanted to bring the flavor to the ones who know it best," a brand representative told The Takeout via email.
Are New Yorkers particularly known for their love of pickles? Sure, they're big at Katz's Deli, but they come on a Chicago-style hot dog, too. And as much as the stereotypical joke gets tossed around about Midwesterners' love of Ranch dressing, you would think that a new pizza sauced in the stuff would test pretty dang well in this market. Stop teasing me, Pizza Hut. You want a test audience? She's right here.
On the bright side, as with most limited runs, Pizza Hut is open to expanding the availability of the Pickle Pizza if the demand is there.
"We always look at our tests as a way to identify if our guests gravitate towards a certain recipe," a representative for Pizza Hut said. "You never know where we might bring a new innovation next."