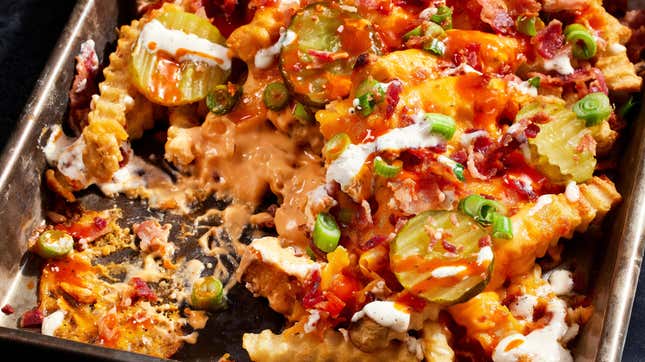 Food trends, by their very nature, tend to come and go, sometimes without leaving much of an impression. Take last year, for instance: I vaguely recall the rise and fall of butter boards, but since I grew up in America's Dairyland, this advancement failed to impress. Now, however, roughly one-third of the way through 2023, one particular food trend has gripped the attention of the entire snacking populace, myself included. The flavor of the moment is dill, and our taste buds are celebrating.
Dr. Pepper Strawberries & Cream Is Tearing Us Apart
Dill pickle flavored snacks are everywhere
That's right: The venerable dill pickle, staple of deli counters and bedazzler of cheeseburgers, is having a moment.
This flavor phenomenon didn't spring from nowhere. Dill flavored chips and dips have been around for ages, and they're a perennial hit at gatherings. More recently, we've seen pickle flavored pretzels, chips, Slim Jims, sunflower seeds, burgers, and more. Snack manufacturers have been looking to their sales numbers to read the brine of the times—pickles are hot, often quite literally.
Such was the case at McCormick, the spice brand behind the new Frank's RedHot Dill Pickle Hot Sauce. According to Valda Coryat, Vice President of North American Marketing for Condiments and Sauces, there were several factors that led Frank's down the pickle path.
"We know [our fans] are also flavor seekers looking to try new, adventurous flavors, specifically through hot sauces," Coryat told The Takeout via email. "This is largely driven by Gen Z hot sauce aficionados who seek out unique heat and flavor combinations. With this in mind, we explored flavors that were also approachable and comfortable. We wanted something that'd taste great on foods Frank's fans love, like chicken sandwiches and wings. Enter pickle."
Social media spreads the pickle love
McCormick's move was also fueled by a variety of analytics. In addition to various social media trends, the company noted that, at the grocery level, "we've seen pickles and pickle-flavored items over-index in terms of growth."
"Pickle is on 44.9% of menus, 69% of consumers like or love pickle, and 4-year growth is at +4%, according to Datassential," McCormick said. "And lastly, Google Trends shows an increase in interest online for 'pickle' over time."
The numbers don't lie, and this sauce has been an instant hit with consumers. "We've sold out twice and are restocking for a third time, achieving 4.9 stars in reviews online," Coryat said. While Frank's RedHot Dill Pickle Hot Sauce remains scarce in many locations, the company says that buyers can expect to see another wave "later this month, possibly early May."
While they wait for a restock, consumers have other places they can turn to for their fix. Perhaps a particular Valley, known for its bottled ranch dressing? That's right, Hidden Valley Pickle Flavored Ranch is coming for your carrot sticks and hot wings.
Apparently, "dill ranch" has become a popular combo online. And according to Hidden Valley marketing director C.C. Ciafone, the company picked up on the trend.
"Together with our partners at Walmart, we saw pickle flavored products were gaining popularity with retailers and on social media," Ciafone said. "The tangy, dill-pickly flavor is the perfect complement to the creamy flavor profile of Hidden Valley Ranch, and we knew then that the bold flavor was sure to be something people would crave."
Three uses of "flavor" in one sentence? My, my, Hidden Valley must be serious! And just as with Frank's RedHot, demand for dill pickle ranch has "far exceeding [the company's] expectation with strong consumer demand," Ciafone confirmed. I can see why, as these flavors seem like a natural pairing.
Wait a minute. Buffalo wings are often made with Frank's RedHot as the sauce base. And while I usually prefer bleu cheese with my flats and drums, ranch is an acceptable substitute. What if I purchased a bottle of dill hot sauce, battered my own chicken wings, and slathered them with dill pickle ranch dressing? Who's going to stop me, the Vlasic Stork?
Someone else finish writing this article. I'm going to the grocery store.