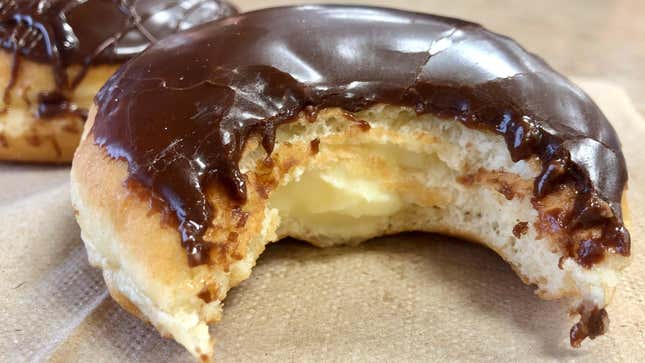 We talk about national food holidays a lot on The Takeout, and we have to admit, some of them feel like a bit of a stretch. Many of these "holidays" are, after all, the result of successful industry lobbying efforts more than a genuine reflection of our nation's eating habits. Regardless, it's an excuse to score free food, so we can't get too upset about it. Especially when the free food involves doughnuts.

How To Dispose Of Cooking Grease The Easy Way After Frying
When is National Donut Day 2023?
This Friday, June 2, is National Donut/Doughnut Day, and unlike many other freshly minted national food holidays, this one dates all the way back to 1938. Its roots are surprisingly patriotic; the holiday honors the volunteers with the Salvation Army, known as "doughgirls," who throughout World War I handed out doughnuts to American soldiers on the front lines. This, by the way, is how the doughnut, a treat of European origin, made its way into the hearts of Americans—after the war, soldiers carried their doughnut cravings home with them.
Since 1938, the Salvation Army has thus dubbed the first Friday in June National Doughnut Day, and doughnut chains nationwide have leaped to take advantage of the marketing opportunity with various deals and promotions. If reading all of the above has piqued both your interest and your appetite, here are the best National Donut Day deals to be had.
Dunkin's National Donut Day 2023 deal
Dunkin' might not include the word "donuts" in its name anymore, but it still wants to help customers celebrate this "holiday." On Friday, June 2, you can walk into any Dunkin' location and take advantage of a pretty solid National Donut Day deal: a free classic doughnut of your choice with the purchase of any beverage.
Usually during promotions like these, the freebie is a rather bare-bones offering, so it's a pleasant surprise that Dunkin' isn't just promising a plain cake ring or something similarly boring. Being able to pair a Dunkin' coffee with a creamy filled doughnut is a pretty good deal, and a nice way to usher in a summer weekend. (Yes, any weekend after Memorial Day weekend is officially summer. Be quiet.)
Krispy Kreme's National Donut Day 2023 deal
The National Donut Day deal happening at Krispy Kreme this year is the very best kind—the "no purchase necessary" kind.
Simply stop by any Krispy Kreme location on Friday, June 2, and receive a doughnut for free. There's no need to download any sort of cumbersome coupon, no need to claim your freebie through an app, and no need to buy something first. Most importantly, you aren't just entitled to a free Original Glazed, but, as with Dunkin', you can select any doughnut of your choosing. That means Krispy Kreme's more elaborate offerings are on the table, including fully loaded flavors like Banana Pudding, Chocolate Kreme Pie, Key Lime Pie, and Strawberries & Kreme.

Now, if you wanted to do the brand a solid, Krispy Kreme is encouraging guests to post photos to social media with the hashtag #KrispyKreme and tag @krispykreme in any posts about the giveaway. But none of this is necessary, and there's something beautifully straightforward about the promotion.
With the purchase of any dozen doughnuts on National Doughnut Day, customers can also buy a second dozen Original Glazed for $2. Anyone who wants to be the hero of their office breakroom, take note.
Enjoy this weekend to the last bite, and in honor of its insignificant but delicious holiday, you can learn more about the doughnut's humble origins here.