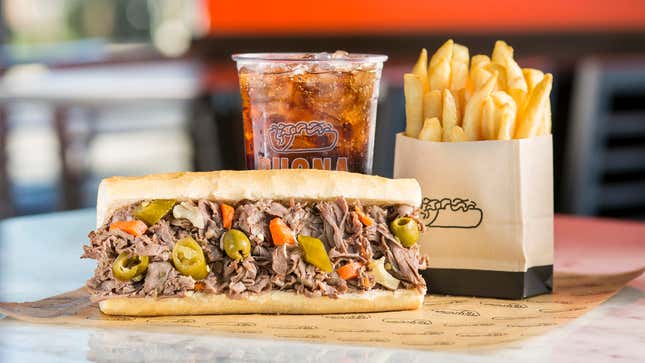 May 27 is National Italian Beef Day. Perhaps you've heard of it? It's certainly a sandwich worth honoring—and since The Takeout is based in the ancestral homeland of Italian beef, there's no shortage of celebrations for this seasoned, soggy icon.

Dr. Pepper Strawberries & Cream Is Tearing Us Apart
What's an Italian beef sandwich?
For anyone who hasn't had the good fortune of tasting a beef, or for anyone who watched the surprise hit TV show The Bear and started salivating, this is what you're missing out on: An Italian beef consists of thinly shaved meat cooked au jus, meaning simmered in juice, and served hot. It's topped with giardiniera (a Chicago staple) or roasted sweet peppers on a French bread roll. You can order your beef either splashed with the beef gravy or "juicy" (this author's favorite), which means the sandwich is fully dunked in the gravy.
Outside the Windy City, not many people understood the glory of this sandwich until The Bear came along. When the nation thinks of iconic Chicago cuisine, the deep-dish pizza discussion often ensues, and many of us natives have to take a calming breath. The Bear, which streams on Hulu, depicts the Italian Beef sandwich with such appreciation and care that not only are non-Chicagoans intrigued, but also those who make the sandwich for a living are able to look past some small inaccuracies, like the scratch-made bread.
Following the premiere of the show, The Chicago Tribune reported that Gino's East, a chain of restaurants founded in Chicago with locations nationwide, was selling twice as many beefs at its Los Angeles location than before. Additionally, Google Trends data indicates that searches related to Italian beef roughly doubled after the series premiere.
Where to get free sandwiches on National Italian Beef Day
What better way to celebrate National Italian Beef Day than with authentic Chicago-based Italian beef makers? Two local restaurants are offering deals in honor of the holiday.
Buona, with locations throughout Illinois and in Indiana, is offering customers a free regular Italian Beef Sandwich or plant-based Italian Beefless Sandwich with up to one topping through its app. (Buona, by the way, says it founded the holiday in 2015.)
Fabulous Freddies, another Chicago-famous spot, is starting its celebration early and extending it well past the holiday, because any day is a good day for a beef. From May 26 to June 2, customers who order a small Italian Beef will be able to upgrade it for free to the restaurant's Monstrous 12-oz. beef and receive a complimentary fountain drink and fries.
Italian Beef lovers outside of the Chicagoland area might consider making their own sandwich using a much simpler recipe than the methods depicted in The Bear. However you choose to celebrate this gravy-dipped day, I hope it's as satisfying as a Chicago combo.