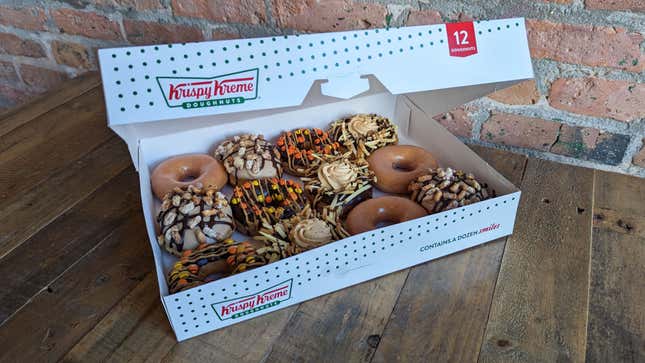 Krispy Kreme has putting a big emphasis on its "premium"  doughnuts lately, a strategy that has led to record sales for the brand. Rather than trying to drive volume primarily through sales of its classic Original Glazed, Krispy Kreme is shifting focus to its limited-time-only seasonal items, doughnuts that are chock-full of edible bells and whistles to get us all worked up in a sugar-fueled feeding frenzy. The latest release, the Reese's Remix Collection, is a perfect illustration of how the brand is hoping to grab our attention.
How To Dispose Of Cooking Grease The Easy Way After Frying
It's been years since I've eaten Krispy Kreme doughnuts (though I do remember being very fond of the standard glazed ones), but Reese's doughnuts certainly had us curious. The company sent us some samples and we braced for the sugar rush.
Krispy Kreme's new doughnuts, explained
The Reese's Remix Collection, so called because Krispy Kreme has never showcased a salty-sweet doughnut before, has three varieties on offer:
Reese's Outrageous Doughnut: An Original Glazed doughnut that's dipped in Hershey's icing, topped with mini Reese's Pieces and finished with a drizzle of Reese's peanut butter sauce and salted caramel
Reese's Salty Sweet Crunch Doughnut: A doughnut filled with "Reese's peanut butter Kreme" (presumably a proprietary blend developed for this release), dipped in peanut butter icing, drizzled with Hershey's chocolate icing, and finished with sea salt praline pretzels
Reese's Salty Sweet Crisp Doughnut: A glazed doughnut dipped in Hershey's icing, topped with matchstick potatoes (!), then drizzled with more Hershey's icing, Reese's peanut butter sauce, and Reese's peanut butter Kreme
Whew. I was overwhelmed just reading the descriptions. Would I feel that way after tasting them, too? Only one way to find out.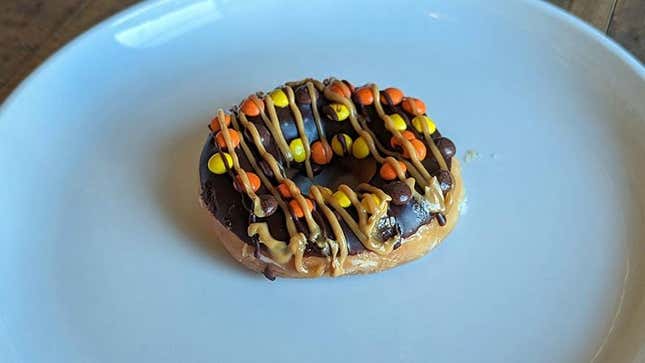 Reese's Outrageous Doughnut
Out of the three varieties, the Reese's Outrageous Doughnut was the simplest, which made it my least favorite of the bunch. It's not that the doughnut was bad at all; it simply delivered exactly what its product description promised, nothing more and nothing less. Granted, a glazed doughnut with a crown of chocolate icing and miniature Reese's Pieces and peanut butter sauce and salted caramel might sound over the top, but it was the most tame option in this dozen. If you like Reese's Pieces, there's no way you won't enjoy this.
Maybe I'm world-weary, but this one just didn't do much for me. For all the different components, most get lost; even knowing that salted caramel was supposed to be there, I didn't taste it, and so the doughnut doesn't really embody the salty/sweet combo it's supposed to.
I should note, however, that when I released the remainder of these doughnuts for the entire office's consumption, my coworkers went for the Reese's Outrageous Doughnut first.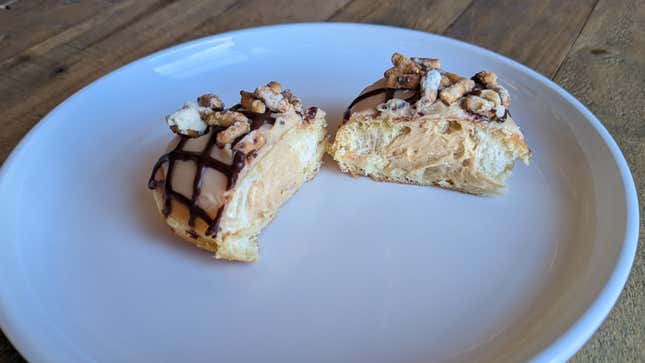 Reese's Salty Sweet Crunch Doughnut
I cannot emphasize enough just how much I love filled doughnuts. My absolute favorite is a Boston creme, filled with custard and iced with chocolate. That's why it came as a slight surprise to me that the Reese's Salty Sweet Crunch Doughnut didn't end up as my top choice.
The peanut butter Kreme wasn't as heavy as I thought it would be (which is a good thing!), and the little bits of praline pretzel on top were a welcome change in texture, even if they weren't really salty at all. But somehow, perhaps due to the size of those pretzel pieces or how many were piled on top, this doughnut felt like it had too much going on.
I realize I'm starting to sound like Goldilocks here, but I wanted a salty-sweet Reese's doughnut that was just right. Which brings me, finally, to the Reese's Salty Sweet Crisp Doughnut.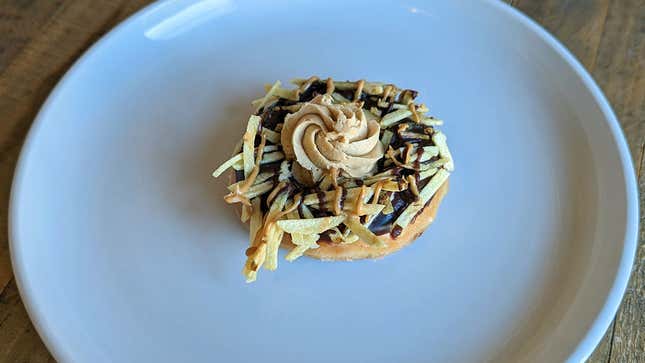 Reese's Salty Sweet Crisp Doughnut
This is the one that hit the Goldilocks zone. It balances chocolate with a very generous amount of lightly salted shoestring potato chips, which add an audible crunch to each bite.
Though the photo might suggest otherwise, this is a regular yeasted doughnut with a hole in the center, its void filled with peanut butter Kreme. Each bite takes you closer to the reward at the middle—that is, a big congratulatory wave of sugar to offset the savory crunch of the chips.
Though I had a clear favorite, every single one of these doughnuts is fucking heavy, in case it's not obvious from the photos. I ate only a small portion of each, and that was plenty. Don't get me wrong, I was definitely in sugar bliss afterwards, but I would recommend ordering a couple to split between friends. These are premium offerings for a reason—they're occasion doughnuts, not the quick-breakfast classics you pick up with your morning coffee.
There's no doubt that Krispy Kreme's Reese's Remix Doughnuts will appeal to many, many people, since chocolate and peanut butter is a flavor combination no one ever seems to stop talking about. They will only be available for a limited time, and unlike a box of Original Glazed, you won't find them at the grocery store or elsewhere—you can only grab them at Krispy Kreme shops or via delivery. This is a total "why not?" type of treat, a super-sweet dessert bomb that tries to pack maximum indulgence into just a few square inches of pastry. You might as well drop a few bucks trying to figure out whether you think it succeeds.